Breaking Down the Buzz: Cal
How soon might be too soon to cut the cord with Sonny Dykes? Cal fans are hoping for the best, and preparing for the worst.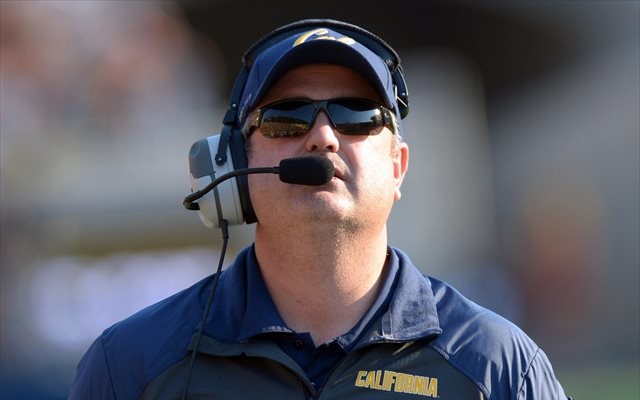 Each Monday, Wednesday and Friday the Eye on College Football examines what current hot topic the fans of one BCS team are obsessing over -- rationally or not -- in Breaking Down the Buzz. Today's team: the Cal Golden Bears .
What they're talking about is ... why, Sonny Dykes. And what Year 2 might mean for him. You may remember that Dykes' initial season in Berkeley after his move from Louisiana Tech was a dud. You may even remember that he went winless in the Pac-12. But did you remember that the Bears -- a program that had gone to eight bowls in 10 seasons under Jeff Tedford -- may very well have been the worst BCS team in the country in 2013?
Dykes went 1-11, but even that doesn't fully capture the extent of Cal's misery. Only one of those 11 losses was by fewer than 14 points, the lone win was by 7 over an FCS team (Portland State) that finished 6-6, and the Bears didn't exactly show a lot of spirit as they crossed the finish line, suffering a 63-13 humiliation against rivals Stanford in their season finale. So whether it's been just one season or not, Dykes' future stands to be very much a topic of discussion throughout the offseason.
One handy example: this thread at fan message board Bear Insider, which has amassed more than 60 replies this week in response to whether legendary Arkansas coach and AD Frank Broyles' assertion that "everything he needed to know about a coach he could tell within the first 2 seasons" applied to Dykes. After a debut in which you don't win a game over FBS competition -- and only once even come within two touchdowns of doing so -- yeah, that's going to happen.
What they're saying is ... just improve, baby. To tweak the motto of one of the Bay Area's most prominent late football figures, the majority of Bear Insider posters aren't ready to set a firm "you must win this many games to retain your job" benchmark for Dykes; the goal is simply to see the program make some real progress in digging out of 2013's smoking crater. One poster's basic (and likely accurate) summation:
Fan(atics) give you 1 season before they make their minds up.

Coaches give other coaches 3 seasons.

Athletic Directors split the difference and typically go with two.

Dykes needs to show marked improvement. I think he gets three years due to the injuries, academics hurdles, and how low the watermark currently is after last season. However, I also think the search will be started for a replacement after year two if it looks anything like last year. 
But as with every message board discussion regarding a coach on the hot seat ever, you've also got your optimists ...
While I agree that the coming season will tell us a lot about Dykes on field coaching ability and improvements,you are wrong to say he has "done nothing ... to prove anything but that he is possibly in way over his head." Improvements in the APR and commitment to scholarship and graduation, visible improvements reported here re: spring performance by the defense and offensive line, recruiting efforts aimed at students who can succeed at Cal and the defensive personnel changes are all indications that Dykes is doing something to try to turn things around ... 

I think Dykes is a good coach who had a very bad situation in many respects last year and who also made some mistakes. He admitted all this after the Stanford game last year and made a commitment to examining the program and making a litany of improvements ... It is fair to hold him to a high standard and judge him by performance on the field. But building a program is a process. One year (and a somewhat aberrant one at that) is hardly enough evidence to judge whether he is a good coach or not.
... and your pessimists, one with a disturbing note about how poorly Dykes' Year 1 record really was (emphasis added:
The fan attendance has been absolutely pathetic thus far under Dykes. 2 or 3 wins this year isn't going to change that. He needs to win more than just a couple of games to save his job.

It is pretty simple. If he wins 5 this year, he will have only matched Walt Harris' two year total. Not very impressive. But given the positive direction compared to his first year, I think it would earn him a third year.

Sonny Dykes is a highly paid football coach whose performance is judged largely on his ability to win football games. This isn't really a controversial statement. A coach's primary responsibility is to win games. If he can't do that, then he gets fired. This isn't complicated.

I don't dislike Dykes. He seems like a nice guy. If I saw him on the streets of Paris, I would shake his hand, buy him a coffee and thank him for his hard work. I have no personal animosity towards him. But if he can't win football games, he needs to be fired. 5 or less wins in two full seasons is not worthy of a third season.
A billion years from now, when the earth melts into the sun, there will be one remaining Internet server. And that server will be hosting a message board debate over whether Struggling Coach X is underappreciated and overcoming the obstacles to blame, or an incompetent in need of immediate removal, forever and ever amen.
What we think is ... improvement should be the focus. But it better be somewhat dramatic. Tempting as it might be, declaring that Dykes has to win X games or else makes the 2014 target too narrow; it's possible for Bears to get lucky and win four or five games without being that much better, just as it's possible for them to improve tremendously and still win two. Again: the problem for Dykes isn't as much that he went 1-11, it's that he barely sniffed going 2-10.
What the Bears have to see, whether he goes 2-10 or 5-7 this season, is a team that simply competes -- in all aspects -- much, much better than it did in 2013. Dykes must make his opponents, particularly those in the Pac-12, work to beat the Bears. Do that, and he can see the light at the end of the proverbial tunnel, even if it remains well in the distance. (It's also worth noting that Cal's 2014 schedule is a total bear, if you'll pardon the pun; the cross-division schedule includes a home date vs. Colorado, but also dates with both USC and UCLA.) 
If things by-and-large come as easy for the rest of the conference on its Berkeley visits as in 2013, though ... well, that light's just not going to be there.
The movie will zero in on former Penn State coach Joe Paterno during the Jerry Sandusky sc...

Bidding for Salaam's trophy, which the auction house says was obtained legally, ends Satur...

Locksley has been the offensive coordinator at Illinois and Maryland during his coaching c...
Many NFL-eligible juniors ignore advice provided by the league and risk going undrafted each...

Snyder died in Manhattan, Kansas, on Wednesday

Locksley joined Alabama's staff in 2016