Breaking Down the Buzz: Florida
We know LSU -- and most of its fans -- aren't happy about the decision to keep Florida as an annual opponent. But what do Gators think?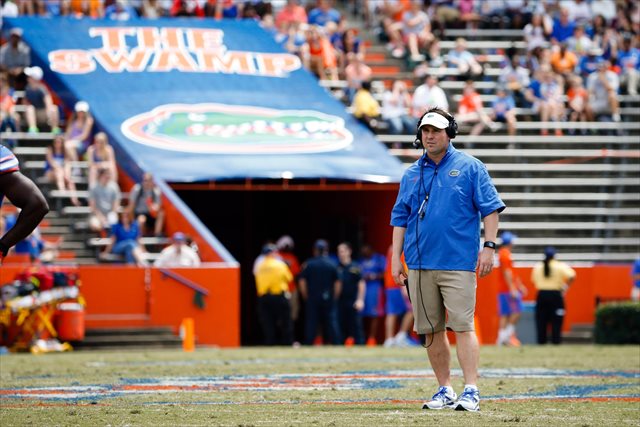 Each Monday, Wednesday and Friday (and on randomly selected occasions, sometimes Thursday) the Eye on College Football examines what current hot topic the fans of one BCS team are obsessing over -- rationally or not -- in Breaking Down the Buzz. Today's team: the Florida Gators.
What they're talking about is ... Jameis Winston. But also the SEC's scheduling decision. This being the offseason and Winston being the highest-profile star in the sport, the entire college football world spent Wednesday discussing the Heisman winner's run-in with the Leon County Sheriff's Office over $32.72 in accidentally-or-not-accidentally shoplifted shellfish. And so, yes, the denizens of message boards and blogs affiliated with the Seminoles' in-state rivals had plenty to say on the matter.
But that chatter's not particularly interesting, as it's essentially many, many, many variations on "lol." More intriguing is what Gators fans think of this week's other recent major headline: that the SEC is sticking with its 6-1-1 scheduling format, preserving Florida's annual cross-divisonal game with LSU. The Tigers aren't happy at all about that, and Will Muschamp is "perfectly fine" with the arrangement -- though he regretted the lack of meetings between Auburn and Florida, old annual rivals who will now play twice every 12 years -- but what do Gators fans think of it?
What they're saying is ... anything to stem the tide of cupcakes, please. Florida fans aren't necessarily doing cartwheels over the 6-1-1 announcement ... but they're also not about to pay a visit to Gainesville Torch and Pitchfork, either, the response mostly being ...
I am fine with playing LSU every year also. They have become a good rivalry over the years. It is always a tough game but so is FSU, GA and TN used to be. SOS helps a bunch.
But one principal reason Florida fans are OK with preserving the LSU game isn't just rivalry or strength-of-schedule -- it's because the Tigers are another quality home opponent on future schedules that could use a jolt. As expressed in this column by GatorBait writer Marty Cohen, the netural-site nature of the Georgia series means Florida has to work a bit harder to ensure bang for the Swamp season-ticket holder's buck, and the natives are restless about recent slates (the 2014 version features games against Eastern Kentucky, Idaho and Eastern Michigan):
• Last year was a horrible home schedule

• I have been a season ticket holder for 10+ years which is really why I brought up the question. This year alone I am selling my tickets for the 2nd game and the next to last game against the cupcake teams. I am however going to Alabama to make up for the 2 missed home games.

• One of the reasons I didn't renew my season tickets. Could not justify the expense traveling from NC. And you couldn't get your money back trying to sell if you decided to not go some weekend.

•1. We play Georgia in Jax. That experience is amazing. Any move to diminish that has to be a non-starter.

2. I don't want to play the same crappy schedule as everybody else. I want to play more good teams. I ditched my season tix b/c the UAA wanted MORE money to watch us play Idaho, Eastern Vermont, and East Mongolia St. Pass.

3. The best solution is to add a 9th conference game - AND to make the other conference members play a solid non-conference foe.

The SEC continues to ignore fan flight. If you are going to refuse to schedule reasonable opponents, just ditch the 12th game altogether.
Though there's a definite strain of resentment over the SEC's alleged preferential treatment of Alabama (which, thanks to Tennessee's collapse and former annual series with Vandy, has certainly drawn the cushier end of the cross-divisional stick), otherwise there's a refreshing lack of "we need to make our schedule as easy as possible" sentiment among Florida fans and more "the LSU game is fun, and worth preserving" sentiments.
What we think is ... that's as it should be. As fun as championships are, it's better to play fun, important regular-season games first and let the title-bearing chips fall where they may. Are you listening, Joe Alleva? How about you, eight-game-SEC-schedule-endorsing Mike Slive?
It's hard to blame SEC teams who have an annual ACC rival for not wanting that ninth league game (requiring themselves to play 11 non-cupcake teams in a season if they want any Cowboys Classic-style neutral-site games). But the issue of iffy home schedules for league heavyweights certainly isn't helped by Slive's essential approval of three annual punching bags. 
The 21-year-old quarterback was expected to start for the Cougars in 2018

The Fighting Irish will be without some playmakers in 2018

It may have been impossible for Sumlin to meet the expectations set for him in College Sta...
Some players are more easily replaced than others

The 2017 season is in the books, and several big-name stars are jumping early to the NFL

Love was second in the nation in rushing with 2,118 yards in 2017