Breaking Down the Buzz: Kansas
Hey, the Jayhawks have a starting quarterback! Can he make a difference?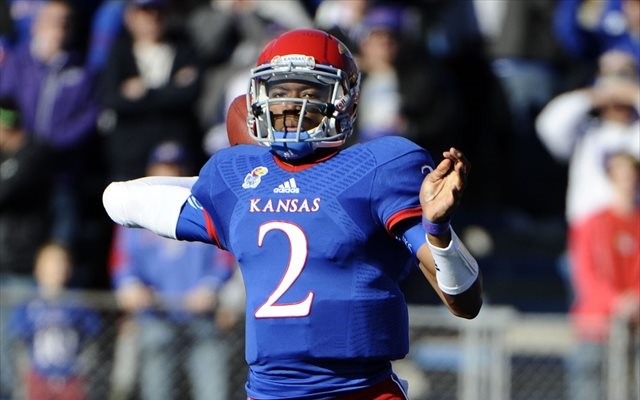 Each Monday, Wednesday and Friday, the Eye on College Football examines what current hot topic the fans of one BCS team are obsessing over -- rationally or not -- in Breaking Down the Buzz. Today's team: the Kansas Jayhawks .
What they're talking about is ... Montell Cozart. Unless Mark Mangino is at the helm and busy taking the Jayhawks to an Orange Bowl championship (which still qualifies as one of the odder things to happen in college football's recent memory), Jayhawk football is going to have a hell of a time wresting much attention away from Kansas's basketball-first diehards. For one example, take a glance at the front page of Kansas 247Sports affiliate The Shiver, and check the ratio of hoops-related articles to football-related.
But that doesn't mean Kansas fans aren't at least a little interested in the gridiron program, downtrodden though it may have been since Mangino's departure, and they got a major announcement last week: the elevation of rising sophomore Montell Cozart to the starter's job after his impressive performance in spring practice.  Charlie Weis' decision and Cozart's ceiling remain the hottest (football-related) topics at multiple Kansas message boards and blogs.
What they're saying is ... good move, Charlie! Well, the right move, anyway. Kansas fanblog Rock Chalk Talk on the decision:
Naming Cozart the starting QB gives KU a potentially dynamic weapon who, if properly utilized, could be troublesome for opposing teams to gameplan against.  It also gives [first-year] offensive coordinator John Reagan all summer to work with his starting QB and tailor his offense to that Cozart's strengths.  This will hopefully allow the offense to make some serious strides this summer and in fall camp ...

Anyway, if there was ever a day to drink the kool-aid, it's today.
That about sums it up, as the response from the vast majority of Jayhawk fans seems to be something along the lines of "absolutely the right decision, the one that clearly gives our team the best chance of being mediocre, that being a delightful change from completely horrible ... probably." One Scout poster:
This gives me a reason to be excited for the season.  I like [Jake] Heaps - seems like a good kid - just does not have the speed we need with our line.  This gives Cozart time to develop - we aren't going bowling this year - why not plan for the future instead of giving snaps to a senior.
Cozart's ascension is reason to be excited for a season ... the poster still fully expects to end in a sub-.500 record. Also, take this exchange from the commenters in response to the Rock Chalk Talk post linked above:
•A lot of options..a lot of them

•Yup

Option left….Cozart keeps
Option left….Cozart pitches

Option right…Cozart keeps
Option right…Cozart pitches

QB Draw

That's pretty much going to be the base of our offense.

•At this point it would be hard for the offense to be worse

The bar is so unbelievably low. But I have faith in Kansas football to come heavy/hard with crippling depression this year.
Let no one say that Kansas football fans don't have faith in their team! It just might not be the sort of faith you're used to. 
What we think is ... it's good that you're optimistic. (We're not. Much.) There's no reason to doubt the Jayhawk fans' assertions that Cozart is the Jayhawks' best playmaker at quarterback, the best fit for Reagan's offense, the best answer from a long-term perspective, or just plain the best quarterback on the Kansas roster right now. Cozart was named spring game MVP after rushing for 70 yards and two touchdowns on seven carries, and hitting a team-high 6 of 10 passes for 58 yards.
Which is great. But Cozart is also the same player who as a freshman hit an unthinkable 36.5 percent of his 63 attempts, averaging an almost-as-unthinkable 3.6 yards-per-attempt, with two interceptions and no touchdowns. Yes, Cozart has the potential to improve dramatically between his freshman and sophomore seasons, and yes, Reagan's scheme will no doubt fit him far better than the mish-mosh put together by Weis and staff in 2013, and yes, it's not insignificant he beat out (poor) Jake Heaps, the experienced former five-star senior.
But still: 36.5 percent. 3.6 yards per-attempt. There's a long, long road to travel between numbers like those and competence, much less outright success. Unless Reagan is a Rich Rodriguez-like spread option genius and Cozart a Pat White in the making, Kansas' offense absolutely will be better than it's been the past two years ... and will still fall far short of what's necessary to avoid another losing season against a schedule with nine Big 12 games and a road trip to Duke.
Hey, though, we're not ruling out a season that wouldn't qualify for "crippling depression." Cozart could very well represent the light at the end of the tunnel; the tunnel might just still be longer than expected.
Byron Murphy reportedly sustained a foot fracture in practice

GoDawgs247 previews big-time college football recruits headed to Athens

Dig below the surface and you'll find a lot of intriguing matchups on the slate this Satur...
SportsLine tapped into its Vegas sources and found out pro bettors are all over No. 8 Michigan...

An early-season Big 12 game already has major conference and national implications

Top-ranked Alabama hits the road to take on upstart Vanderbilt in Nashville on Saturday