Breaking Down the Buzz: Kentucky
Kentucky's entering Year 2 of the Mark Stoops era, and the fans are taking stock of what they can expect this fall.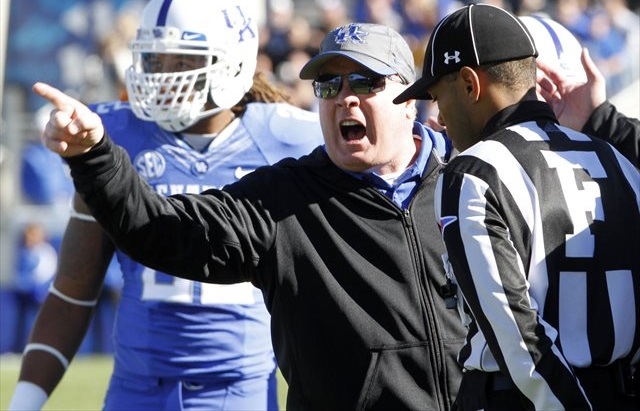 Each Monday, Wednesday and Friday the Eye on College Football examines what current hot topic the fans of one BCS team are obsessing over -- rationally or not -- in Breaking Down the Buzz. Today's team: the Kentucky Wildcats .
What they're talking about is ... 2014 expectations. This being Kentucky and all, visit a Wildcat message board like CatsPause.com's House of Blue and yes, there's going to be a fair amount of basketball chatter. But since the hire of Mark Stoops, the Wildcat faithful have been more tuned in to the goings-on in the football program than many might realize -- remember the record spring game attendance in 2013? remember the massive buzz surrounding Stoops' recruiting last summer?  -- and there's no real shortage of football talk, either.
But with spring camp well in the rearview mirror and the usual summer lull in full force, there's no specific overriding topic to discuss. Which means it's time to take stock of where the team's expectations should be in 2014 -- see here at CatsPause, or here at the Wildcat Scout board. 
What they're saying is ... wait 'til next year, probably. As noted in our recent Cal entry, any discussion of hot-seated coaches is always going to have the eternal yin and yang of optimists and pessimists. And of course the same goes for any "what should our expectations be?" thread, forever balanced between what in this case might be the optimists and realists.
To their credit, by and large, the Kentucky fans represented here and here are the latter; the consensus is that things are most defininitely on the upswing, but that it's going to take some time to get where the 'Cats want to go. Consider this exceedingly sober exchange on media picking Kentucky seventh in the SEC East:
• If I were predicting, I'd pick them last, as well. Even as good as the 2013 and 14 classes have been, those classes still rank near the bottom of the league.. It's not like UK is making this huge move while every other SEC East team is sitting with a thumb up their rear and letting us catch up.. Those teams are also recruiting like gangbusters.. While Vandy will probably take a step back after losing Franklin, they still have more veterans and upperclassmen than we do and they redshirted 21 freshmen last year [...] We need another great class in 15 and 16 and those 13 and 14 recruits get to be jrs and Srs and then we should be able to compete fairly well with the rest of the league.. Until we show people that we can beat an SEC team or 2, you can probably expect these same type predictions every year.. 

• Great post! People need to realize that one top 20 class with players who will be freshmen this year is not going to suddenly make UK the 3rd or 4th best team in the East. It takes time, and in this league most everyone else is doing great in recruiting as well. 

• I agree with you guys and realise we are still very much in a rebuilding mode as I mentioned above. But we played Mississippi State and South Carolina within a touch down last year on the road. We played Florida a good game at home and Louisville as well. I just think to write us off as having no chance to even top Vanderbilt shows the national prejudice against UK by the national analysts. We know it'll take 2-3 more years to gain the experience and depth to be consistent in the SEC but we have a chance in my opinion to finish 6th at least.
Rest assured that when you are reading Internet-dwelling fans writing that their team has "a chance to finish 6th at least" in a seven-team division, you have stumbled across a program in the midst of some dark, dark times indeed. (Remember: the Wildcats haven't won an SEC game since upsetting Tennessee in the 2012 season finale.) Consider, too, this is largely the same fanbase that tossed around the idea of an undefeated basketball season last fall -- it's not like pessimism comes easy to them. 
And of course, not everyone agrees ...
I got my neck snapped for saying this on another board but anything less than 7 wins will be a disappointment this year.  I am not making a prediction just saying anything less will be disappointing.  The way their games fall it can happen.
... but the response ("Disappointed if win fewer than 7 games? Nah" "the bar is way too high" "I have a hard time figuring out where that 7th win is going to come from even if all the planets align correctly") is more, well, not neck-snapping, but maybe a brotherly nudge to the back of the head.
What we think is ... some optimism is warranted. Just not bowl-caliber optimism. There's some reason to think Kentucky can take a sizable step forward in quality this season. Stoops' defense showed flashes after midseason and should be more comfortable (and more talented) in Year 2. A healthy Max Smith under center -- and here's the part where Wildcat fans knock on every piece of wood in their homes -- would make a world of difference for Neal Brown's offense. And the Wildcats were mostly competitive in Stoops' first year, losing one-score games to South Carolina and Mississippi State on the road and hanging in against the likes of Louisville and, uh, Tennessee.
Still: the Wildcats went 2-10 last year and get precious few favors from the schedule, which offers up the following road slate: Florida, LSU, Missouri, Tennessee, Louisville. Given that the Vols won in Lexington last season and that new Cards coach Bobby Petrino beat the Wildcats with Western Kentucky in 2013, it's hard to see a win in those five games. Home games vs. South Carolina and Georgia aren't much easier (though 2011's 54-3 bushwhacking aside, the Gamecocks never seem to play their best game against the 'Cats).
That leaves three winnable nonconference games -- home to UT-Martin, Ohio, and ULM -- and the make-or-break home dates with Vanderbilt and Mississippi State. Nabbing all three of the noncon W's should be doable (even if neither Ohio nor ULM will be pushovers), and finally ending the SEC losing streak against either the Commodores or Bulldogs should be within this team's grasp. But even a clean sweep of all five of those games is a big, big ask, to say nothing of the upset that would get the Wildcats to a bowl game.
The early Vegas line has the 'Cats over-under season win total pegged at only 3.5 wins. Beat that, double the 'Cats 2013 output, and Stoops can probably feel justified in calling 2014 a success.
Saban isn't going to win Alabama's special election, but the Crimson Tide coach got some l...

The Tigers are going worldwide for their next punter

Led by Heisman Trophy winner Baker Mayfield, the Big 12 finished with seven first-team sel...
Schiano would have made $4.4 million in Year 1 with annual raises as part of a six-year de...

Dykes spent this season as an offensive analyst at TCU

The 'Wyoming Wild Man' notched six tackles for loss as a junior in 2017