Breaking Down the Buzz: Missouri
Our ongoing series breaks down the current hottest topic for fans of BCS teams are between the end of the season and the start of spring camp. Today: Missouri.
Each Monday, Wednesday and Friday -- unless Wednesday is National Signing Day, in which case Tuesday -- the Eye on College Football examines what current hot topic the fans of one BCS team are obsessing over, rationally or not. Today's team: the Missouri Tigers .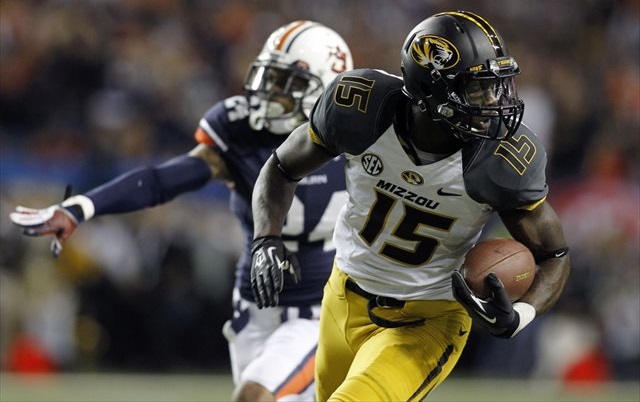 What they're talking about is ... Missouri recruiting, with a twist. It's the day before National Signing Day, so yeah, it would be quite the shock if football fans of any team this side of the service academies were concerned with something other than recruiting. (Though Dorial Green-Beckham's recent legal hiccup has been an unwelcome distraction.) Missouri's are no different, with outlets like the Daily-Tribune, Kansas City Star and Rock M Nation all serving up recruiting overviews as Gary Pinkel and staff head into the homestretch.
And where do Gary Pinkel and staff stand? About where they usually have in recent years, a decent-if-not-spectacular 37th nationally (after being 43rd in 2013, 32nd in 2012 even with Mr. Green-Beckham) and 13th in the SEC. And as usual, that ranking has come about with the Tigers plucking a number of underexposed players who may vastly outperform those rankings. What's not usual is where those players hail from -- after the move to the SEC, the Tigers have invested far more heavily in recruiting the Southeast, and it's shown in five commits from Florida, three from Georgia, three from Tennessee, and -- most recently -- even one from Alabama (who said he first noticed Mizzou when Dorial Green-Beckham picked the Tigers).
Where those trends have most visibly collided is in the case of Tavon Ross, a three-star athlete from Cochran, Ga., who the Tigers offered early and are now attempting to keep in the fold despite attention from the likes of Georgia and Miami. The multiple message board threads on Ross's decision -- which is still expected to be friendly to Missouri -- suggest he may be the recruit most closely watched among Tiger fans Wednesday.
What they're saying is ... yeah, that's a-OK. From (always excellent) Rock M Nation and SBNation writer-slash-Missouri supporter Bill Connelly:
Five years ago last Friday, both Michael Sam and L'Damian Washington, two-star afterthoughts, committed to Missouri. Considering the impact that these two, and so many other once-overlooked prospects, had for Gary Pinkel's program, it was a rather noteworthy anniversary. And Missouri's coaching staff celebrated it in a way that only they can: by doing what they do and landing another two-star, mid-major end.
That end was the aforementioned Alabama recruit, Florence's Walter Brady, a former Middle Tennessee State recruit. At many SEC schools, filling out a class with a recruit plucked away from a team one year removed from the Sun Belt would be a cause for consternation. Not at Missouri, as this comment in response to Connelly's article shows:
[M]aybe Mizzou is identifying talent that [other coaches] don't properly evaluate. Recruiting services aren't the end-all when it comes to how good players are going to be. You can't evaluate guys that want it more. You can't evaluate the coaching and how those players respond to it.

At this point I trust Mizzou to properly evaluate talent than a recruiting service. We'd all love to have a top of the line recruiting class the way Bama or LSU. But I'd rather have wins.
Not that this is wrong -- even in his Big 12 heyday, Pinkel made do with far more sleepers than blue-chips -- but somehow, it seems a lot easier to say it after the Tigers' 2013 season than their 2012.
And what we're thinking is ... it is a-OK -- for now. The nagging question: even if Pinkel's recruiting is good enough to win the 2013 SEC East, will it be to win future editions of the SEC East? Florida and Georgia were completely gutted by injuries. South Carolina beat the Tigers in Columbia, only to play Georgia in its pre-injury state and trip up at Tennessee. And speaking of the Vols, Butch Jones' first full class suggests real improvement may finally be on the way. 
Even if the East improves (as it seems it must), Pinkel and Co. may be able to remain in contention for division titles anyway; injuries or no injuries, loss to Gamecocks or no loss to Gamecocks, the Tigers were easily the class of the division with one five-star in Green-Beckham and a whole lot of Michael Sams and Henry Joseys (a mostly-ignored three-star out of Texas). At some point, Mizzou may need a few more Green-Beckhams and a few fewer two-stars to stay with the Gators or Dawgs. But that point may also still be a few more Signing Days away.
There aren't many plays for 4th-and-26, but SMU drew up the right call anyway

Will Michigan put a dent in Penn State's magic season and Saquon Barkley's Heisman campaig...

Alabama covered a spread of over five touchdowns at home in a rout of Tennessee
Bolu Olorunfunmi jumped onto and over an Oregon defender on a 22-yard run

Keeping tabs on the biggest scores and highlights from Week 8 of the 2017 NCAA football se...

Smith was cited after being stopped at a DUI checkpoint