Breaking Down the Buzz: South Carolina
Gamecock fans clearly aren't done being invested in the career of one Jadeveon Clowney.
Each Monday, Wednesday and Friday, the Eye on College Football examines what current hot topic the fans of one BCS team are obsessing over -- rationally or not. Today's team: the South Carolina Gamecocks .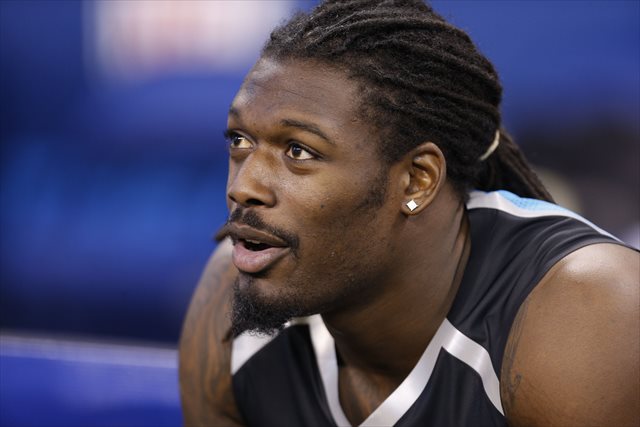 What they're talking about is ... Jadeveon Clowney. Every college fanbase roots, and roots hard, for their program's alums in the NFL. But it's still a little surprising to see the flurry of Jadeveon Clowney-related threads on South Carolina message boards. The Big Spur's front page alone features "High Clowney praise from James Franklin.......," "Clowney v. Khalil Mack," "Clowney's response to Mayock!!!!," "Clowney rumored to be signing with Puma...," "Dee Ford: get well soon wishes" (see here for an explanation), among multiple others. At CockyTalk, the story was much the same; of the 30 threads on the main forum page, 12 are directly or not-so-indirectly related to Clowney.
This isn't necessarily a shock, of course. Clowney gave Gamecock fans pleny of reasons to take him to heart during his on-field career -- particularly his smashing sophomore season, one that seems to be overlooked in the recent critiques of Clowney's statistical production -- but the connection goes deeper than that. Clowney was a South Carolina native, remember, who chose to play for the home-state Gamecocks despite his status as the No. 1 overall recruit and a prospect who quite literally had his pick of any program in the country. At the time, Steve Spurrier said he was the first No. 1 overall recruit who had ever signed with a team that had never won a national championship.
Add the natural affection springing from that decision to his excellent career, then clash it against the scouts' grumbling and skepticism regarding Clowney's work ethic and fitness, then top the mix off with Clowney's actual combine efforts, and you get a topic that's obviously going to be a lightning-rod for Gamecock fan discussion.
What they're saying is ... that he ought to go No. 1. But because of potential. The second comment on this CockyTalk thread, on why Clowney should go with the first overall pick:
Clowney is a hell of an athlete but there certainly is room for improvement. This article definitely helps sort out his strengths and weaknesses. Scary to think how much he can improve!
That's a fair representation of the general attitude towards Clowney from many posters: yes, he's incredible, yes, he should go No. 1, yes, his critics (and especially Dee Ford) need to shut up ... but that doesn't mean Clowney's infallible. From a thread discussing Clowney's comments on former Gamecock defensive line coach Brad Lawing, who Clowney gently (likely inadvertently) implied may have pushed him harder than 2013 line coach Deke Adams :
• Could you imagine a Clowney with Lattimore work ethic? Could have maybe been the best defensive collegiate player of all time....Charles Woodson category at least.

His legacy will always be lacking in my opinion. People will always remember "The Play". Truth is....I think Gilmore, Melvin, Norwood did more. That falls on Clowney....not the coaches.

• Jadeveon needs to be pushed...so whoever drafts him, find him a coach who will push him....maybe go hire Brad Lawing...might be worth it.

• Threads like this make me wish ESPN hadn't made a big deal about the hit. All this media b******t could have been avoided. He could have had a good last season without a million different people jumping down his throat for having his hands on his hip, which I've seen numerous college and NFL players do. Publicity like this means you're damned if you do something, damned if you don't. All I have to say is I'm proud he played for our team and he'll only get better once he reaches the pros.

• I love JC and think he has done wonders for our program. I am a Jags fan and hope he falls to us. I wish Spurrier had been more clear when asked about his work ethic.

That being said, essentially blaming your coaches for not pushing you is a really poor excuse and may be harder to defend than his on field play last year. Not sure what he is trying to accomplish. He says he pushed himself after Lawing left, but his play said otherwise. IMHO he should have simply said he took last year off and is now ready to work that he is entering the NFL.

I understand he is getting lots of questions about his effort and work ethic, but passing blame is not the answer. Makes him look bad. He is telling teams unless you have a coach who pushes me, I am not disciplined enough to get after it by my self.
On the one hand, too much is being made of Clowney's praise for Lawing. On the other, that even Gamecock fans are willing to direct this much criticism his way after 2013 tells you how disappointing a season Clowney's junior year truly was ... even if it shouldn't affect him going forward.
What we're saying is ... the criticism is valid, but we'd still take him No. 1, too. From a poster on The Big Spur:
I don't think anyone is disputing that Clowney's an athletic freak. What some have suggested is that the film indicates he takes plays off and does not give the effort one wants from a would-be top pick. Regardless of what the tape shows, I don't think you can pass on a once-in-a-generation athletic beast.
That just about sums it up. 2013 could have and should have been a better season for Clowney, but it was also a season in which he potentially had one eye already on his NFL career, more defensive attention than ever, and a coach which he may have not connected with as closely as a previous one. Assuming Clowney realizes, quickly, that he's going to have to make a 2012-like effort to succeed in the pros rather than a 2013-like one, those issues won't bother him in the pros.
And as every Gamecock fan would agree: a fully engaged, fully motivated Clowney is the sort of beast that can out-and-out dominate any game in which he plays, even in the NFL. The upside -- even compared to the likes of, say, Teddy Bridgewater -- strikes us as too much to pass up.
Kevin Sumlin addressed Texas A&M's decision to cancel a rally scheduled for Sept. 11

Expectations are high for Charlie Strong at South Florida, and Houston looks to take the next...

There are new names to learn every season, and here are five to keep an eye on from the AA...
Taking a close, detailed and opinionated look at the AAC a week before the start of the 2017...

These Jayhawks got a tremendous surprise they weren't expecting

Jovon Durante announced on Twitter he's headed to FAU