Breaking Down the Buzz: TCU
TCU has some doubt surrounding starting quarterback job, and yes, that's sparked some interest from the fans.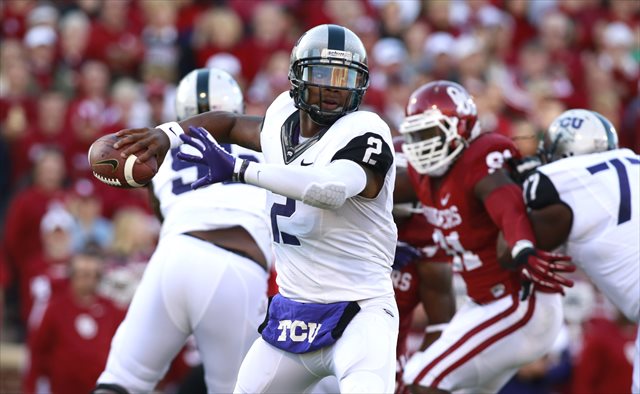 Each Monday, Wednesday and Friday, the Eye on College Football examines what current hot topic the fans of one BCS team are obsessing over -- rationally or not. Today's team: the TCU Horned Frogs .
What they're talking about is ... the spring quarterback battle. Trevone Boykin is a rising junior who's already appeard in 24 games in his TCU career, has at times flashed an intriguing dual-threat skillset, and is the only quarterback on the Horned Frog roster who's attempted more than three passes in his career.
Nonetheless, with two new offensive coordinators installing a brand new offense, Boykin doesn't appear safely ensconced as the Frogs' 2014 starter. The Fort Worth Star-Telegram headlined its Tuesday spring notebook "Little clarity at QB with only two spring practices remaining," and reports that redshirt sophomore Tyler Matthews "could still earn the starting job" if he beats out Boykin and true freshmen Foster Sawyer and Grayson Muehlstein -- who will arrive in the summer -- aren't ready. 
Any quarterback battle is going to prompt its share of message board speculation, and when you add in that Boykin was less than impressive for much of the Frogs' disappointing 4-8 2013 season, it's even less surprising that boards like Killer Frogs or The Frog Horn are enjoying a healthy discussion on the topic.
What they're saying is ... bring on Matthews. If possible. Gary Patterson has maintained throughout spring that Boykin is his No. 1 quarterback. But Boykin's successful experience at receiver during the periods when he backed up Casey Pachall at quarterback -- combined with his mediocre 7-to-7 touchdown-to-interception ratio and 6.8 yards-per-attempt average in 2013 -- has many posters hoping that Matthews gets the nod.
From this Killer Frogs thread, in response to one poster's assertion that Matthews "has pulled ahead" after a 17-of-20 performance in last Saturday's scrimmage:
• [I]n a perfect world Matthews would start and the freshmen redshirt

• If Matthews is pulling ahead then that is the best news of Spring.  Get Boykin on the field at a WR and give Matthews three years at QB and Red Shirt both the FR.
The suggestion that Matthews has pulled ahead was disputed by the site owner, for what that's worth. But the consensus still seems to be that if the Frogs can afford to move Boykin to wideout, that's for the best. From a recent Frog Horn thread:
• 

Boykin @ QB = Long, Terrible Season


• 

Boykin was tough to watch last year. Our entire offense was tough to watch last year. That said, Boykin is an amazing athlete that needs to be a part of the offense in some capacity. I hope Meachum figures out where he is best suited to help the team.




• 

I have not seen a single post by anyone on this board saying that [Matthews was a better option].  I'm pretty certain that I've read every post on the subject.  I have seen a large number of posts saying that it would be good for the team if someone else proved to be a better [QB].  I haven't seen one post that said someone currently is a better option.
To be fair, Boykin has plenty of defenders on both boards as well, some championing his athleticism and others blaming poor offensive line play or bad play-calling for the Frogs' struggle. But it also seems likely that if Patterson declared tomorrow that Boykin was moving to wideout again and Matthews was taking the reins, posters questioning that decision would be in the minority.
What we think is ... we'll believe Boykin doesn't take the first snap of the season when we see it. It's hard to blame TCU fans for hoping there's a better quarterback on the roster than the one Boykin was last season. But the gap between Boykin's experience and Matthews is vast, and Matthews has been on campus for two seasons already; if he was really that close to unseating Boykin, wouldn't he have made an appearance when the incumbent was struggling last fall?
Add in that the Star-Telegram sounds much less convinced of Matthews' chances at the job than the message boarders, and the guess here is that Boykin still has a reasonably firm upper hand.
Antonio Callaway and Jordan Scarlett are two of the nine players under investigation

The SEC released its 2018 schedule in full Tuesday afternoon, and it's dripping with intri...

The 2021 Chick-fil-A Kickoff Game will feature Louisville and Ole Miss
The Fornelli 50 ranks teams based on nothing but their performance in 2017

Penn State better have its eyes wide open with a trip to Iowa City on deck this weekend

Ohio safety Javon Hagan has a rather unique personal tradition during games