Breaking Down the Buzz: Texas
The reactions of Texas high school coaches to Charlie Strong is a hot topic as Longhorn fans deal with the team's recruiting
Each Monday, Wednesday and Friday, the Eye on College Football examines what current hot topic the fans of one BCS team are obsessing over -- rationally or not. Today's team: the Texas Longhorns .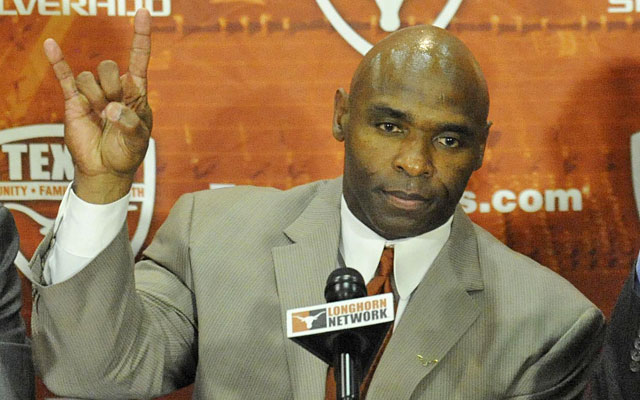 What they're talking about is ... recruiting, generally. Charlie Strong's relationship with high school coaches, specifically. There's never really any shortage of topics to discuss where the Texas Longhorns are concerned, but March 2014 seems particularly flush. Just in the past six days there's been Strong connecting with Matthew McConaughey, Strong saying he'd be open to renewing his team's series with Texas A&M, and the potential expansion of Darrell K. Royal Stadium ... not to mention, you know, Justin Bieber paying Rick Barnes and the Longhorn basketball team a visit. Look over the front page of boards like Horns247's or ShaggyBevo's, and no one particular trend seems to stand out.
But this being Texas, there's one topic that's always simmering: recruiting. And in the wake of Strong's decent-but-not-spectacular finish to the class of 2014 and Texas A&M's hot start to the class of 2015, it might be fair to say it's gone past simmering to a low boil; this March 3 Burnt Orange Nation post on Texas's recent head-to-head struggles vs. the Aggies has drawn 487 comments and counting.
That brings us to this Longhorn Digest article from Tuesday, in which four anonymous Texas high school coaches are asked their opinions of Strong, Mack Brown, and the transition from the latter to the former. The article has spawned lengthy threads at Horns247 and elsewhere. (Subscribers to Horns247 can read some similar content here.)
What they're saying is ... this probably isn't a big deal. Unless it is. Of the four coaches quoted in the piece, three are mostly measured in their support for both Brown and Strong, with the fourth -- "Coach D" -- saying Strong and his staff's "effort needs to be better" in reaching out to, well, him. Thus several less-than-politically correct responses at Horns247 like ... 
•d is in love with mack and obviously has his feeling hurt because Strong hasn't shined his shoes.
The consensus is that "Coach D" and the other high school coaches (to a lesser extent) need to get over themselves, for lack of a better phrase. But there's also a recognition that this is one area where Strong really could stand to take a page out of Brown's book:
•Perceptions are reality. Coach D probably represents a fair portion of Texas High School coaches. To s--- on him because it doesn't appeal to the fan base is frankly, so Aggy. I for one hope Charlie channels a little Mack as far as Texas high school coaching relationships go.

•["Coach D"] had the most significant quote in the whole article, " I think it depends on what his offensive coordinator does".

I can tell you that Texas HSC's love an up tempo spread offense, as opposed to what Watson has always ran.

•You can not believe how much influence most coaches have on where a kid goes to school ...
Those sorts of responses are echoed in the thread at ShaggyBevo (which, if interested, you'll want to peruse somewhere other than work, thanks to some users' NSFW avatars). Ultimately, there's a tension in posters' responses that isn't entirely resolved; Strong shouldn't have to gladhand high school coaches the way Brown did to succeed on the recruiting trail, but with Kevin Sumlin and Art Briles nudging ahead by those coaches' reckoning in the in-state influence race, shouldn't he be ready to go above-and-beyond in those gladhanding efforts anyway?
What we're thinking is ... yes, this is a cause for concern. The good news for Texas fans is that Strong is a fantastic X's-and-O's coach who'd likely be able to succeed in Austin with recruits he could nab without ever leaving his office. The equally-as-good news is that as hard a mental adjustment as it might be for Longhorn and Aggie fans to make after a century of hatred, it doesn't really matter to Strong if Sumlin is grabbing the lion's share of in-state recruits, since the two teams play in separate conferences and aren't currently slated to play in their nonconference slates. Strong has to reassert the 'Horns as a serious Big 12 contender before worrying about what any team is doing in the SEC, even Sumlin's. And given that nobody in the Big 12 is a traditional recruiting powerhouse, he can lose some Texas recruits to Sumlin and still accomplish that.
But here's the rub: can he lose them to Briles and still accomplish that? To Bob Stoops? What if he doesn't recruit better than Mike Gundy? Strong is a fantastic X's-and-O's coach, yes, but the Big 12 is already chockful of those. Texas's built-in advantages are such that Strong doesn't have to be a great recruiter to equal the rest of the conference on the trail, but he can't rely on the coaching superiority he flashed at Louisville and in the Big East/American to win him championships if he's not better than the rest of the conference on the trail. To get Texas where it's fans want to go, he doesn't have to be better than Sumlin ... but the likes of Briles and Stoops are too good that he can afford no not recruit better than they do.
And according to the high school coaches quoted in the above article, Strong has some ground to make up. No one can blame Texas fans if they show an intense amount of concern and interest as Strong attempts to do just that over the next year.
The Tide, as usual, are dominating everything already

Jim McElwain won't rule out Luke Del Rio, Feleipe Franks or Malik Zaire as the starter

The three rule changes for 2017 are focused on player safety
There are new names to learn every season, and here are five to keep an eye on from the Big...

Can the Big Ten produce a champion capable of scoring points in the College Football Playoff...

Taking a close, detailed and opinionated look at the Big Ten a week before the start of the...