Breaking Down the Buzz: USC
USC surprisingly lost a four-star tight end recruit to Duke. How well did their fans take it?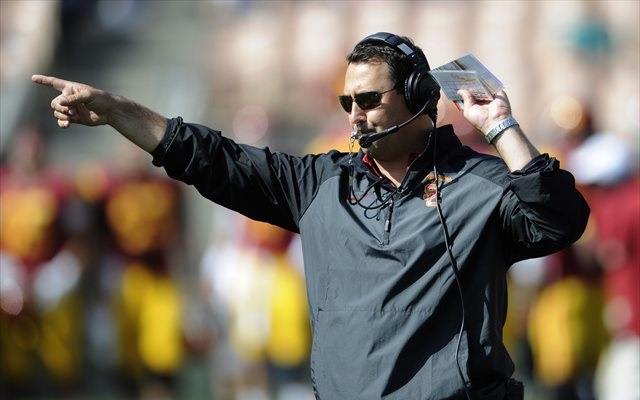 More college football: Jon Solomon | Dennis Dodd | Jeremy Fowler | Latest news
The Eye on College Football examines what current hot topic the fans of one BCS team are obsessing over -- rationally or not -- in Breaking Down the Buzz. Today's team: the USC Trojans .
What they're talking about is ... Tyler Petite. It's never been terribly difficult to recruit to USC, what with it having more historical success than any other program in its conference as well as, you know, being located in Los Angeles, Calif. There's a reason a certain CBSSports.com college football writer made it his first-round pick in CBSSports.com's recent 32-team program draft.
At a glance, the 247Sports composite team rankings for the class of 2015 would suggest that Steve Sarkisian isn't yet taking advantage of USC's inherent, uh, advantages, with the Trojans currently checking in at No. 17. But look closer, and it's clear that's a function of raw numbers -- USC has only nine players committed. With two five-stars and three more well-regarded four-stars in the class, Sarkisian's first full class averages a higher per-recruit 247 rating (91.65) than any school in the country other than current No. 1 Alabama. If Sarkisian can complete the class with anything similar to the quality of prospect he's reeled in so far, it's going to be a top-10 class at the bare minimum.
But of course, Sarkisian still has to go out and do it, and that task was made incrementally more dificult by a surprising decision Tuesday from four-star Moraga, Calif., tight end Tyler Petite, who spurned the Trojans to play for David Cutcliffe at Duke. The Trojans still got a boost later Tuesday when three-star offensive lineman Clayton Johnson committed, but the day still finished as less of a positive than expected.
What they're saying is ... mostly the right things. Mostly. The response on the forums at FightOn247 is about as measured as could be expected, with several posters wishing Petite luck, acknowledging that Duke is a "great academic school," saying USC will be fine at tight end regardless, etc.
Then you also have:
• enjoy playing at a basketball school. huge mistake.

• This is idiotic. Go to Stanford if you want elite academics (not that USC is shabby). I don't see the point in making it that much harder to get to the NFL by going to a school that peaked last year and is almost certainly on its way back down.

• Mind Boggling
And from a USC fan commenting at SBNation, the capper:
• If you make that kind of decision, then you shouldn't be a Trojan! Petite obviously "knew" his talent level was more in-line with the 2-Star talent you will find at Duke than the elite talent of USC and the Pac-12!

At USC we want "only" those who think National Championship and nothing less/else !!

Something Duke will "never" see !!!

Again, absolutely "no" loss here…

FightOn
Just so we're clear, here is a comprehensive list of fanbases for top-tier college football programs who wouldn't generate similar comments if their team surprisingly lost a four-star local recruit to Duke at a position of need:
That's the list. Still, tossing that "2-star" shade in the direction of a Duke program that's not exactly one of the Trojans' most bitter rivals is some serious overreaction.
What we're saying is ... hey, did we mention USC's per-recruit rating was second in the FBS? If some anger is always expected on the fanbase's part when a quality local recruit unexpectedly picks a different program -- and especially when that program is Duke -- USC fans do have some motivation to be a little less prickly than usual in this case. As mentioned, their class is already in excellent shape going forward (if, yes, in need of tight ends). Sarkisian's experience in developing NFL-caliber tight ends (hi, Mr. Seferian-Jenkins) will no doubt catch the attention of a few more solid prospects at that position before Signing Day. And above all, this is USC -- there's always going to be another blue-chipper coming down the pipe at some point.
It's a minor setback, and there is some pressure on Sarkisian now to add a quality tight end before February rolls around. But what's rolling around right now is July 4. Sarkisian is in fine shape on the trail, and any questions about his Trojan tenure at this stage should be directed to what on-field product he can produce this fall.
Led by Heisman Trophy winner Baker Mayfield, the Big 12 finished with seven first-team sel...

Schiano would have made $4.4 million in Year 1 with annual raises as part of a six-year de...

Dykes spent this season as an offensive analyst at TCU
The 'Wyoming Wild Man' notched six tackles for loss as a junior in 2017

Zaycoven Henderson was charged with aggravated assault with a deadly weapon

Patterson is a former No. 1 recruit in the country