Breaking Down the Buzz: Vanderbilt
Vanderbilt is giving up a true home game to host Ole Miss at Nashville's LP Field. What do the Commodore fans think?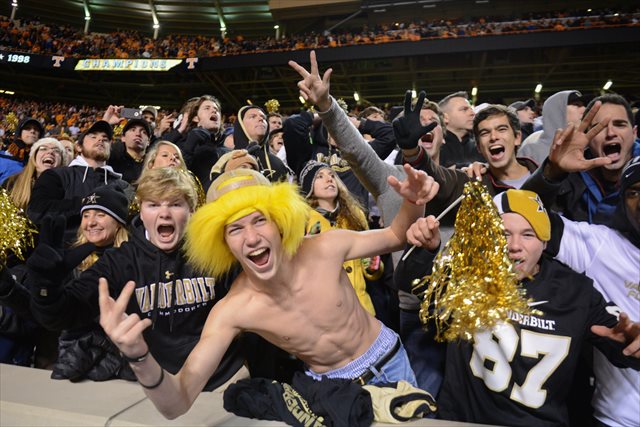 Each Monday, Wednesday and Friday, the Eye on College Football examines what current hot topic the fans of one BCS team are obsessing over -- rationally or not -- in Breaking Down the Buzz. Today's team: the Vanderbilt Commodores .
What they're talking about it is ... moving the Ole Miss game to LP Field. Commodores-Rebels is one of the bigger rivalry games on Vanderbilt's annual schedule -- played every year since 1970, it might rank behind only the 'Dores' date with Tennessee -- and so it one sense it makes sense to move the 2014 version to the Tennessee Titans' LP Field, as Vandy announced it would last week. With interest from Commodore fans running high, plenty of Ole Miss fans both in and out of Nashville ready to snap up seats, and the "special occasion" feel of playing in the NFL-grade 70,000-seat venue, it stands to reason that Vandy will sell substantially more tickets -- and make substantially more money -- than it would playing the game at Vanderbilt Stadium, all without leaving city limits.
In another sense, though, this is still Vanderbilt, where even selling out (and developing a legitimate home-field advantage at) the Commodores' 40,000-seat on-campus stadium has been quite the chore over the years. It stands to reason that if that many more tickets are bought beyond Vanderbilt Stadium will hold, they'll be bought by Ole Miss fans ... and turn what would have been a 100-percent home game into something much more neutral. Money or no money, when you're Vanderbilt, can you really afford to risk giving yourself less of a shot at an SEC victory?
There's two clear sides to the question, which it's not hard to find multiple threads on multiple Vandy message boards debating the pros and cons in lively fashion. 
What they're saying is ... the decision is a terrible/great one. It's not often message board opinion is all that divided over any issue, but in this case, it's close; this Vandy 247 thread is titled "Stupid is as stupid does," only for a later poster to respond that "Stupid is as stupid does = a great many VU fans." On one side, from that same thread:
• What a poke in the eye. To go from the excitement of expecting a stadium renovation announcement to losing a home game is a gut shot.

Maybe we should unionize and go the Ivy League non scholarship route. We sure don't belong in the sec.

• Just to make this idea even better, NO BEER will be sold during the game. I thought that would be at least one advantage. Now there are oficially 0 advantages!

BTW, parking passes will be only $25.

• The more concerning issue at hand is why Mason let this happen. If he thought this was a good idea - he clearly isn't going to be as smart as Franklin was with our schedule (a big part of our success) and if Mason got run roughshod over - well, then it's back to the old days where football gets pushed around by university.

Terrible all around.
And, on the other:
• This is a great move!! I love it!! Growing up I had the opportunity to play in the GA Dome and loved every time I played. I always thought I was an NFL Player. This is a great experience for the players and fans. We need to focus on supporting the players. Fill LP Stadium up for we can show people on National TV we mean business!!! Operation sellout!!!

• I can understand SOME frustration with this decision but really this is getting kind of funny. LP field is 3 miles from campus, Student admission is free, it is a different experience for the students and athletes (Who this is about and for), and it is very likely Vanderbilt is getting some sort profit for it to go towards improving the Facilities. So what if there is more seats for potentially more Ole Miss fans, just makes the game that much more fun for the students and the athletes.

• Y'all are amusing. Know how we make it a home field advantage? By selling it out with Black and Gold. This is not a Neutral Site game. We control ticket allocation. We control tickets. You want it to be all Vandy then get everyone you know to buy a ticket to the game. We did it for the bowl game. Why can't we do it for this game. I have mine. Do you?
That last comment provokes this lengthy (by message board standards) and thought-provoking (by just about any standard) response:
• I understand your point - I do. I appreciate it actually. That being said, I believe it is a mistake for the university to continue to disregard the loyal fans that do exist ... It is one of the things that I found distasteful about [James Franklin], even when I was on a steady diet of Franklin-aide. I am not an employee of VU. I have a job and going to VU games is something that I want to be enjoyable and fun, NOT A JOB. Being told every week what I need to do in terms of $$$ spent and effort expended gets old ... I believe this is a mistake in terms of home field advantage - there simply aren't 20,000 fans in waiting in the Nashville community that have been waiting for VU to host a game at LP Field. Just aren't. To have [athletic director David Williams] tell me that I should address my concerns by simply buying more tickets to game frankly angers me. I brought 20 to OM game last year, and I'm doing the same for opener against Temple this year. But having folks continue to make attendance a job versus treating me like a customer is wearing me pretty damn thin ... BTW, I'll be at the OM game supporting the kids. Which is why I'll continue to be treated like a fool instead of a loyal alum / fan / supporter. Go Dores.
The same poster follows up:
• I sincerely hope they are generating tons of revenue for the sale of the home game advantage. Not sure they are, however. Some folks act as if VU fans have some character flaw that will preclude attendance. Isn't about how many VU fans attend - generally the same number will attend that would have attended anyway. This move simply allows the sale of more tickets to OM fans. Cash grab, which is fine. Just don't piss down my back and tell its raining ... [W]e can't bring recruits (at least unofficial visits) and you won't have more VU fans in attendance, it is an SEC network game (not widely watched), it isn't for facility improvement purposes - DW said this isn't a trial run - so WHAT is the reasoning? I admit that I don't have all of the info, but I struggle to see the upside other than selling more tickets to OM fans. Correct me where I am wrong b/c I would actually like to have a totally different and positive view on how this is a great move for the program.
What we think is ... what that guy said. It's completely fine for Vanderbilt to move the game. It's more money (hopefully). It's a special experience for the players. There's still seven home games on the 2014 schedule, and due to the scheduling quirks introduced by SEC expansion, they even hosted Ole Miss on campus just last year.
But none of those things change the fact that moving the game very likely means evening up the numbers of fans on either side, eroding Vanderbilt's home-field advantage, and making a Commodore victory incrementally less likely than if the game was held at Vanderbilt Stadium. If Williams and the administration feel the positives outweigh those negatives, hey, more power to them. But it's hard to think those negatives aren't there, and equally hard to think they wouldn't be weighed differently in many other college programs.
Oliver's star has already been born, but 2018 is when it will truly be recognized

Craig Kuligowski is reportedly leaving Miami to take the same job with Alabama

BT Potter is about to be very popular in the Clemson locker room
McElwain will coach receivers and help coordinate the offense for the Wolverines

Nathaniel Watson Jr. was involved in a car accident that injured a passenger in early Febr...

The honorable Tom Fornelli presides over the ASU vs. UM case