Breaking down the schedules: Big 12
A look at how the Big 12 schedules shape up this year.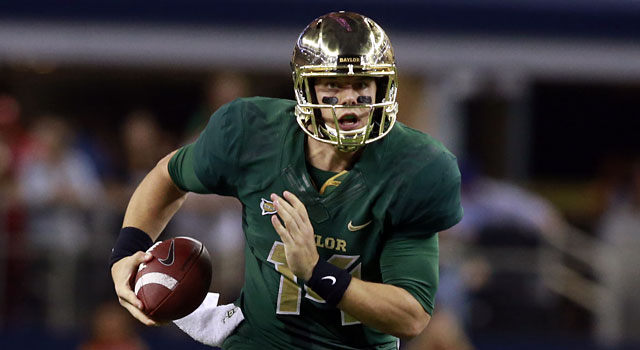 The Big 12, which is a 10-team league, is the only conference playing a true round robin and one of only two that play nine conference games.  That means there is only room for three non-conference games per team.  That's not a benefit when it comes to strength-of-schedule rankings.  The effect of playing an extra conference game is removing as many as 10 wins for league teams and replacing them with five wins and five losses.
Despite the fact that the league plays fewer non-conference games, eight of the 10 teams will play a FCS opponent.  Oklahoma and Texas are the exceptions.  League-wide, nobody is really sticking their necks out like a few of the ACC teams are.
Oklahoma -- The Sooners could be set up for an undefeated run.  They get Louisiana Tech and Tennessee at home and have a game at Tulsa in non-conference play.  In the league, they get Baylor, Oklahoma State and Kansas State at home.  Undefeated is never easy, but OU can't ask for a better slate to give it a shot.
Oklahoma State -- Unlike their in-state rivals, the Cowboys have a relatively tough road.  It starts with a game against the national champs and ends with games at Kansas State, home vs Texas, at Baylor and at the Sooners.  The part in between is manageable, but OSU could lose four games and still be a pretty good football team.
Strength of Schedule
School
SOS
Texas
15th
West Virginia
16th
Oklahoma State
20th
Iowa State
28th
TCU
38th
Kansas
41st
Baylor
45th
Kansas State
51st
Oklahoma
54th
Texas Tech
71st
Note: Based on the old BCS SOS formula using last year's data for current year opponents. The SOS ranking is overall for all 128 FBS schools.
Baylor -- The most interesting challenge on the Bears' schedule is a trip to Buffalo, which would be more interesting if Khalil Mack was still on the Bulls.  Their schedule could be a problem if they end up in the playoff hunt.  The Big 12 had backloaded the schedules of most of the top teams and Baylor is no exception.  The Bears finish with a game at Oklahoma, and home tilts with Oklahoma State and Kansas State surrounding a game against Texas Tech in North Texas.
Kansas State -- Like the Cowboys, the Wildcats get a big chance to make a splash for themselves and the league when they host Auburn.  Those two games are far and away the marquee non-conference games in the Big 12 this year.  However, their second best non-conference opponent is arguably Stephen F. Austin.  Kansas State's schedule isn't backloaded like most of the other contenders, although they do finish with three of four on the road.
Texas -- Charlie Strong's debut season won't be easy.  The Longhorns will play the toughest non-league schedule among Big 12 teams, facing both UCLA and BYU.  In the league, they get Kansas State and Oklahoma State on the road, as well as the Red River Shootout against Oklahoma.
West Virginia -- The Mountaineers are the only team in the league playing two major conference opponents in non-conference play, and neither are at home.  They play Alabama in Atlanta to open the season and travel to Maryland two weeks later.  The shine has come off of Dana Holgorsen as his teams have posted progressively worse records in his three years there.  This schedule won't help reverse that trend.
Nothing too exciting stands out with Kansas, Texas Tech, TCU and Iowa State. The Horned Frogs do get a Big Ten matchup with Minnesota, while Texas Tech plays SEC foe Arkansas. Iowa State should beware on Aug. 30 as it faces FCS National Champion North Dakota State.
Trust the Process as Tom Fornelli leads you toward his best bets for Week 13 of the season

This edition of the sport's greatest rivalry will go down in history as one of the most im...

Dennis Dodd makes his prognostications for the last and most important week of the regular...
Kelly is presently deciding whether to start anew with the Gators or Bruins

There are a handful of conference championship games still to be determined

SportsLine's top college football expert, on a 30-18 run, locks in his top picks for a loaded...