Breaking down the schedules: Big Ten
The Big Ten will have a new look this year, and that will impact league schedules.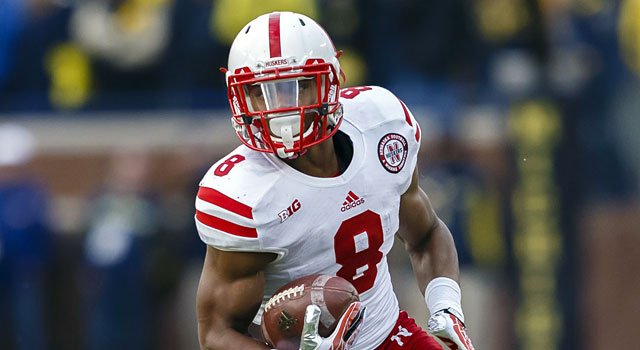 The Big Ten welcomes Maryland Terrapins and Rutgers Scarlet Knights into the fold for 2014 and realigned their divisions into a much more logical East and West format.  While I was always critical of it, I'm going to miss going through the exercise of trying to figure out who was a Legendary Leader every fall.
The league is working toward a 9-game conference schedule format, which will debut in 2016.  In the meantime, each team will play everyone else in it's division, plus two rotating crossover games, except for Indiana Hoosiers (East) and Purdue Boilermakers (West).  They'll always have each other, plus one rotating game..
Here is a look at some of the more interesting schedules.
Ohio State Buckeyes The league-favorite Buckeyes are playing a few decent non-conference opponents, but nobody on the road.  They will host Virginia Tech and Cincinnati Bearcats , which are good teams, but likely not good enough to win in Columbus. They will also play Navy Midshipmen in Baltimore, but the Middies probably couldn't beat Ohio State at sea.  In the league, the Buckeyes have relatively soft cross-division games with Illinois Fighting Illini and Minnesota Golden Gophers .  They also have road games at Michigan Wolverines State and Penn State Nittany Lions .  Those two figure to be the biggest road blocks between them and a playoff spot.
Strength of Schedule
School
SOS
Ohio State
9th
Rutgers
11th
Indiana
14th
Nebraska
18th
Maryland
25th
Illinois
33rd
Michigan State
37th
Penn State
42nd
Minnesota
43rd
Michigan
44th
Wisconsin
48th
Northwestern
53rd
Purdue
62nd
Iowa
73rd
Note: Based on the old BCS SOS formula using last year's data for current year opponents. The SOS ranking is overall for all 128 FBS schools.
Michigan State Spartans The Spartans beat Ohio State in the Big Ten title game last year, but now, they are in the same division.  Sparty has the league's toughest non-conference game when it plays at Oregon Ducks on Sept. 6th.  Their conference schedule is nice though.  Along with the Buckeyes, they also host Nebraska Cornhuskers and Michigan.  Their other cross-division game besides the Cornhuskers is at Purdue.  The Spartans could be a popular pick to win the league again with this schedule.
Nebraska: Bo Pelini's crew will host Miami in non-conference play, and also plays one of the four Big Ten road games against a non-major.  The Cornhuskers will play at Fresno State Bulldogs on Sept. 13th.  The conference did them no favors with their league schedule.  If Nebraska will win the inaugural West division title, they'll have to do so fighting through games at Wisconsin Badgers , Iowa Hawkeyes and Michigan State.
Wisconsin: The Badgers open the season with a bang, taking on LSU Tigers in Houston.  That figures to be a pseudo-home game for the Tigers.  Other than that, the schedule doesn't have too many potholes on it.  They have road games with Northwestern Wildcats (which is never really a home crowd disadvantage) and Iowa.  That is among the reasons why they are the favorite in the West.
Penn State: There is no FCS opponent on the schedule, which is something only Ohio State and Michigan can also claim.  However, is playing Temple Owls and UMass at home that much better?  The Nittany Lions will travel to Ireland to play UCF Knights to open the season.  They are not eligible for the postseason again this year, so they will not represent the East in the Big Ten title game, but they could have a say in who does.  They host the top two contenders, Michigan State and the Buckeyes.
Michigan: The Wolverines will relive one of its nightmares when it hosts newly-minted, FBS opponent Appalachian State Mountaineers to open the season.  They also have road games with all three of its big rivals, Notre Dame Fighting Irish , Michigan State and Ohio State.
Iowa: The Hawkeyes could be a sleeper in the West.  Their non-conference schedule could put you to sleep too.  They face in-state foes Iowa State Cyclones and Northern Iowa.  I'm not sure which is better.  Pitt should provide a bit of a challenge in Pittsburgh Panthers .  In the league, they get Northwestern (at home) and Maryland as their cross-division games, and finish the season with back to back home games against Wisconsin and Nebraska.
Indiana: Kevin Wilson is in his fourth year of rebuilding the Hoosiers and still looking for his first bowl game.  This year's schedule won't help.  IU is one of two league teams, along with Maryland, playing two road non-conference games.  Unfortunatly for the Hoosiers, both opponents, Missouri Tigers and Bowling Green Falcons , are good enough to beat them.  The new divisional alignment puts them in the much tougher East and a road game at Iowa is one of their cross-divisional games.
Minnesota: If the Gophers are going bowling this year, they may want to get eligibility sewn up before November.  They finish with Iowa and Ohio State at home, followed by roadies with Nebraska and Wisconsin.
Scott leads the Spartans with 408 rushing yards

One of the finest restaurants in Columbia has a unique partnership with University of South...

While Mother Nature has wreaked havoc, some teams have been just plain bad so far this sea...
Bryce Love's video game season and early-season turnarounds lead our group

Trust the Process as Tom Fornelli leads you toward his best bets for Week 8 of the season

A tough end to the 2017 slate will have Notre Dame against the ropes for the rest of the s...