Breaking down the schedules: Non-majors
It's going to be hard for a non-major to make the four-team playoff with these schedules.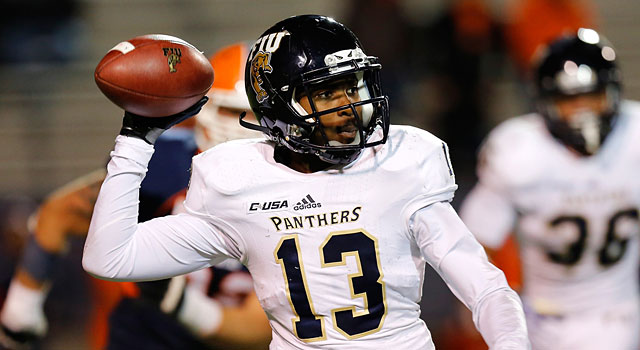 Breaking down the schedules: ACC, Notre Dame | Big 12 | Big Ten | Pac-12 | SEC
You can call them the Group of Five. You can call them the have-nots. You can call them non-majors.  Whatever you call them, these teams are all longshots at best for a spot in a playoff, even if one of them strings together an undefeated season. That won't be an easy feat.
You won't find these teams playing 78% of their non-conference games at home. The MAC's 12 teams are playing a total of nine home games against FBS opposition. Their conferences won't give them enough quality opponents to get the selection committee's attention, so they have to make their cases outside their leagues and, almost invariably, on the road.
Strength of Schedule
School
SOS
SMU
46th
San Jose State
55th
UCF
56th
Louisiana Tech
58th
Tulane
60th
Boise State
61st
Temple
65th
Army
67th
Wyoming
68th
Fresno State
70th
Note: Based on the old BCS SOS formula using last year's data for current year opponents. The SOS ranking is overall for all 128 FBS schools.
Cincinnati Bearcats The Bearcats get to play both Miamis this year: the Hurricanes in Florida and the Redhawks at home. They also have a trip up the road to Columbus to play Ohio State. It's a schedule of opportunity. They miss out on UCF Knights on their American conference slate and get East Carolina Pirates at home.
UCF: A trip to Ireland awaits the Knights as they face Penn State over there to open the season. After they come back, they head to Missouri and have a game later at home against BYU. They finish the season with back-to-back road games with USF and East Carolina.
SMU: The Mustangs rate the toughest non-conference schedule among the non-majors with games at Baylor and at home against Texas A&M and rival TCU Horned Frogs .
East Carolina: The Pirates will have their hands full. They play at South Carolina and Virginia Tech, plus get North Carolina at home.
Florida International Golden Panthers FIU will host not one, but two major conference schools this fall. They are the only non-major that can say that. Pitt and Louisville will visit them in Miami. Only two other C-USA teams are hosting major-conference foes (UTEP and UTSA). They are also the only non-major playing four non-conference home games and the only FBS team playing eight games on its home field. Their other two non-conference foes are Wagner and Bethune-Cookman from the FCS.
Marshall Thundering Herd The Thundering Herd is considered a favorite in C-USA this year, but even an undefeated season may not be enough to get them into one of the CFP games. They are playing three MAC teams and a FCS opponent outside the league. They needed at least one attention-getting game.
Louisiana Tech Bulldogs : The Bulldogs are playing four of their first five on the road, including games at Auburn, Oklahoma, and defending Sun Belt champ UL Lafayette. The only home game is against FCS Northwestern State.
Rice Owls Defending C-USA champ Rice starts its season with back-to-back road games with Notre Dame and Texas A&M, and later plays both Marshall and La Tech on the road.
Army West Point Black Knights The Cadets are the only FBS team playing a road game against a FCS team. They play at Yale on Sept. 27th. They also play only two games against major opposition, at Stanford and at Wake Forest.
BYU: In their fourth season as an independent, the Cougars are finding it harder to schedule major conference teams. They played an increasing number the first three years, peaking at six last year, but this year, they will only play three. They host Virginia and travel to Texas and Cal.
Navy Midshipmen The Middies play only five games on their home field, but two others in Baltimore (against Ohio State and Army) and one in Landover, Md. against Notre Dame. Their only other major conference opponent is Rutgers, which will be played at home.
Northern Illinois: The Huskies will find it harder to get back into the national spotlight this year, and not just because of the loss of QB Jordan Lynch. Their non-conference schedule includes road games with Northwestern and Arkansas.
Toledo Rockets One of the three SEC road games outside of the South will take place at Toledo when Missouri visits Sept. 6th.  The Rockets also travel to Cincinnati and Iowa State.
Boise State Broncos The Broncos have been the big name among non-majors for a number of years, but Fresno State Bulldogs knocked them off their perch last year and coach Chris Petersen has moved on to Washington. The schedule gives the Broncos a chance to rebound somewhat. They have a non-conference game against Ole Miss in Atlanta and get both the Bulldogs and Utah State at home in league play.
San Jose State Spartans The Spartans have a rough schedule inside and outside the league.  In non-conference play, they travel to Auburn, Minnesota and Navy, and they go to Fresno State and Utah State Aggies in Mountain West action.
Fresno State: We know the Bulldogs will enter conference play battle-tested. They play at USC and Utah before hosting Nebraska. The schedule is all downhill from there.
Wyoming Cowboys Scouting their non-conference schedule should be easy for the Cowboys coaching staff.  Just get the popcorn and watch Michigan State at Oregon on Sept. 6th. The Cowboys will travel to each of those schools in the following three weeks.
UL Lafayette: The Ragin' Cajuns are expected to be a favorite in the Sun Belt again, and they'll be challenged in non-conference play. They host Louisiana Tech and travel to Ole Miss and Boise State.



These Jayhawks got a tremendous surprise they weren't expecting

Jovon Durante announced on Twitter he's headed to FAU

From Week 1 through the title game, everything runs through Atlanta this season
A concert is a nice way to break up preseason camp

Mills was arguably Georgia Tech's most important player coming into the season

Hugh Freeze's phone records reportedly show another troubling pattern for Ole Miss