Breaking down the schedules: Pac-12
There's not a lot of excitement outside the league for fans of the Pac-12 this year.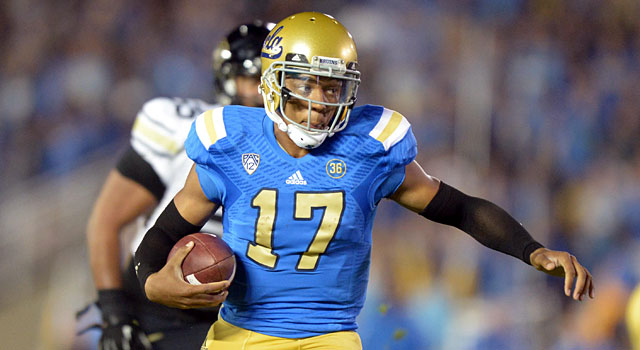 The Pac-12 is the only other conference besides the Big 12 playing a nine-game conference schedule.  That means fewer non-conference games, and in this case, fewer interesting ones.  In this league, if you're not playing Notre Dame (three teams are), you're probably not playing anyone of note.  However, only eight of the 12 teams are playing FCS opponents, so that's nice.
Here is a look at some of the more interesting schedules in the conference:
Stanford: If the Cardinal is going to defend their division title, they're going to have to navigate a conference schedule with five road games, including Oregon and UCLA.  They also have a cross-division game at Arizona State.  Stanford travels to Notre Dame in non-conference play also, to complete a pretty challenging road slate.
Strength of Schedule
School
SOS
Utah
7th
USC
13rd
Stanford
17th
Oregon
26th
UCLA
29th
Arizona State
32nd
California
36th
Arizona
39th
Washington State
40th
Oregon State
59th
Colorado
66th
Washington
69th
Note: Based on the old BCS SOS formula using last year's data for current year opponents. The SOS ranking is overall for all 128 FBS schools.
Oregon: The marquee matchup of the otherwise dull Pac-12 non-conference schedule is Sept. 6, when Michigan State visits Autzen.  The Ducks conference schedule as about a nice as you can ask for.  They do have to travel to UCLA, but their other cross-division games are Arizona and Colorado at home.  Their game at Cal has been moved off campus to the 49ers new stadium.
UCLA: The Bruins have one of the more intriguing non-conference schedules in that they play two major-conference foes, both away from home.  They will travel to Virginia to open the season, which does't seem too terribly daunting, and then play Texas on Sept. 13th in North Texas.  They have five conference home games, which include their three toughest opponents, Oregon, Stanford and USC.  They get Arizona at home as well.  This schedule is among the reasons why they are favorites in the South division.
Arizona State: The Sun Devils are the defending champs of the South division, and their schedule has some challenges.  They get UCLA and Stanford at home, which is good, but they have five road conference games, including USC and Arizona.  Their other cross-over games are Washington and Oregon State, both on the road.  Outside the league, they'll travel to New Mexico and they get Notre Dame at home.
Utah: Utah had been to bowls in nine straight seasons before missing the last two years.  The Utes' schedule won't make it easy to get back this year.  They host Fresno State and travel to Michigan in non-conference play and have five conference road games, including UCLA, Arizona State and Stanford.  They also have to play USC and Oregon at home.
Arizona: Rich Rodriguez could have a 5-0 team when they travel to Oregon in Oct. 2nd.  That game will begin a stretch of three out of four on the road which will make or break this season for the Wildcats.  Survive that stretch well, and this team could contend for the division title.
USC: You could argue that the Trojans are playing the toughest non-conference schedule among Pac-12 teams.  They will face Fresno State and Notre Dame at home and travel to Boston College.  They also have five league games on the road, including Stanford and UCLA.
Washington: The Huskies are the only Pac-12 team with four non-conference games because their game at Hawaii is exempt from the 12-game limit.  Playing 13 games means they will need seven wins to become bowl eligible.  Someone in the conference office doesn't like Washington.  They start conference play with four out of five on the road.
Oregon State: The Beavers also play at Hawaii, but didn't not take advantage of the exemption to schedule an extra game.  They have a chance to finish the season on a high note with four out of their last five at home.
College football bowl games were all announced on Sunday, and you can check out the entire...

SportsLine simulated every bowl game 10,000 times for pick'em leagues and confidence pools

Everything you need to know to watch and pick the Las Vegas Bowl on Saturday
Everything you need to know to watch and pick the Camellia Bowl on Dec. 16

Everything you need to know to watch and pick the New Mexico Bowl on Dec. 16

Everything you need to know to watch and pick the Cure Bowl on Saturday