Breaking down the schedules: SEC
Nobody is wimpier than the mighty SEC when it comes to scheduling.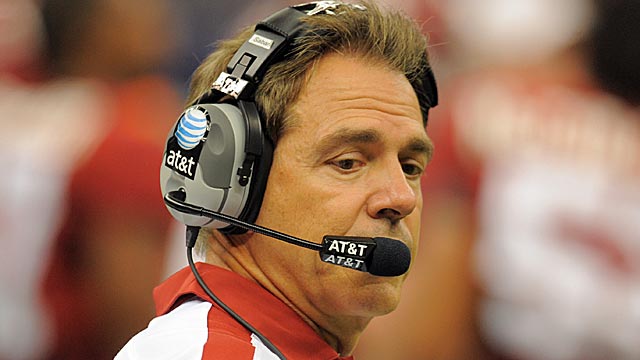 Breaking down the schedules: ACC, Notre Dame | Big 12 | Big Ten | Pac-12
The SEC is the big, bad wolf of college football.  Seven titles in the last eight years.  The expectation for the new playoff is that there will be a minimum of two SEC teams included every year.  The AP requires every voter to have eight conference teams in the top 10.  I may have made that last one up.
Just like every other year though, the league will have to wait until the postseason to prove itself, because when it comes to the regular season, non-conference schedule, no league is wimpier than the SEC.
When it comes to scheduling, the SEC is a recluse. Good luck getting them to leave the house. Even if they do, they're definitely not leaving the subdivision.  SEC teams are playing a whopping 78.5% of their non-conference games at home.  No other league is even close to that.  The Big Ten is second at 70.9%.  
Strength of Schedule
School
SOS
South Carolina
3rd
Texas A&M
4th
Arkansas
5th
Auburn
6th
Tennessee
8th
Kentucky
23rd
Georgia
24th
Ole Miss
30th
Missouri
34th
Florida
35th
LSU
49th
Alabama
52nd
Mississippi State
57th
Vanderbilt
81st
Note: Based on the old BCS SOS formula using last year's data for current year opponents. The SOS ranking is overall for all 128 FBS schools.
Even the league's three "neutral" site games aren't all that neutral.  All three games are in the league footprint against teams from out of region.  Six of the nine road games are in the South as well, which includes three of the four in-state, SEC-ACC rivalry games.  Only three non-conference games will be on the road outside of the region (Auburn at Kansas State, Tennessee at Oklahoma and Missouri at Toledo).  Again, no other league is nearly as reclusive.
And, finally, every single team will play one game against an FCS opponent.  Only the ACC can say the same.  Must be a Southern thing.
With all that said, this scheduling strategy makes sense.  We don't know how the CFP poobahs are going to measure strength of schedule -- we'll never know -- but no matter how they do it, the fact that the league's non-conference record figures to be very good will help.  That's because all those non-conference wins carry over to the conference games.  For example, it'll be better for South Carolina to play 4-8 Kentucky instead of 1-11 Kentucky.  Every non-conference win helps.
So, the league will put up another gaudy non-conference record and thump their chest about their superiority, but the real proof will have to wait for the postseason.
Alabama -- Before we address this year's schedule, as a public service announcement, I want to let you know that the Tide is still looking for a game for next season. They're desperate.  They say they'll take anybody.  They mean they'll take them in Tuscaloosa. It wouldn't be tough to schedule a road game.
This year's non-conference schedule lacks sizzle.  It's possible none of those opponents will play in a bowl, but at least their cross-division games aren't complete cupcakes this year.  Well, that's assuming Florida is back to being more like Florida.  The Gators replace Kentucky on the schedule.  The Tide gets Auburn at home, but travels to LSU.
Auburn -- The highlight of the Tigers' non-conference schedule is a tricky game at Kansas State.  Their cross-division games are a brutal pair of South Carolina and Georgia.  The defending league champ plays at Alabama and Georgia, but gets LSU and the Gamecocks at home.  Three of their last four conference games are on the road.
LSU -- The Bayou Bengals open the season against Wisconsin in Houston, which is a pseudo-home game.  They will have tough road tests in the league though.  They play Auburn, Florida, Arkansas and Texas A&M away from home.
Florida -- The conference didn't do the Gators any favors in their hopes to rebound from a miserable 2013.  Their cross-division foes are LSU and Alabama, but they get South Carolina at home and Georgia is always a neutral site game.  Outside the league, they have to go to Tallahassee to face their rival and defending national champs Florida State.
South Carolina -- The Gamecocks have to travel to in-state rival Clemson in non-conference play and to Auburn and Florida in the league.  They also host East Carolina, which has a history of pulling the big upset.
Georgia -- The Bulldogs face Clemson as well, this year at home.  It's the second straight year they'll face each other to open the season.  They will also host rival Georgia Tech, making the Bulldogs the only SEC team facing two major conference foes in non-conference play.  They have a tough stretch in the middle of the season where they play four straight games away from home.

Tennessee -- The Vols buck the trend.  They have always been one of the more aggressive schedulers.  The last six years have included home-and-home series with UCLA and Oregon.  This year, they will play at Oklahoma.  The following week, they start conference play at Georgia.  Tennessee also has road games with Ole Miss and South Carolina, and the traditional, but now misnamed "Third Saturday in October" game against Alabama.
Ole Miss -- Ole Miss is an up-and-comer with a schedule that gives them a chance to make a statement.  The Rebels open with Boise State in a neutral site game in Denver.  HAHAHA!  Just kidding.  It's in Atlanta.  They get both Alabama and Auburn at home.  If the Rebels don't win the division themselves (unlikely), it gives them a chance to have a say in who does.
Vanderbilt -- If the Commodores miss a bowl, it won't be because of their non-conference schedule, which is the weakest in FBS.  They will play Temple, UMass, Old Dominion and Charleston Southern, all at home.  Those four combined for four wins against FBS opponents last year.
Arkansas -- The Hogs will play one true road game between Sept. 13 (at Texas Tech) and the season finale at Missouri.
Rutgers' offensive line challenged a local curling club to a match

These five teams have the best chance of being the Group of Five darling this coming year

Drevno had been running the Michigan offense for three seasons
Aaron was reportedly shot while trying to protect his girlfriend when a fight broke out at...

An assistant-by-assistant look at changes Saban made to the Tide's staff ahead of 2018

Find out when Nick Saban, Kirby Smart and the rest of the coaches will speak ahead of the...