Bret Bielema clarifies comments about Florida, Ole Miss recruiting
Arkansas coach Bret Bielema clarified a comment he made about Florida and Ole Miss recruiting that he says was taken the wrong way.
Bret Bielema has never been a coach shy about expressing his thoughts and opinions, and during a television interview with ESPN on Wednesday, he made some comments about recruiting at Florida and Ole Miss. 
"Florida is kind of the new Ole Miss," said Bielema. "They're doing some things in recruiting that just kind of shocks you a little bit."
Yes!!!! Bielema just went full #WoooPigSooie on Florida during #NationalSigningDay
on ESPN2. pic.twitter.com/p2BNOKH3GA

— Matt Barrie (@MattBarrieESPN) February 3, 2016
Now, these comments were taken by many as a shot at both Florida and Ole Miss, as it seemed Bielema was possibly making a comment about how those schools go about their recruiting, but Bielema insists that wasn't the case. In a statement he released on Wednesday, Bielema says he was complimenting both schools.
Here's Bielema's statement:
"I said something earlier that came across in the wrong way, I guess. I was paying a compliment to Florida. We've seen them kind of pop up everywhere. Before my last couple years here, really had only competed against Florida in Georgia and Florida itself a lot, because I love to recruit Florida. Well, this last week we were competing against them on a wide receiver in Texas, a running back, a player in Louisiana and a player in North Dakota. And I've never seen that before; that's all I was making reference to.

"It's kind of like last week, we stumbled across an offensive lineman in Illinois and I really liked him and started to proceed with him and found out he -- before I got anything going -- had had committed to Ole Miss. And I told my staff, 'Ole Miss, they're everywhere.' That's kind of the comment we make. It wasn't in reference to anything other than that. I mean that wholeheartedly and honestly, and when I said that earlier, I was paying a compliment to Florida.

"I've called (McElwain) and told him that as well as Hugh, and that was received well. So, I'll put that little nugget to bed."
Now, whether you want to believe Bret or not, that's for you to decide. Personally, I'm willing to give him the benefit of the doubt. National Signing Day is a hell of a grind for college coaches. Not only have they been working their tails off to put the finishing touches on their classes, but if you're the coach at a school like Arkansas, or any other Power-Five school, you've spent your entire day doing radio and television interviews as well.
When you're doing that much talking, eventually you're going to screw something up. And I honestly think that's what happened here, but because of who said it, and the personality we all love him for, it gets taken the wrong way.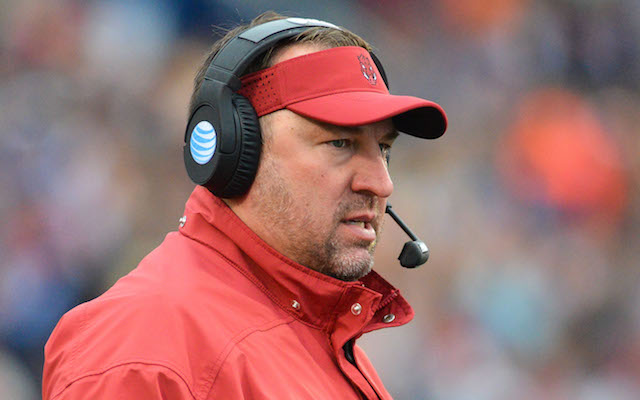 Florida's roster got a boost on Tuesday with the return of several key members of the prog...

Tom Hutton joins the ranks of former Aussie rules footballers joining the college football...

The freshman is already on Heisman lists after throwing the walk-off score in the national...
These seven teams should make the most noise down the homestretch towards signing day

Air Force was forced to cancel 11 athletic events because of the 69-hour government shutdo...

Olson has a lot of the tools offensive coordinators want in a quarterback