Brian Kelly not among six Bryant Award finalists
The coach for the surprising No. 1 team in the country was not among the six finalists for the Bryant Award for coach of the year.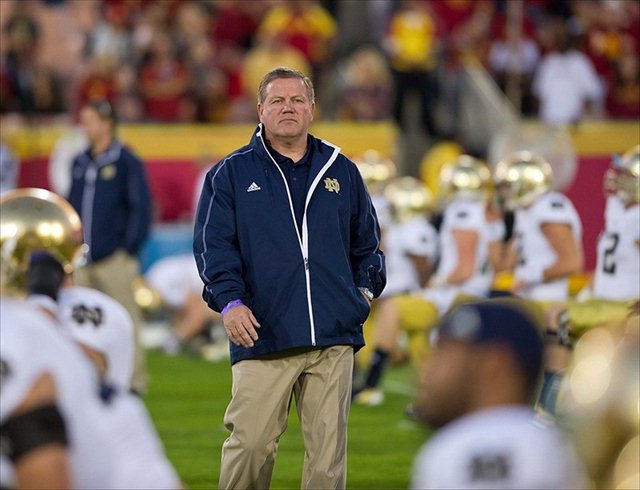 Brian Kelly's undefeated season wasn't enough for a nod from the Bryant Award. (US Presswire)
The six finalists announced this week for the Paul "Bear" Bryant Coach of the Year Award are, without question, an outstanding collection: James Franklin of Vanderbilt; Urban Meyer of Ohio State; Bill O'Brien of Penn State; David Shaw of Stanford; Bill Snyder of Kansas State; and Kevin Sumlin of Texas A&M.
But if it seems like there's a whopping omission in that list, there is -- namely, the coach for the No. 1 team in the country, Notre Dame's Brian Kelly. After taking a Fighting Irish team that began the season unranked in the AP poll and No. 24 in the coaches to a 12-0 record and the school's first berth in the BCS Championship Game, Kelly became the AP's Coach of the Year.
In a tight field, it wasn't enough to earn a nod from the National Sportscasters and Sportswriters Association, which forms the voting body for the Bryant Award. It's worth noting that Kelly wasn't the only snub; though the Bryant Award watch list can be trimmed to a list of finalists including five to 10 coaches, the coach on the sideline opposite Kelly in the BCS title game -- Alabama's Nick Saban -- didn't make the final cut, either.
In the case of Saban, voters may have been inclined to overlook him in favor of other coaches with lower expectations and less talent to work with. Kelly's 2012 body of work, however, would seem to fit snugly alongside those of coaches like Shaw or Snyder whose teams also vastly outperformed their preseason expectations. (According to Vegas betting site Beyond the Bets, Kelly was one of only two BCS-level coaches to exceed his team's season win total by more than three wins, alongside Oregon State's Mike Riley.)
In the end, it's just an award -- not one Kelly will lose any sleep over, and one that will still bestow its honor on a coach who is 100 percent deserving. (It's also, importantly, an award whose Jan. 17 ceremony helps raise funds for the American Heart Association.) But it remains unquestionably odd to see a coach so many would claim had done the best job in the FBS this season not even make a list of finalists.
Gyree Durante of Albright College was dismissed after he kneeled during the national anthe...

Penn State's star rusher loves to argue, just not about whether he's the nation's best pla...

The Fornelli 50 ranks teams based on nothing but their performance in 2017
Find out which of your favorite team's players are among the nation's best midway through...

Anybody can rank the best college football teams, only we rank the worst each week

The Badgers never get talked about, but that might change if they keep up their hot streak