Brooks Bollinger leaves Pitt staff, John Settle hired as RB coach
Paul Chryst has made one hire to his staff, while another member departs.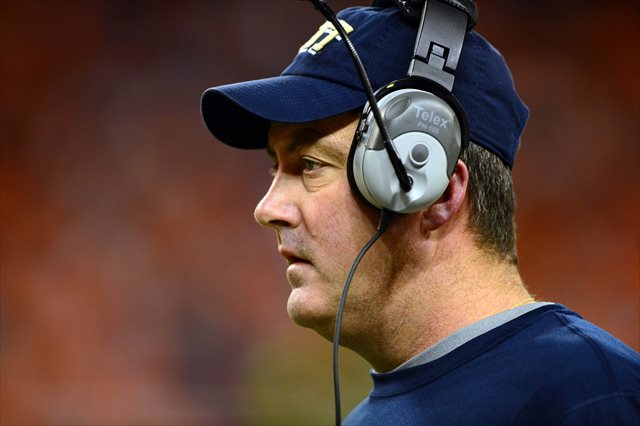 Paul Chryst's staff has seen one name familiar to college football fans leave its ranks, only for another to sign up.
The Panthers announced Friday that quarterbacks coach Brooks Bollinger, the former Wisconsin quarterback, has resigned to "pursue non-coaching opportunities." Chryst will take over as the Panthers' quarterbacks coach himself. 
"Brooks did a tremendous job for us the past two seasons and our program is better for his contributions," Chryst said. "He is interested in some professional pursuits away from football and I know everyone at Pitt wishes him only the very best."
But there won't be any additional vacancies on the Panthers' staff, as Chryst also announced the hiring of new Panthers running backs coach John Settle. Settle arrives from the Cleveland Browns after three years coaching NFL running backs.
An NFL veteran in the '80s and '90s with the Atlanta Falcons, Settle was running backs coach alongside Chryst when both worked as assistants at Wisconsin under Bret Bielema -- and when backs like P.J. Hill and John Clay continued the Badgers' long-running tradition of bruising 1,000-yard rushers.
So if Bollinger makes Chryst's Pitt program maybe slightly less the Pennsylvania version of the Badgers, Settle's appointment might make up for that ... and then some.
Kevin Sumlin addressed Texas A&M's decision to cancel a rally scheduled for Sept. 11

Expectations are high for Charlie Strong at South Florida, and Houston looks to take the next...

There are new names to learn every season, and here are five to keep an eye on from the AA...
Taking a close, detailed and opinionated look at the AAC a week before the start of the 2017...

These Jayhawks got a tremendous surprise they weren't expecting

Jovon Durante announced on Twitter he's headed to FAU