Bucs OC Jeff Tedford back to what he loves -- coaching offense
Former California coach Jeff Tedford found a safe landing strip in Tampa Bay as the Buccaneers' offensive coordinator under Lovie Smith.
• 4 min read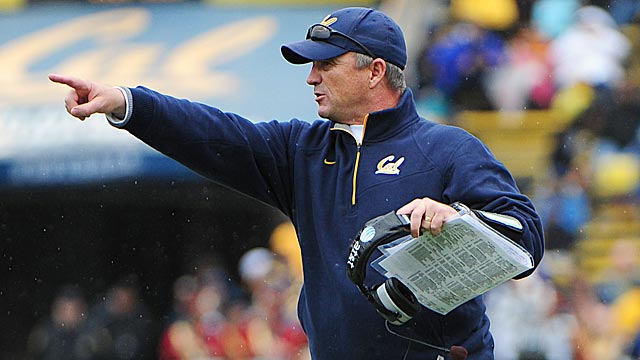 More Draft: NFL Mock Drafts | Big Board | NFL combine news and updates
INDIANAPOLIS -- Football unemployment causes nostalgia.
Just ask Jeff Tedford, who was craving football so much during the fall that he reviewed practice scripts from his first year as Cal's head coach in 2002.
That's if he wasn't breaking down three games a day from his man cave inside his Reno, Nev., home.
Tedford appreciated some time off. But, yeah, the man was bored.
"Don't take more than a year off," said Tedford, who was fired from Cal in December 2012 after 11 seasons.
Then Tedford got a call from new Bucs coach Lovie Smith in December, the kind of call that will reshape Tedford's -- and possibly Smith's -- career.
Tedford as the Tampa Bay Bucs' offensive coordinator is one of the more intriguing offseason hires in college or pros because of the implications for both men involved.
Tedford eschews the comfort of the college game, where he did serious quarterback developing at Fresno State and Oregon and Cal but whose offenses fizzled late in his Cal tenure. His last pro job? Well, if you count the CFL, he was a pro coach with the Calgary Stampeders in 1991.
Smith looks to the college game to bolster an offensive game that never took flight when he coached the Bears.
When a coach is fired after a 3-9 season, soul searching is the first step to recovery. Tedford evaluated what went wrong, got over the fact he had hoped for more time to turn Cal around, then immersed himself in game video every weekend. He made a few spring practice tours in the SEC and on the West Coast.
One truth never left him: He knows NFL quarterbacks, which happens to be an invaluable commodity for 32 pro teams.
Tedford coached seven of them in a 20-year span starting as an offensive coordinator at Fresno State in the early '90s. Aaron Rodgers was his prized pupil at Cal, but he coached Trent Dilfer at Fresno State and went 2 for 3 with starters as first-round picks while Oregon's OC (Akili Smith and Joey Harrington).
Tedford's Bears experienced marginal quarterback success after Rodgers left, but from 1998-2005, not many were doing more with quarterbacks.
The sound of scheming and teaching quarterbacks in the pros couldn't have sounded sweeter to Tedford after a firing. His sophisticated, quarterback-driven scheme, which reportedly overwhelmed Bears quarterbacks late in Tedford's tenure, should acquit well in the complex NFL game.
"This came in the perfect time in my life and career," Tedford told CBSSports.com from a restaurant table, across from Mizzou linebacker Michael Sam, during the NFL scouting combine in Indianapolis. "I'm really motivated to come into the NFL."
Tedford had surveyed the college coaching market and wasn't overwhelmed by his choices. He was rumored to be involved in the Wyoming opening but Tedford said that wasn't happening.
He eyed the Washington and Boise State jobs but those schools "got their No. 1 guys" in Chris Petersen and Bryan Harsin, he said.
No doubt, the Fresno State job would have garnered interest if Tim DeRuyter went elsewhere. That didn't happen.
Then Smith called in December. Smith didn't have a job yet but was preparing for interviews after "Black Monday -- or whatever they call it," Tedford said (yes, he's still new to this NFL thing).
Smith needed strong offensive coordinator plans for the interview circuit, so he requested a chance to talk football with Tedford and the two connected.
Smith eventually offered Tedford the chance to coordinate an offense. This was appealing -- as in, a handful of responsibilities instead of 80.
"As a head coach, everything comes through your door -- I enjoyed that," Tedford said. "But I can focus on offense now. It's a perfect fit for me right now. I'm eager to see what I can do at this level. I go into it confidently."
Not that Tedford is exempt from a pro learning curve. Once Tedford and Smith agreed to pair, Tedford spent the next month learning the nuances of NFL clock rules and management.
One thing stuck out after watching dozens of NFL games in the fall: So many come down to the last minute.
"I'm not going to come in and act like I know everything about the NFL because I don't," Tedford said. "I can feed off [Bucs coaches] with what their experiences have been. I'm really fortunate to be with a guy like [Smith], with very high values and strong philosophies about things."
Like most coaches on their way out, Tedford wanted to make it work at Cal. Save a heartbreaking 16-13 loss to Washington in late 2010, he says, and Cal goes bowling in 10 of his 11 years.
Cal faced APR issues under his watch but Tedford said the Bears had established a recovery plan that was working well before he was fired.
By the time Tedford tried to establish a no-huddle offense, he felt he didn't have enough veterans to handle quick adjustments from play to play.
"It was probably time to go," Tedford said. "The expectation does grow so high, because of the success you had."
If Tedford has his way, the expectations will mushroom with Tampa Bay, too, because his offense is thriving -- with Mike Glennon or possibly a draft pick.
Tedford said he will coach whichever quarterbacks are at training camp. In other words, he's not speculating about a potential Bucs cornerstone quarterback he can try to groom from the first round to the Pro Bowl.
A decade ago, Tedford plucked Rodgers out of Butte Community College and found success. Now the NFL found him from an unexpected place.
His Reno living room.
"I'm grateful for it," he said. "This is the kind of job that suits what I love to do."
A magic trick turned into a scholarship surprise for this Texas lineman

Michigan's notorious secrecy is getting called out again

Key was named a 2017 CBS Sports Preseason All-America selection this week
Our bowls expert looks at the toughest -- and weakest -- nonconference schedules in the na...

The new uniforms will be worn on Oct. 28 at Kyle Field vs. the Bulldogs

Kiffin's Owls have added myriad troubled players since he took over in Boca Raton