By the Numbers: Cupcakes still rule in College Football Playoff era
Since the announcement of the playoff in 2012, how are teams scheduling future opponents? Jeremy Fowler takes a closer look to see if teams are going for tough games or easy wins.
• 4 min read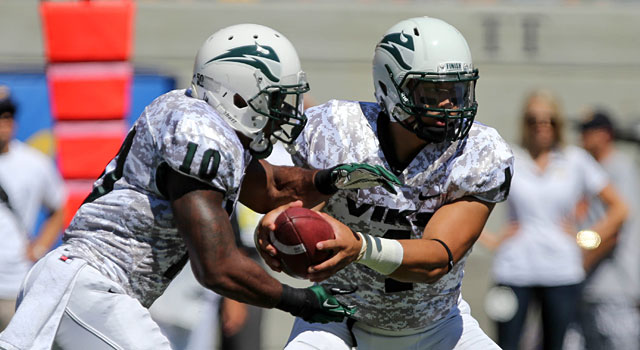 More college football: Jon Solomon | Dennis Dodd | Latest news
Conference offices from Greensboro to San Francisco have pumped the College Football Playoff rhetoric about strength of schedule.
Time to play up! Look at all the great non-conference games we're scheduling! And on some days, like Sept. 3, 2016, that is undoubtedly true.
But Cincinnati's Tommy Tuberville knows better. Teams still schedule easy wins, he said. Though the Bearcats have scheduled Miami, Nebraska and Michigan in recent years, other powerhouses haven't wanted to partake because, "we've been a good program for a while."
"The playoff's not going to change scheduling much," said Tuberville, who wonders whether the playoff selection committee will lean too heavily on traditional programs looking to go 12-0.
Games Scheduled by Power Conferences
Since the announcement of the four-game playoff on June 27, 2012, here is a look at how the ACC, Big Ten, Big 12, Pac-12 and SEC have schedule games against.
Category
Number
vs. power conference teams
83
vs. smaller conferences
178
vs. FCS teams or lower
45
vs. C-USA
40
vs. Sun Belt
38
vs. American
35
vs. Mountain West
31
vs. Mid-American
31
vs. Navy
2
vs. Army
1
The numbers suggest Tuberville is right.
Since presidents officially approved the four-team playoff on June 27, 2012, about 73 percent of the games scheduled by the Power 5 conferences (plus Notre Dame and BYU) are outside the power conference structure -- games against schools from the American, Mountain West, C-USA, MAC, Sun Belt conferences or FCS.
Combing through scheduling announcements from the last 25 months showed that 45 of the 300-plus games involving those power schools were to play FCS opponents, with another 78 for C-USA (40) or Sun Belt (38) teams.
That total of 123 games comprises about 40 percent of the games found, while dwarfing the 83 or so games scheduled between two power-conference schools.
Big schools scheduled 35 American matchups, 31 apiece with the Mountain West and MAC, and three with Army /Navy .
For all the knocks on soft SEC non-conference schedules, the league scheduled tougher than average. The CBSSports.com study found five FCS games announced during the playoff span, and 26 of 72 games are against power schools (36.1 percent). The Big Ten also fared well. Thirty-two of its 92 games announced were against power schools.
This was an informal study, an online search of announcements coming from big or small schools and using the archives of FBSchedules.com as a helpful tool. Reasonable wiggle room should be allowed for announcements missed or games that will or have been cancelled.
Isn't scheduling Boise State or Cincinnati or UCF as good or better than a bottom-feeder from the Big Ten or ACC? Probably. But in 2014, leagues such as the SEC and ACC have asked their teams to play at least one school from another conference.
That hasn't stopped power schools from scheduling at least 10 FCS-level games in the last seven months. Sixty-six of the last 100 power-school announcements are for games with smaller conferences.
West Virginia athletic director Oliver Luck, a selection committee member and known aggressive scheduler, said he senses the committee will strongly consider strength of schedule but schools might be slow to change their September routines until a few years of the new system play out.
Playing up and playing down
Playing Up
Team
Opponents
Ohio State
Virginia Tech, Oregon,
Texas, TCU
Arizona State
Texas Tech, Wisconsin,
Texas A&M
LSU
Penn State, UCLA, TCU,
Wisconsin
Playing Down
Baylor
Incarnate Word, Wofford,
Liberty
Georgia Tech
Mercer, Alabama A&M
Wash. State
Portland State, Montana St.
Eastern Washington
"It's not just lip service," said Luck about strength of schedule.
Maybe some teams just want to make a bowl game.
To be sure, sometimes a school needs to buy a game to fill out its schedule. Alabama is desperate to fill its 2015 slot. It would play a tough game but can't find one, athletic director Bill Battle says. Luck has scheduled Tennessee, Virginia Tech and Penn State but also signed on FCS-level Youngstown State.
If a scheduling crunch will muscle out the smaller conferences eventually, as has been speculated with the power conferences' push for NCAA autonomy, there's no proof yet. Many of these agreements have been scheduled out for later this decade. Most Big Ten teams play at least one MAC opponent each year.
But certain schools either simply need to do better or are strategically picking easy games as if daring the selection committee to validate cries for scheduling intent.
Baylor has scheduled Wofford, Liberty and Incarnate Word in recent years. Georgia Tech has Mercer and Alabama A&M. Washington State has Portland State, Eastern Washington and Montana State.
Yes, the Pac-12 and Big 12 play nine-game schedules. That's a grind. But the Big Ten's future nine-game slate in 2016 hasn't stopped Ohio State from scheduling Virginia Tech, Oregon, Texas and TCU in the last two years.
Maybe that's because Ohio State doesn't live on the cusp of bowl eligibility every year like some schools.
Without a seismic shift in the process, college football Septembers are still far away from an NFL scheduling model.
CBS Sports HQ Daily Newsletter
Get the best highlights and stories - yeah, just the good stuff handpicked by our team to start your day.
Please check the opt-in box to acknowledge that you would like to subscribe.
Thanks for signing up!
Keep an eye on your inbox for the latest sports news.
Sorry!
There was an error processing your subscription.
A closer look at the top five games on the Saturday slate in Week 8 of the 2018 college football...

The Bears and Ducks will play for the first time in a two-game series in 2027 and '28

Air Force, Army and Navy will be on CBSSN this weekend
SportsLine's advanced computer model simulated every Week 8 game 10,000 times with surprising...

Who could take the Knights spot if they slip up at the end of the season?

The Pac-12 North is on the line as the Ducks follow a Washington win with a tough test at Washington...