BYU can't convince ACC, SEC it's a Power 5 school
BYU athletic director Tom Holmoe can't convince the ACC and SEC to consider the Cougars a Power 5 opponent.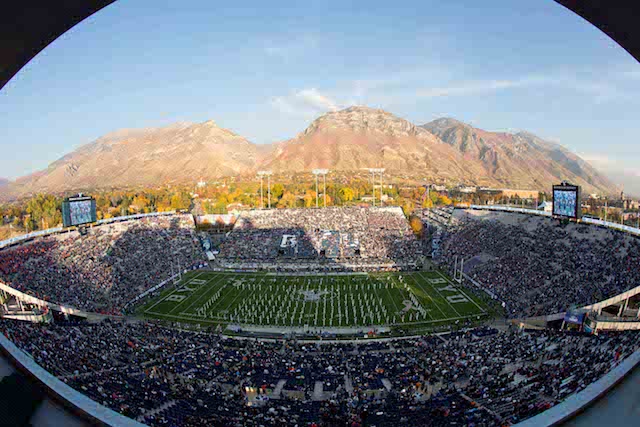 It's hard out here for an independent school.
With the College Football Playoff beginning this season the divide between the haves and have-nots of the college football world is only going to grow larger, and BYU is one of the schools that will suffer from it. With a selection committee deciding which four teams will compete in the playoff, schools in the Power 5 conferences all realize that strength of schedule is going to matter quite a bit, and have taken measures to make sure their schedules are up to snuff. The ACC and SEC, eschewing the nine-game conference schedules that the Big 12 and Pac-12 play, and the Big Ten will begin playing, have decided to make sure they play at least one non-conference game against a Power 5 school each season.
And BYU wants to be one of those schools, but it appears it isn't going to get its wish.
Both the SEC and ACC said they wouldn't consider BYU to be such an opponent, and BYU athletic director Tom Holmoe appealed to both SEC commissioner Mike Slive as well as ACC commissioner John Swofford to reconsider.
So BYU is in a sort of limbo at the moment. The school left the Mountain West in 2010 to pursue life as an independent, and then the entire college football landscape changed. Conference realignment played out like a game of musical chairs, with power conferences cannibalizing each other as well as other conferences, and the BCS was pushed aside for the new playoff.
It's enough to make you wonder if BYU may one day find itself back in the Mountain West. As CBSSports.com's Dennis Dodd wrote earlier this week, Hawaii is currently in a position where it's seriously considering dropping its football program. If that were to happen the Mountain West would find itself down a team, and you'd have to think BYU would be the first school it looked to as a replacement.
Rejoining the Mountain West may not be what BYU wants, but it could be what's best for the football program in the long-term. 
Some players are more easily replaced than others

The 2017 season is in the books, and several big-name stars are jumping early to the NFL

Love was second in the nation in rushing with 2,118 yards in 2017
It looks like Jennings is slowly making his way back to the Vols after being dismissed last...

Offensive coordinator Brian Daboll's departure to the NFL has left a void at Alabama

Wilkins was considered a potential first-round pick in the NFL Draft