BYU's Mendenhall: Cougars would 'love to be' invited to Big 12
BYU head coach Bronco Mendenhall told the Austin-American Statesman Thursday that he would 'love' for his team to play in the Big 12.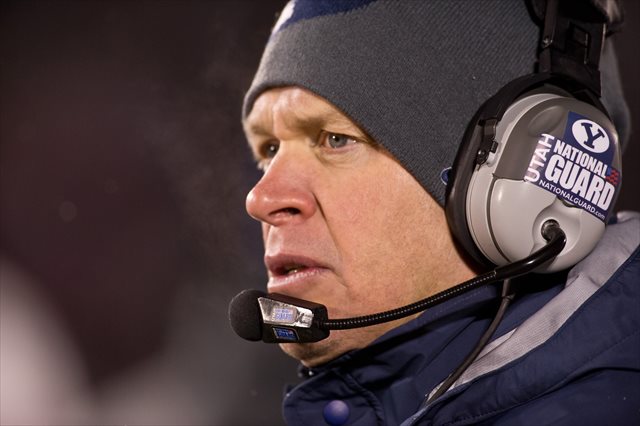 More college football: Jon Solomon | Dennis Dodd | Jeremy Fowler | Latest news
The push for governing autonomy for the FBS's Power 5 has unsurprisingly caused more than a little apprehension among their counterparts in the Group of 5 -- see Boise State president Bob Kustra's recent rip job on proposed NCAA reforms, or UCF coach George O'Leary's comparison of the Power 5's "Divison 4" talk to the saber-rattling from the Civil War-era South.
Though addressing the same basic issue in a Thursday conversation with the Austin American-Statesman, BYU coach Bronco Mendenhall took a much different rhetorical tack: if you can't beat 'em*, join 'em. 
"We would love to be in the Big 12," Mendenhall said. "I would love to be a member of that conference. I think that would make a lot of sense. In fact, if that was your headline [ed.--it was], that would be great."
Following the ACC's and SEC's decisions that scheduling BYU will not count towards those leagues' required power-conference nonconference, the Cougars appear to be on the outside looking in of the upper tier of college football; it's no real surprise that Mendenhall would start publicly asking for some help from the Big 12, the only major conference not already at at least 12 teams. Bob Bowlsby's league was also strongly linked with the Cougars, potentially as a football-only school, during its 2011 realignment upheaval.  
But it's nonetheless a bit of a surprise that Mendenhall would be quite so bold about looking for an invitation, and it makes it all the more unfortunate -- from a Cougar perspective -- that the Big 12 reportedly isn't looking to expand. 
Of course, plenty of conferences back in the great 2011-2012 realignment shakeup said they weren't looking to expand ... just before they did. And it's not as if the Big 12 didn't already invite West Virginia -- another school home to multiple traditionally successful athletics programs, despite a low-population home state and relatively smaller national profile.
Until the Big 12 does get back to 12 teams (and maybe even after that), BYU can say "never say never," and we won't blame them a bit.
*Of course, "can't" in this context actually means "can." On multiple occasions. And maybe even break some school records in the process.
The Tide, as usual, are dominating everything already

Jim McElwain won't rule out Luke Del Rio, Feleipe Franks or Malik Zaire as the starter

The three rule changes for 2017 are focused on player safety
There are new names to learn every season, and here are five to keep an eye on from the Big...

Can the Big Ten produce a champion capable of scoring points in the College Football Playoff...

Taking a close, detailed and opinionated look at the Big Ten a week before the start of the...