C-USA Preview: ECU, Tulsa seek one final title before moving to AAC
East Carolina and Tulsa both return most of their high-powered offenses and looking to win that Conference USA title one last time before moving on to the American Athletic Conference in 2014.
East Carolina Pirates and Tulsa Golden Hurricane have a lot in common.
Both teams return a core of their high-powered offenses, both are favorites to win their respective divisions and both are looking for one final Conference USA title before bolting to the American Athletic Conference in 2014.
C-USA All-Conference
Pos
Player
Yr
School
QB

Rakeem Cato

Jr.

Marshall Thundering Herd

RB

Trey Watts

Sr.
Tulsa
RB

Vintavious Cooper

Sr.
East Carolina
WR

Justin Hardy

Jr.
East Carolina
WR

Tommy Shuler

Jr.
Marshall
TE

Gator Hoskins

Sr.
Marshall
OT

Stetson Burnett

Sr.
Tulsa
OT

Adhem Elsawi

Sr.
East Carolina
OG

Cyril Lemon

Jr.

North Texas Mean Green

OG

Will Simmons

Sr.
East Carolina
C

Chris Jasperse

Jr.
Marshall
DE

IK Enemkpali

Sr.

Louisiana Tech Bulldogs

DE

Horace Miller

Sr.
UTEP
DT

Justin Ellis

Sr.
Louisiana Tech
DT

Christian Covington

So.

Rice Owls

LB
Derrel Johnson
Sr.
East Carolina
LB

Shawn Jackson

Sr.
Tulsa
LB

Zach Orr

Sr.
North Texas
CB

Phillip Gaines

Sr.
Rice
CB

Deron Wilson

Sr.
Southern Miss
S

Demarco Nelson

Sr.
Tulsa
S

Darion Monroe

So.

Tulane Green Wave

K

Cairo Santos

Sr.
Tulane
P

Hunter Mullins

Jr.

UAB Blazers

KR

Reggie Whatley

Jr.

Middle Tennessee Blue Raiders

PR
Justin Hardy
Jr.
East Carolina
East Carolina returns one of the most experienced teams in the country with 17 of 24 starters back from a team that finished 8-5 and averaged 31.5 points per game last season. Quarterback Shane Carden (3,116 yards, 23 TDs), RB Vinatavious Cooper (1,049 yards, 7 TDs) and WR Justin Hardy (1,105 yards, 11 TDs) are all back.
"The part that is gratifying is the core, the leadership core," East Carolina head coach Ruffin McNeil said. "Those guys have been around us and the program and understand what it takes. We got a great group of guys and having experience back helps with the leadership."
Meanwhile, Tulsa returns with its own dynamic trio of QB Cody Green (2,592 yards, 17 TDs), RB Trey Watts (1,108 yards, 3 TDs) and WR Keyarris Garrett (845 yards, 9 TDs). The Golden Hurricane offense averaged 34.7 ppg on their way to a 11-3 record and conference title last season.
"I like using the phrase 'You can't live on the past'," Tulsa head coach Bill Blankenship said. "But can we build on that success? Absolutely. It gives us some reality to our dreams and our goals. Our team has seen it and accomplished it. The challenge is ... will you be as hungry and work as hard?"
If expectations are met, these two teams will be the ones squaring off for the league title Dec. 7.
Offensive player of the year: Rakeem Cato, QB, Marshall: It will be hard for Cato to have a better season than he did last year, throwing for 4,201 yards with 37 touchdowns, but as long as he comes anywhere near those numbers, he'll take home the offensive player of the year award.
Defensive player of the year: Shawn Jackson, LB, Tulsa: The senior is coming off another strong season where he recorded 88 tackles, including 10.5 for loss. He also racked up five sacks and three forced fumbles and will once again be a leader on the Golden Hurricane defense.
Top newcomer: Taj Letman , DB, Marshall: For a defense that allowed more than 43 points per game and ranked 119th in the nation, Marshall needs all the help it can get. Enter Letman, who played at Holmes Community College last season and signed with Marshall over offers from Georgia, Nebraska, and Baylor. He is expected to jump right in to the starting lineup.
Coach of the Year: Ruffin McNeill, East Carolina: It's very possible this team could finish 10-2 or even 11-1 and if it does, McNeill is your coach of the year. Expect East Carolina in the C-USA title game with all its returnees. The Pirates should also have a chance to beat at least one of the three ACC teams on their schedule (Virginia Tech, at North Carolina, at NC State).
Next coordinator to become a head coach: Greg Peterson , Tulsa. Eventually somebody is going to come calling for the long-time offensive coordinator. After stints with Kansas State and Colorado State, he enters his third year with Tulsa. With another explosive season on offense, Peterson might finally earn a head coaching job.
Next head coach to become a coordinator: Dan McCarney, North Texas. In two years with the Mean Green, McCarney is 9-15. If the team doesn't show some improvement or post a winning record, he could be gone. The good news is, if that happens, he will hook up with somebody as a defensive line coach or defensive coordinator.
Best conference game: East Carolina at Marshall on Nov. 29. Last year's score was 65-59 in double overtime, and this season, it should decide the East Division.
Best non-conference game: Tulsa at Oklahoma on Sept. 14. Can the small school beat the football powerhouse? Tulsa's offense should at least be able to keep them in the game.
Bold conference prediction in two sentences: With all the great offenses and poor defenses in C-USA, some team is going to score 70 points at least once this season and it will probably be Marshall. It's also possible for Marshall to give up 70 points to another team in the conference.
Predicted order of finish
East

1. East Carolina: The Pirates have all the weapons to win the division, led by the QB-WR combo of Carden and Hardy. Newcomer of the year Vintavious Cooper (1,049) is primed for a big season, running behind four returning offensive lineman, including tackle Adhem Elsawi. Like most of the teams in the conference, the defense needs improvement after giving up 31.6 ppg and 430.7 yards per game. Three starters are back in the secondary, but they got torched at the end of last season. The LB duo of Derrel Johnson and Jeremy Grove are the strength of the defense.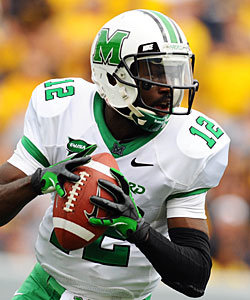 2. Marshall: Possibly the best offense in the conference, along with the worst defense. Scoring won't be a problem with the return of Rakeem Cato (37 TD passes), WR Tommy Shuler (110 catches) and four offensive lineman. The big issue will be stopping other teams from scoring. The defense was ranked 119th in the nation, giving up 43.1 points per game last season. It allowed at least 50 points five times, including 65 to East Carolina and 69 to West Virginia. The secondary has a lot of work to do, but hopes newcomers Corey Tindal and Taj Letman help.

3. Middle Tennessee: One of four teams coming over from the Sun Belt, the Blue Raiders are a sleeper team and could challenge for the East Division if everything falls into place. Nine starters are back on offense, including quarterback Logan Kilgore (2,571 yards passing, 16 TDs) and two wide receivers -- Christian Collis and Kyle Griswould . Another team playing behind a very experienced offensive line is MTSU with four starters back, including sophomore Darius Johnson . On defense, the Blue Raiders have a little rebuilding to do, replacing three defensive linemen. Safety Kevin Byard (4 INTs) anchors the secondary.

4. UAB: After a 3-9 season, the Blazers are looking to get back to respectability. Junior running back Darrin Reaves (1,037 yards) returns after a solid season and will have four of the five starters back on the offensive line to run behind. QB Austin Brown returns to guide the offense after earning C-USA All-Freshman honors in which he threw for 2,673 yards and 15 TDs. The Blazers defensive line should be pretty good with Connor Boyett moving to defensive end, along with the return of Diaheem Watkins . Hunter Mullins is the top punter in the conference.

5. Florida Atlantic: Carl Pelini has some challenges in his second season, but hopes are high with new starting quarterback Melvin German III. He was a JUCO All-American at Pearl River Community College, where he threw for 3,121 yards and 21 TDs. MGIII will also have RB Jonathan Wallace (673 yards rushing) and WR William Dukes (979 yards) returning. The secondary is the Owls strength on defense with the return of three starters, including cornerback D'Joun Smith . The unit ranked 27th against the pass, allowing only 204 yards passing per game.

6. Southern Miss: Only one way to go after going 0-12 ... up! New coach Todd Monken will have some work to do with only three starters back on offense, including just one offensive lineman. He will also have to break in a new quarterback, which will likely be Ricky Lloyd , who threw for 277 yards in five games last season or redshirt freshman Kyle Sloter . Either way, its gonna be a tough year for the Golden Eagles offensively. On defense, seven starters are back and must improve in a hurry. They were minus 16 in turnovers (115th) and 113th in points allowed. Corner Deron Wilson is a big-play threat.

7. Florida International Golden Panthers : Ron Turner is in for a rough year at FIU. Starting running back Kedrick Rhodes was dismissed from the team, leaving the Panthers with just two returning starters. QB Jake Medlock is back after throwing for 13 TDs and only two INTs, but his only weapon with any experience is Willis Wright (25 catches). Only three starters are back on defense, but the Panthers do have an outstanding defensive tackle in Greg Hickman (30 tackles, 8 for loss). FIU will also have to replace kicker Jack Griffin.
West

1. Tulsa: With all its playmakers back on offense, the Golden Hurricane are once again the favorites in the West. Tulsa has the best RB duo in the conference with Trey Watts (1,108 yards, 3 TDs) and Ja'Terian Douglas (936 yards, 7 TDs) both returning. With Green back at QB and two of the three receivers returning, it's going to be difficult for anybody to stop this team from scoring. The defense was the best in the conference last year, but with only three starters back, it should take a step back this season. All four starters have to be replaced on the defensive line and three members of the secondary. LB Shawn Jackson (88 tackles, 10.5 for loss) and safety Marco Nelson (80 tackles, 2 INTs) are two of the best.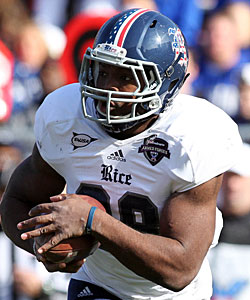 2. Rice: The Owls had a pretty impressive season last year, winning their last five including the Armed Forces Bowl. And with almost the entire team back, expect the Owls to be back in another bowl this season. Rice has a great rushing attack with QB Taylor McHargue (667 yards, 11 TDs) and RBs Charles Ross (800 yards, 5 TDs), Turner Peterson (591 yards, 5 TDs) returning. The entire offensive line is back too, including OT Caleb Williams . The defense wasn't great last year, but with 10 starters back, the team should improve. Cornerback Phillip Gaines anchors the secondary.

3. UTEP: Former Texas A&M quarterback Jameill Showers takes over under center and is expected to immediately help an offense which ranked 100th in the nation. Showers was projected to be the starter with the Aggies in 2012, but after Johnny Manziel became the starter and had a magical season, Showers decided to transfer. RB Nathan Jeffery (897 yards, 7 TDs) and WR Jordan Leslie (973 yards, 6 TDs) are also back. The defense had some bright moments last season led by NT Marcus Bagley and linebacker Horace Miller, but must replace the entire secondary.

4. Louisiana Tech: The Bulldogs should take a major step back after going 9-3 last season. Another newcomer to C-USA, Louisiana Tech returns only two starters on offense. Kenneth Dixon is one of the best rushers in the conference (1,194 yards, 27 TDs), but with a new QB and new offensive line, it will tough for him to match those numbers. The defense ranked 120th in the nation last season, but the defensive line is pretty good. Defensive end IK Enemkpali and defensive tackle Justin Ellis are two of the best at their position in the conference.

5. North Texas: Derek Thompson returns at quarterback for the Mean Green, but might lose his starting to job to former Kansas QB Brock Berglund , who is one of nine transfers joining the squad. Whoever lines up at QB will have some pretty good weapons, including WR Brelan Chancellor (450 yards, 5 TDs) and Darnell Smith (28 catches, 379 yards). Defensively, North Texas returns eight starters, including linebacker Zachary Orr, who had 108 tackles last season. The entire secondary is back and is anchored by cornerback Zac Whitefield and safety Marcus Trice .

6. Tulane: Not much to get excited about at Tulane as the Green Wave were one of the worst teams in the nation last year, but there is a new face under center that will get the fans excited. Nick Montana, son of former 49ers great Joe Montana, is expected to start after transferring from Mt. San Antonio JC where he guided the team to an 11-1 record with 2,652 yards passing and 22 TDs. He will look to spark an offense which was 109th in the nation in yards last season. Defensively, there is tons of room for improvement, but six starters are back, including safety Darion Monroe. Cairo Santos, who won the Groza award last season after going 21-for-21 on field goals, is back.

7. Texas-San Antonio Roadrunners : Larry Coker and the Roadrunners did pretty well in the WAC last season, but facing the offenses of C-USA is going to be a tougher task. Seven starters are back on defense, including LB Steven Kurfehs (4.5 sacks). The secondary should be better with another year of experience, especially with Triston Wade back for his junior year. Eric Soza is back at quarterback after an excellent season (2,085 yards, 20 TDs, 3 INTs), but has only Kam Jones (23 catches) returning at wide receiver. UTSA should win a couple of games, but don't expect much more from the fledgling program.
The junior will take the snaps for the defending national champions in 2017

MetLife Stadium is about 10 miles away from where the World Trade Center buildings once st...

The Terps will wear these against Indiana on Oct. 28.
The coach of the Eagles isn't here for no science talk

These are the teams that are getting too much -- or too little -- love before the season

The Crimson Tide start atop the AP Top 25 poll for the second straight season