Cal taps Louisiana Tech's Sonny Dykes to replace Jeff Tedford
After weeks of speculation, one of the most eligible coaching candidates of 2012 has found his match.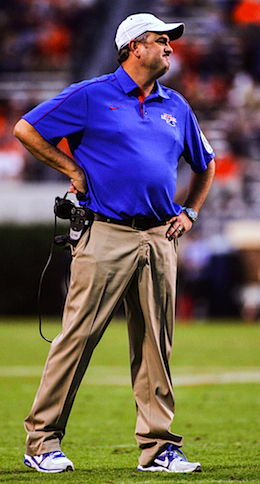 After weeks of speculation, one of the most eligible coaching candidates of 2012 has found his match. Confirming earlier reports, California said in a statement Wednesday night that it has hired Louisiana Tech coach Sonny Dykes to replace Jeff Tedford, who was fired last month on the heels of a 3-9 debacle in his eleventh season. A press conference to introduce Dykes later this week, after Cal athletic director Sandy Barbour returns from the annual convention of the American Football Coaches Association in New York.
"Sonny Dykes is one of the brightest offensive minds in the country, running a high-octane style of football, one that I'm certain will allow our student-athletes to thrive and that our community will love on game day," Barbour said in the statement. "However, it was far more than his history of a top-ranked offense and his proven success on the football field that solidified my decision; it was the way he described his responsibility to the University at large and his commitment to creating a climate of comprehensive excellence and success for his student-athletes."
Dykes took over in Ruston for Tennessee-bound Derek Dooley in January 2010, and immediately made Tech over in the pass-happy image of the "Air Raid" attacks he helped mold as an assistant at Kentucky, Texas Tech and Arizona. After a losing (5-7) record in Dykes' first season, the 2011 Bulldogs went 6-1 in WAC play en route to their first conference championship in a decade, and followed that up this year by spending five weeks in the top 25 over the course of a 9-1 start. Back-to-back losses to Utah State and San Jose State to end the season knocked Tech out of the polls and ultimately out of a bowl game, as well – to everyone's surprise – but couldn't knock the offense from the top of the national rankings, where the Bulldogs finished No. 1 in scoring and No. 2 in total offense.
In twelve games this season, Louisiana Tech scored at least 50 points in eight of them, and at least 40 points in all but one. Quarterback Colby Cameron finished second nationally in passing yards and attempts per game, and his top target, Quinton Patton, finished fourth with 1,392 yards on 104 catches. Despite the emphasis on Patton, six different Bulldog receivers had at least 24 receptions, while still leaving room for running backs Kenneth Dixon and Ray Holley to combine for 1,934 yards and 34 touchdowns on the ground. Only Marshall averaged more plays per game.
In Berkeley, he'll inherit a program coming off arguably the best decade since World War II under Tedford, who left last month as Cal's all-time winningest coach. But the program had become increasingly stagnant since 2006, when the Bears won a share of their first conference championship in 31 years, gradually losing ground in the West Coast pecking order to Oregon, Washington and (worst of all) Stanford. After rising to No. 2 in the national polls in October 2007, the Bears dropped six of their next seven to close that season, and haven't finished within three games of a conference or division title since. Against their rivals, they've lost nine straight to USC, four straight to Oregon, four straight to Washington and three straight to Stanford. Since rising to No. 19 over Thanksgiving weekend, 2009, the Bears haven't appeared in the polls at any point in the last three years.
The most obvious sign of decline was at quarterback, where Tedford – once considered college football's most bankable quarterback guru for his track record of molding first-round draft picks – failed to develop a successful starter after Aaron Rodgers' departure for the draft in 2005. Dykes' resumé and reputation suggest a wide-open offense reminiscent of the attacks that initially lifted Cal out of the doldrums over the first half of Tedford's tenure. He has just as far to go now as Tedford did ten years ago, but if he's remotely as successful out of the gate, this will be one of the better hires of the winter.
- - -
Image via US Presswire.
The movie will zero in on former Penn State coach Joe Paterno during the Jerry Sandusky sc...

Bidding for Salaam's trophy, which the auction house says was obtained legally, ends Satur...

Locksley has been the offensive coordinator at Illinois and Maryland during his coaching c...
Many NFL-eligible juniors ignore advice provided by the league and risk going undrafted each...

Snyder died in Manhattan, Kansas, on Wednesday

Locksley joined Alabama's staff in 2016