Calhoun cites player deaths in defending proposed sub rule
Air Force head coach Troy Calhoun cites safety concerns in defending a controversial rule to slow the pace of offensive play in college football.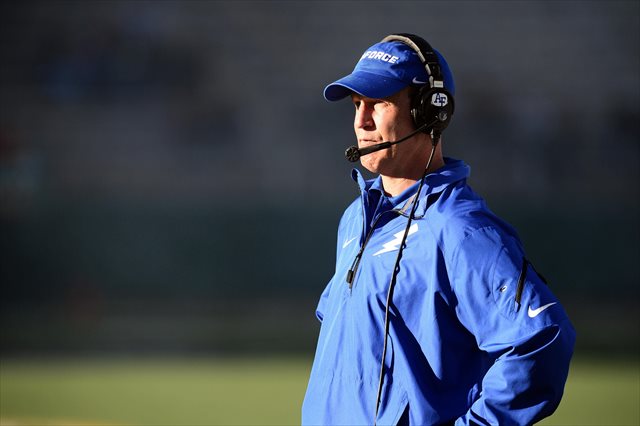 As a member of the NCAA rules committee, Troy Calhoun has heard the critics and endured significant outrage.
As the Air Force coach, Calhoun is also haunted.
"August 20 or 21, 2005," he mentioned to CBSSports.com this week. "Thomas Herrion."
Almost nine years ago Calhoun was a Denver Broncos assistant. Across the field at the end of a preseason game, Herrion, a 23-year old offensive guard, was joking and shaking hands. Moments later he collapsed and died in the locker room from what was later determined to be heart disease.
That Calhoun nearly remembers the exact day -- Aug. 20 -- helps explain his concern regarding the controversial "10-second rule." He is not going to back down on the player safety issue regarding the pace-of-play proposal that has divided the coaching profession.
"I look at it this way, bottom line," Calhoun said. "If there is something that stands through that is medically legitimate, there is a concern. If there is nothing overwhelmingly conclusive, that's a different deal."
Calhoun added that the death of Cal player Ted Agu two weeks ago in a conditioning drill was brought up during rules committee meetings. Arkansas coach Bret Bielema, chairman of the America Football Coaches Association rules committee, also referenced Agu. 
Agu's cause of death is not known.
That the proposal's supporters are using player safety as a rationale is at the heart of the controversy. Some see an agenda to slow down up tempo offenses. Others see flawed science.
In an SI.com story, Calhoun supported the proposal because it resulted from, "a safety concern about getting a defensive player off the field."
"How do you do it [slow the game down] for a guy who is out there for seven, eight, nine plays in a row," Calhoun told reporters this week, "especially if it's a kid you have to manage that maybe has a sickle cell trait or asthma."
Some clarifications:
Attaching pace of play and player safety to sickle cell trait seems to be a reach. No Division I player has ever died during a game due to sickle cell trait. Every documented case of death due to SCT has occurred during practice or off-season conditioning. Sickle cell trait is the leading killer of Division I players since 2000. The inherited condition is passed along genetically. In small percentages among mostly African-Americans, it causes blood cells to "sickle" during times of exertion.
Oklahoma, among other schools, has had award winners play with the condition. If coaches and trainers are educated, they know enough to ease such players into drills to avoid overexertion.
The NCAA has mandated testing for sickle cell trait since August 2010. A coaching and training staff would know if player had the trait.
The last documented player to die from the condition was Ole Miss' Bennie Abram. He died four years ago Wednesday.
Seven, eight, nine plays in a row? Scott Anderson scoffs. The respected Oklahoma head athletic trainer is one of the leading authorities on SCT. Anderson is also the former president of the College Athletics Trainers Society (CATS).
"All any [unhealthy] player ever has to do is 'take a knee', or, if down ... stay down," Anderson wrote in an email. "With a downed player ... all play stops!  Medical assessment ensues, the player is removed from play."
"The real remedy," Calhoun said, "is to stop the offense. Don't get to the seventh play of the drive."
"I can only hope that's posturing for a coach who wants the rule," attorney Eugene Egdorf said. Egdorf represented the parents of Rice's Dale Lloyd, whose 2006 death during a conditioning workout was linked to sickle cell trait.
"My frustration is, I've been working on this for five years now ... despite litigation, these guys don't get it. It worries me we are going to have more deaths if these people don't know what's going on."
The NCAA's Playing Rules Oversight Panel (PROP) is expected to rule on the proposal March 6. 
Ross Bowsher claims KSU was well aware of his certification status during his employment

Find out which of your favorite team's players are among the nation's best entering the 2017...

Rosen, a junior, will be eligible for the upcoming NFL draft
Texas A&M has to be better defensively to stand a chance in the SEC West

A letter indicated that there is a growing awareness of the persistent problem in college...

The series will follow the Navy football program throughout the 2017 season