Cal's Sonny Dykes: Brutal schedule chance to 'get on the map'
Cal opens with Northwestern, Ohio State and Oregon in the first month of the season. But coach Sonny Dykes embraces the challenge.
• 3 min read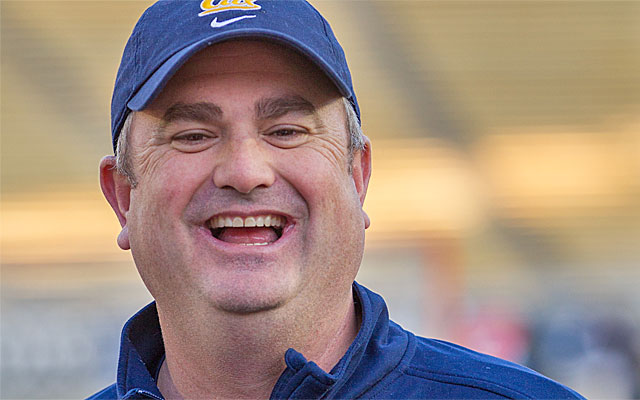 Cal's Sonny Dykes has a unique first season on the job -- especially the first month. He takes freshman quarterback Jared Goff, who won the starting job over redshirt freshman Zach Kline last week, into kickoffs with No. 22 Northwestern and No. 2 Ohio State at home, followed by a trip to No. 3 Oregon on Sept. 28.
Welcome to the Pac-12. In fact, Cal plays seven teams from the Associated Press preseason Top 25.
A coach might not like that schedule if he didn't like his team. But Dykes believes the Bears, despite last year's 3-9 finish, have a chance to be pretty good.
"It's an opportunity for us to get on the map a little bit," Dykes said. "You'd like to be able to build some confidence early, especially with a young football team."
Dykes believes Cal has the infrastructure to win a national title. Here's what else he believes.
On the quarterback race: "Both played great. Difficult decision. (Goff's) got a chance to be special. The funny thing about it is honestly both of the guys here are really good. Two of the best young guys I've ever been around. It's just a shame they aren't spread out a couple of years. Good thing for us is they are both really good players. We'll need them both. Ideally you want one to play so well to stay injury free so you don't have to play two. There are lots of scenarios where you're going to need another guy."
On why Goff won the job: "Really good at getting rid of the ball in the pocket, didn't turn it over. With a young offense, things you want to avoid are negative plays and turnovers. He was good handling both of those situations."
On opening practices and being forthcoming with injuries: "I've never really understood why there's so much secrecy. From a philosophical standpoint, this is the University of Cal's football team. If people want to come see them practice or work out, I don't see any reason why they shouldn't be able to do that."
Coaching philosophy: "Fundamentals, execution, scheme -- scheme would be dead last."
College football as a relationship business: "We want as many people to be a part of the program as we can get involved."
On why he didn't look into the job at Texas Tech -- where his dad, Spike, coached for more than a decade – once Tommy Tuberville left: "I didn't think the timing or circumstances were right. Honestly you didn't even think it was right to consider. (Cal and TT) are incredibly different. That was a big part of it, honestly. It's good to go home, but sometimes it's good not to go home."
On his role in the offensive playcalling: "Tony does it, and I usually complain afterward. We can both get pissed and scream and yell during games and nobody cares afterward. It's more important for me to be the head coach than for me to be the playcaller."
On overseeing both sides of the ball: I'm a defensive guy as much as I'm an offensive guy. I don't know as much about defense, but I'm rooting for those guys just as much. It's a dynamic that's often overlooked. If the president spent all his time at the department of education and not the departament of defense, you'd wonder, 'What's going on here? Is the defense less important?"
On compartmentalizing: "The thing we try to do is pay attention to things that matter. As a coach, there are 1,000 things going wrong every single day in your program. You have to determine what are the five really critical ones that are going to make a difference in winning and losing. Sometimes I mess up. Sometimes I'm upset at insignificant things that don't matter. But I always have to remind myself, don't worry about the stuff that doesn't matter, or otherwise you're going to be miserable."
Dykes was asked in the spring about the small crowds at practices: "Having 75 people coming to watch practice isn't that big of a deal. I'd rather focus on things I think are critical. I would rather spend time sitting in someone's office and getting to know them."
On the style of player necessary at Cal: "I want players who know how to adapt. I've never coached in a football game that went exactly like you thought it would go."
The junior will take the snaps for the defending national champions in 2017

MetLife Stadium is about 10 miles away from where the World Trade Center buildings once st...

The Terps will wear these against Indiana on Oct. 28.
The coach of the Eagles isn't here for no science talk

These are the teams that are getting too much -- or too little -- love before the season

The Crimson Tide start atop the AP Top 25 poll for the second straight season