Cam Newton talked about stresses of spotlight with Johnny Manziel
Cam Newton, the Johnny Football of 2010, says he's spoken to the Johnny Football of 2013 about being, well, Johnny Football.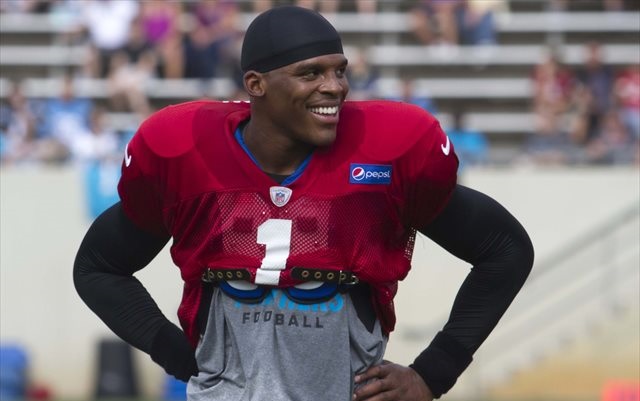 Who better to counsel Johnny Manziel about the pressures of being, well, Johnny Manziel than the player who was Johnny Manziel three seasons ago?
Cam Newton told reporters Tuesday that he's spoken to Manziel multiple times this offseason about balancing the life of a college student and quarterback with life in the media glare as the nation's most talked-about college athlete.
"For any college athlete you are vulnerable to so many things," Newton said, per the Associated Press. "You think everybody loves you for who you are ...
"[He] has to go through these types of situations to know how to handle them in the future. When somebody comes up to you and asks for your autograph, you don't know if they're going to do it for good or bad."
More than one observer has pointed out the similarities between Manziel and Newton in the wake of this week's allegations that Manziel has accepted thousands of dollars in payment for his autograph on memorabilia items. Both attempted (or are attempting) to play and study while under the cloud of an NCAA investigation and a harsh media spotlight; both had run-ins with the law in their recent past before exploding into the college football consciousness; both had/have pundit and fan alike speculating madly on their potential future eligibility or lack thereof; and of course, on the field, both were/are record-breaking SEC dual-threat quarterbacks who took the college football world by storm on the way to the Heisman.
But if it makes sense that Manziel would seek out Newton's advice on how to handle his current situation, Newton isn't saying precisely what advice he gave. He said the conversations between himself and Manziel were personal.
Newton did add that he was wishing Manziel the best of luck -- that "everything works out in the best for him so he can get back to what he likes to do and that's playing football." 
Of course, Newton had to not only become the NFL's No. 1 overall draft pick but actually take the field for the Carolina Panthers before the media firestorm surrounding his off-field difficulties finally subsided. If that's what it takes for Manziel to truly "get back to doing what he likes to do," it's going to be a long season for him.
Schiano would have made $4.4 million in Year 1 with annual raises as part of a six-year de...

Dykes spent this season as an offensive analyst at TCU

The "Wyoming Wild Man" notched six tackles for loss as a junior in 2017
Zaycoven Henderson was charged with aggravated assault with a deadly weapon

Patterson is a former No. 1 recruit in the country

Baker Mayfield and two Sooner teammates made the first team