Can NIU's Jordan Lynch win your Heisman love?
Northern Illinois and quarterback Jordan Lynch showed what they are about on national television in Wednesday's 48-27 win over Ball State.
• 4 min read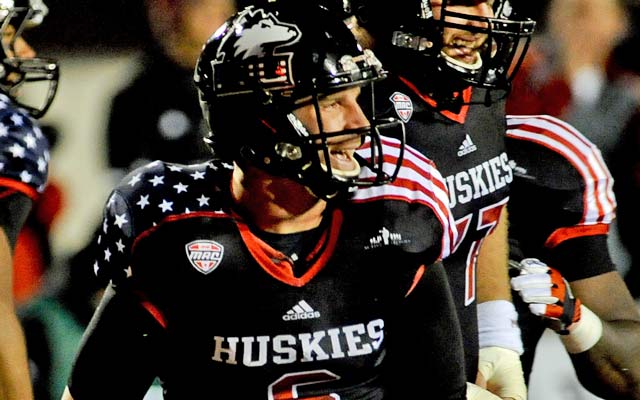 DEKALB, Ill. -- NIU is on edge. 
The Huskies know the Heisman invitation might not reach Jordan Lynch's locker in Dekalb. They've tried pedaling Lynch lunch boxes and notepads. They've watched Lynch elude defensive ends and truck defensive backs and pour thousands of yards on MAC fields from Kent, Ohio, to Mt. Pleasant, Mich.
But the perception is inescapable: Yeah, winning in the MAC is a nice story, but after last year's Orange Bowl, stick to JV, boys. The knock on Lynch is he doesn't play elite competition relative to the other Heisman candidates.
So excuse Lynch's supporters for getting a little snarky during and after Lynch's #MACtion guitar solo on Wednesday – 345 yards passing, 123 yards rushing, four total touchdowns in a 47-28 win over Ball State to go 10-0. 
"Eat your heart out, Johnny Manziel!" an NIU staffer said in the press box after Lynch spun off two defensive backs, scrambled to his right and fired a 25-yard completion to Matt Williams to continue a crushing fourth-quarter scoring drive.
A comment from the field: "I don't care how we do it, we just have to get him (to New York)."
While NIU fans displayed a 'We Want Fresno' sign from the stands, coach Rod Carey preferred to address Lynch.
"If Jordan isn't in the conversation for the Heisman, I don't know what people were watching," said Carey in his post-game press conference, before taking questions. "They obviously were asleep."
Lynch won't win the Heisman, but what does an invite hurt for a quarterback with 36 touchdowns and nearly 3,500 total yards in 10 games, including two against Big Ten teams?
Maybe Lynch wouldn't be buried in the Heisman race if he fared better than a 15-of-41 passing performance against FSU in last year's Orange Bowl, a game the Seminoles won 31-10 but held a seven-point lead entering the fourth quarter.
If Fresno State drops a game, No. 20 NIU could get another chance to battle the perception.
"We want to get back to a BCS bowl and we want to win," Lynch said.
Lynch is built "like a linebacker with tailback speed," as Ball State coach Pete Lembo says. His unshaven face looks about a year older and his arm a year more accurate. His completion percentage up to 65.5 percent compared to last year's 60.2.
Lynch's 26 completions on 32 tries Wednesday came through piercing wind on a curiously cold November night.
While Lynch's arm helped the Huskies drive 94 yards midway through the fourth, his lunge into the end zone with two minutes left, a defender draped all over him, punctuated the win. Ball State commanded the game for the first three quarters but it didn't matter when Lynch took over. 
"Did you see the game?" Carey deadpanned when asked what prompted his strong comments defending Lynch.
Jordan Lynch -- Most Total Yards
Yds
Pass
Rush
Opponent (Yr)
569
407
162
Toledo ('12)
471
155
316
C. Michigan ('13)
468
345
123
Ball State ('13)
467
342
125
Army ('12)
424
235
189
E. Illinois ('13)
Lynch hopes the country watched NIU play, but he seems to thrive off the fact some consider the Huskies an opening act.
"I feel we get disrespected all the time," Lynch said. "All we do is do our job and win games. We shouldn't be penalized for that." 
BCS and Heisman politics aside, Wednesday's marquee #MACtion should be savored for all its mid-week sorcery.
This #MACtion party was whatever you wanted it to be.
#MACtion cures illness.
#MACtion feeds nectar to the masses.
#MACtion fumbles in the open field, calls consecutive timeouts and squib kicks as much as possible.
#MACtion cuts back in the open field.
#MACtion weather conditions provide a bad night for outdoor fitness, but you play anyway.
#MACtion gives you two choices on the Jumbotron to guess the attendance -- 18,290 or 19,120 – and gives you the answer (18,290).  
#MACtion brings an NFL scout to the game, and that scout admits that it's hard to evaluate quarterbacks against MAC defenses, but boy, can Ball State's Keith Wenning (35-of-49, 324 yards) place the ball well.
#MACtion makes sure that quarterback feels the heat of a 9-2 team losing a tough one. "We're not stupid," Wenning said after the game. "We knew what was on the line."
#MACtion makes sure the ball is out, and makes sure someone recovers it.
#MACtion leaves a few sprinkles of snow on the small hill next to a Huskie Stadium end zone, because #MACtion is icy all year round.
#MACtion doesn't need your stinkin' Heisman or your BCS, because it comforts lost souls on Tuesday and Wednesday nights. 
CBS Sports HQ Daily Newsletter
Get the best highlights and stories - yeah, just the good stuff handpicked by our team to start your day.
Please check the opt-in box to acknowledge that you would like to subscribe.
Thanks for signing up!
Keep an eye on your inbox for the latest sports news.
Sorry!
There was an error processing your subscription.
Transferring is no longer a dirty word in college football, and that's for the best

It's never too early to take a look at college football's burgeoning stars

Two Big 12 quarterbacks earned freedom Wednesday thanks, at least in part, to Twitter
Sam Ehlinger took a firm hold of the starting job as a sophomore last season in Austin

Lupoi is just the latest Alabama assistant to leave Tuscaloosa this month

Oklahoma was initially aiming to prevent Kendall from immediate eligibility