Cancer survivor Shon Coleman could be Auburn's next great LT
Auburn Tigers need to replace Greg Robinson at left tackle, and the potential successor, Shon Coleman, is a cancer survivor with major upside.
• 3 min read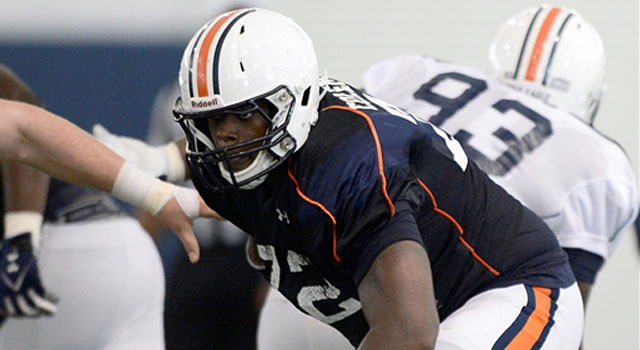 More college football: Dennis Dodd | Jeremy Fowler | Latest news
AUBURN, Ala. -- Shon Coleman is reminded of his impact nearly every time he checks his Facebook account. He has nearly 5,000 friends, some of whom are from "halfway around the country" that connected with him through a similar experience.
Cancer survival.
He's touched by the direct messages, but he also gets love on his Facebook wall with uplifting comments such as "proud of you for many reasons -- cancer survivor and SEC Champs" or "an inspiration to many" or "my heart is so glad every time you take the field." Letters of support filter into the Auburn football offices but Facebook is the easiest way for Coleman to respond.
"I get messages from parents or their little girl or boy going through something and they'll reach out," said Coleman, an Auburn left tackle who will take the field Saturday for A-Day, the Tigers' spring practice finale in Jordan-Hare Stadium. "Just telling me they've been praying for me, supporting me and I'll respond with things I'm praying for for them."
Coleman is praying for something else, too. He's glad to inspire others with his well-told recovery from acute lymphoblastic leukemia in 2010 and 2011, but he also wants to be known for his play. The more he contributes, the more "people can relate me to football," Coleman said.
If you saw Coleman's behemoth frame up close, you'd understand why.
Coleman is vying for the starting left tackle spot, which at Auburn, in Gus Malzahn's shotgun-option offense, is a coveted designation. Behind probable top-five NFL draft pick Greg Robinson last season, Nick Marshall and Tre Mason went left more than James Harden.
Auburn is deeper at receiver and plans to expand Marshall's passing game, but make no mistake, Auburn's tough yards will come on the ground and they'll probably come from the left side.
Coleman understands this as he saunters into the Auburn football offices on a Monday with his size 17 shoe and a 6-foot-7 frame that doesn't skimp an inch. He looks imposing but is still lean enough to be mobile.
Coleman doesn't know his wingspan, but clearly he has the arm range that makes general managers fist bump in approval. These are redwood grove branches.
If you want proof, Auburn offensive coordinator Rhett Lashlee and offensive line coach J.B. Grimes call him 'Avatar,' Coleman said.
"If he doesn't have a nickname, that's a good one," Lashlee jokes.
Avatar must beat out Pat Miller for the left tackle spot, and Miller has started games at right tackle for the Tigers. The way coach Gus Malzahn sees it, "both are NFL-type players" and so he can't go wrong. Or he could find a way to play both, which Coleman points out since Miller can play both sides and "they really want us both on the field," he said.
Robinson has exceptional feet, and though only live action will prove if Coleman's back pedal is elite, he plans to treat run blocking like he did his cancer.
"Run my feet and overpower -- just dominate, pretty much," Coleman said.
Coleman is savoring a life that's now unfolding just as he had planned before the leukemia.
His football strength, which took more than a year to regain after going through chemotherapy at St. Jude's Children's Research hospital, comes out at every practice. He's moving like the athlete that garnered widespread publicity as a top-rated prep tackle out of Memphis, Tenn.
That feeling of helplessness -- to be accurate, "like I might not make it," he says -- dissipated long ago. Doctors caught the cancer early, which Coleman said quells his concerns once chemo took effect.
He understands his story can inject strength in others. People going through the same thing might need to hear it.
But that balance was always a bit complicated because he's just now, three years later, in a position to break out on the field. He sat out 2011 while recovering and redshirted in 2012. Last season, Coleman saw sparing playing time as Robinson's backup during the Tigers' run to the BCS title game. Luckily, the NCAA gave him an additional year for his trouble.
"At the same time I was recovering, I was sitting there and saying I want to get back on the field," said Coleman, now a redshirt sophomore. "Maybe I don't have to wait for that anymore."
Instead he'll have a new story to tell.
He'll be the Avatar.
McElwain will coach receivers and help coordinate the offense for the Wolverines

Nathaniel Watson Jr. was involved in a car accident that injured a passenger in early Febr...

The honorable Tom Fornelli presides over the ASU vs. UM case
Arkansas State is seeking $650,000 for a canceled home game last September due to Hurricane...

Friday Five is tackling the big questions this week

Two unnamed players are being investigated for an incident at an off-campus apartment