Canes' Henderson moving on after failing to live up to hype
Seantrel Henderson was the Next Big Thing. Now he's just a big guy with flagging NFL dreams after a mediocre college career that fell way short of expectations.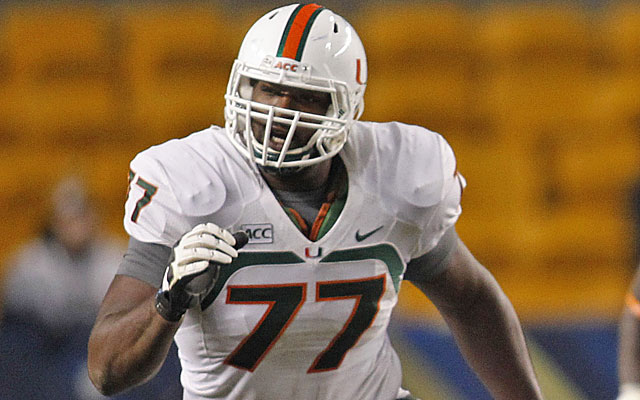 Seantrel Henderson never asked for all of it. Or maybe he did. That's the hard part four years removed from being the nation's No. 1 high school player.
Seantrel Henderson never asked to be The Next Big Thing. Or, if he did, no one ever told him it would be like this ...
• Becoming the rare offensive linemen to be considered the best prep player in the country.
• Being a part of -- or maybe orchestrating -- one of the most dizzying, anticipated, breathless, wild recruiting journeys in recent history.
• Being flown halfway across the country to declare his undying love for Southern California on (then) CBS College Sports Network.
• Then changing his mind five months later. On Signing Day 2010, Henderson's made-for-television decision was only a commitment. He didn't sign his scholarship until the next month, concerned about possible NCAA penalties at USC.
In July 2010, USC released Henderson without a fight after the crippling NCAA penalties were finally handed down. The giant from Minnesota who fell in love with the West Coast ended up at Miami.
It was a career littered with starts (26 in his career) and stops (various injuries). He experienced two head coaches and three suspensions -- Henderson revealed recently -- because of marijuana use.
Despite being a freshman All-American, Henderson never rose higher than third-team all-ACC.
"How did he play?" asked Art Kehoe, Henderson's offensive line coach for three of his four seasons at Miami. "I would say that he's been a work in progress."
In a word, Seantrel Henderson's career was OK. Not great, not a bust. Just kind of there.
The kid who knows a thing or two about being the biggest thing in the game -- NFL scouts recently measured him at 6-feet-7 and 331 pounds -- has been merely serviceable as a collegian.
"I don't know if he was a superstar," Kehoe said, "but he improved a lot each year."
As another Signing Day approaches, Henderson's tale is cautionary -- for him, for us, for the recruiting culture, for the American psyche. In a society that values hype over substance, forgets those highlight-show slam dunks are still worth only two points, Henderson is a another reminder.
We love our prospects to fulfill their destinies.
Frequently, they don't.
"That's one of the things wrong with recruiting out of high school," Alabama quarterback AJ McCarron said this week on the Jim Rome Show. "I don't know if it's complacency, so much as entitlement.
"You've got guys who never played the game of football rating these guys. They're a five-star because [the recruiting experts] are sitting behind a computer watching highlight film.
"The highlight film is supposed to be good."
Henderson's was off the charts. He smashed mere mortals across from him in high school. He neutralized top defensive prospect (and soon-to-be Florida signee) Ronald Powell in all-star game practices. There was a future at left tackle, arguably the second-most important position in the game. You might recall a best-selling movie and book (The Blind Side) that celebrated that fact.
Except that in college Henderson mostly played right tackle.
The ultimate irony: The kid left one NCAA mess for another. Between USC and Miami, Henderson was aligned with two schools that endured a combined four bowl bans and the loss of 39 scholarships.
Recruiting analyst Tom Lemming had Henderson as his No. 1 prospect as a high school sophomore. He called Henderson a franchise player, the first No. 1 player at offensive line he had had since Bill Fralic in 1980.
At a high school (Cretin-Durham Hall) that produced an All-Star catcher (Joe Mauer), a Heisman winner (Chris Weinke) and a baseball Hall of Famer (Paul Molitor), Henderson was going to be the next member of the legends club. Until he wasn't.
"He had what it takes to be Orlando Pace or Jonathan Ogden, who knows?" Lemming said. "The legacy [is one] of maybe underachievement and maybe effort."
There is speculation Henderson might get dropped off some draft boards because of the marijuana admission. He's projected as a fourth- or fifth-round draft choice.
"He will be a better pro player than college player," Lemming said. "It will be the incentive of making money and not having to go to school."
Not a great projection, not bad one either. Just kind of in the middle -- like Henderson's college career.
Florida State and Alabama will face off in a highly touted game in Atlanta in Week 1

Five NC State freshman were punished team rules and code of conduct violations

Browne was benched in favor of Darnold early into last season
There are new names to learn every season, and here are 14 to keep an eye on from the SEC

Taking a close, detailed and opinionated look at the SEC a week before the start of the 2017...

Rosier will start for the Hurricanes in their opener against Bethune-Cookman