Carroll's super success in the NFL helps cement his legacy at USC
Pete Carroll built a program at USC that could withstand crippling NCAA sanctions, and he used the same formula of enthusiasm and competition to build the Seahawks into an NFL juggernaut.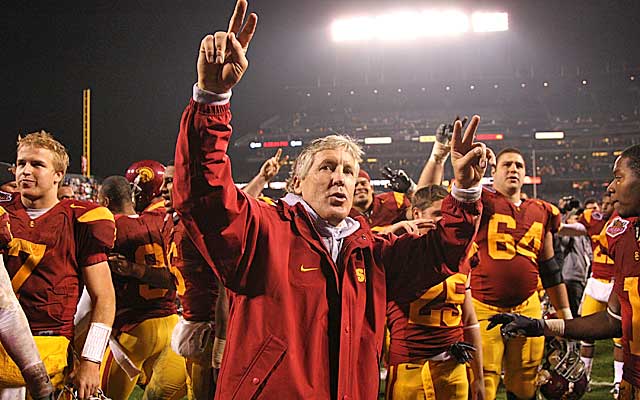 More SB: Carroll a big Macklemore fan | Coach: NFL should explore medical pot
Four years ago this week, Pete Carroll had gotten out of town ahead of the posse.
That was a large part of the narrative on Jan. 11, 2010, the day the Southern Californiacoach left for the Seattle Seahawks: The NCAA was closing in. The controversial Reggie Bush case was still five months from being decided but the prospects weren't good.
The departure wasn't written so much as Carroll being back for a shot at redemption in the NFL, it was that he was out of the reach of NCAA investigators.
Four years later, this week of the Super Bowl, that narrative couldn't have changed more. With a win Sunday, Carroll will become only the third coach ever to win a national championship and a Super Bowl. (Barry Switzer and Jimmy Johnson are the others.)
The USC program he left behind has all but weathered -- for now -- crippling NCAA sanctions. Despite a two-year bowl ban, the loss of 30 scholarships and twice changing head coaches, the Trojans have twice won 10 games during the probation.
You can even thank Carroll for the Trojans' stability at quarterback in 2014. The coach and his staff were on Cody Kessler six years ago when he was a high school sophomore in Bakersfield, Calif.
"I remember that day," Kessler said. "It's so exciting in high school when you get a call from USC."
How times and perceptions change. Carroll already has assured himself a spot in at least the College Football Hall of Fame, if not the pro football version. The penalties that some blamed on him have largely been criticized as an overreach by the NCAA.
So much so that the association is fighting a defamation lawsuit by former assistant Todd McNair that seeks to open the entire investigative file.
Whatever the word is -- serendipitous? -- there will be a historic convergence next week. Carroll's first Super Bowl will come three days before USC's third and final signing day with crippling scholarship reductions.
Both coach and his former program have remade themselves. Losing those 30 scholarships over three years made Bush look bad, made the NCAA look like a bully and enhanced what is now becoming Carroll's legend.
They said it couldn't be done -- bringing the rah-rah USC college spirit to the NFL. Just like with the Trojans, the Seahawks coalesce around their head coach. He nurtures their talent. Receiver Doug Baldwin went undrafted. Carroll drafted a corner in the fifth round who had been a receiver at the beginning of his Stanford career.
You know him as Richard Sherman.
"Pete's kind of learned that some of the very best athletes, some of the best competitors in the world have little idiosyncrasies," said offensive line coach Pat Ruel, one of Carroll's most loyal supporters.
"Like 'Sherm' for example. The players love him. Everybody thinks he's awesome. Stanford graduate. What everyone is seeing is he's got a passion for the game. If you try to tell him, 'I'll beat your ass.' He'll bring his very, very, very best."
We've witnessed previously Carroll gather a roster around his spirit. The man built a dynasty at USC, one that arguably has now endured through the penalties. During the probation USC has been a preseason No. 1, won 35 games (in four years) and hasn't lost its reputation for producing NFL talent. The program is ready to come out of NCAA jail, not exactly unscathed, but unbowed.
"Whether or not [Reggie Bush] did anything impermissible ...," current Trojan coach Steve Sarkisian said, "is not the reason we were the best team in college football over that span."
That's what we're left with: The Heisman took back Bush's trophy. The BCS took away a championship. But Carroll can take his accomplishments to this grave. Nowhere in the NCAA record is he blamed. His name does not appear in the public report.
There was no posse from which to run away.
The man who built the foundation is destined to go down as one of the greatest coaches ever. It's just a question to what degree.
His only peers in the college/Super Bowl championship category are Barry Switzer and Jimmy Johnson. Those back-to-back national championships (2003-04) were the first at USC since 1978-79.
"Coach is probably one of the most conscientious, cleanest coaches I've ever worked for," Ruel said, "and I'm still pissed."
… about the NCAA sanctions. Ruel has been with Carroll since 2005. Being at USC during that time was like witnessing the height of the Roman Empire. The Trojan talent was so thick that Ruel once recalled loudly commanding what he perceived to be agent types to clear out of Heritage Hall.
When the investigators and the accusations and penalties came down, it was all he could handle.
"If I could, I'd like to go in to the guys at the NCAA and beat them all up," Ruel said.
Carroll's college legacy, then, remains largely untarnished. USC is among a handful of schools that could have made it through such NCAA penalties. In 2011, 53 scholarship players went to Oregon and won. Forty-nine scholarship players were available for last month's Las Vegas Bowl victory against Fresno State.
Carroll has a coaching tree of some significance -- Sarkisian, Lane Kiffin, Ed Orgeron. There is a recruiting blueprint that sounds simple today. Carroll closed the borders specifically on Southern California and California in general.
"Pete wanted to make sure we did a great job in California," Sarkisian said. "When we went out of state, it was because we projected a guy to be a potential first-round draft pick. That's the same approach we're taking today."
There is also that loyalty. Ruel, a lifelong assistant in college and the pros, has had a chance at other jobs but stayed with Carroll.
"The problem is, I'm a disciple," he said.
Carroll brought USC back to prominence at a time when his NFL career fizzled. Then he proved that fizzle wasn't a true indicator. He won at USC and built the Seahawks in the image of those old Trojan powerhouses.
"It's run almost exactly like we ran it at USC," Ruel said. "The guy has such a clear vision. How he thinks, how he knows it should be. He does such a good job of communicating. Unless you've been in the system awhile you can't understand it."
So, yes, there is some mystery, too.
The practices the Seahawks will run this week resemble those Carroll ran at USC -- fast, up tempo. The man is all about competition. That's why there have been Competition Tuesday practices since USC.
The situation he left has turned into lore. Next month a roomful of San Diego lawyers -- several of them USC grads -- will pay $15 to listen to an NCAA managing director of enforcement talk about the investigative process.
Pete Carroll will either be celebrating a Super Bowl win or ramping up, again, to win his first. His legacy will be solidified. In a way, not much will have changed.
"It reminds me," Carroll said drinking in the Super Bowl atmosphere on Sunday, "of the major bowl games."
The reaction to this commitment was priceless

Davis abruptly resigned from the Crimson Tide in April 2016

#TrustTheProcess as Tom Fornelli offers his best bets for the first week of bowl action
Saban isn't going to win Alabama's special election, but the Crimson Tide coach got some l...

The Sooners' quarterback and Badgers' rusher stood out among their peers this season

Clark led UAB to an 8-4 overall record, 6-2 in conference this season