Charges against West Virginia RB Wendell Smallwood dropped
After being charged with witness intimidation in a 2012 murder case two weeks ago, West Virginia running back Wendell Smallwood saw all charges against him dropped Tuesday.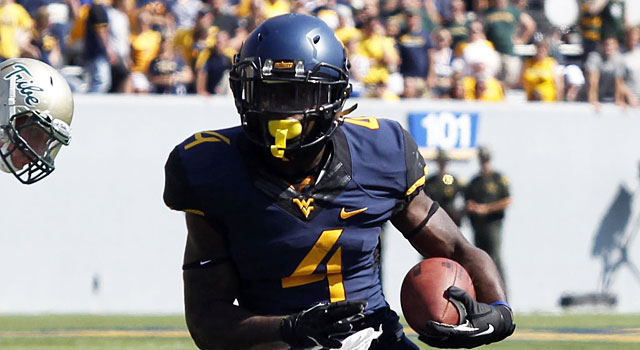 The Wilmington (Del.) News Journal reported Tuesday that West Virginia sophomore running back Wendell Smallwood has been cleared of the witness intimidation charges filed against him earlier this month, allowing him to return to the Mountaineers when fall practice begins this Thursday.
A former Delaware high school star, Smallwood had been accused by Wilmington police of telling a witness to recant her testimony in a 2012 murder case. The man charged with that murder, Smallwood's friend Zakee Lloyd, pleaded guilty Tuesday morning just before his trial was set to begin.
"The investigation and prosecution of this case has always been focused on securing the conviction of Zakee Lloyd," prosecution spokesman Jason Miller said in a statement, per the News Journal. "Since his arrest, Wendell Smallwood has been fully cooperative with the Department of Justice and Wilmington police, including giving a full statement regarding his involvement in witness intimidation."
According to prosecutors, though Smallwood and Lloyd discussed ways of encouraging a female witness to change her testimony regarding to murder, there is no evidence Smallwood actually made any threats against her.
The apparent resolution of the case will be good news for Dana Holgorsen as he attempts to bounce back from the Mountaineers' 4-8 disappointment in 2013. Smallwood enjoyed a promising freshman season in 2013, rushing for an average of 5.67 yards on his 39 attempts and catching 11 passes for 132 yards. Though not yet expected to start, Smallwood has been widely projected as a major part of the Mountaineers' 2014 running back and kick returning rotation.
The junior will take the snaps for the defending national champions in 2017

MetLife Stadium is about 10 miles away from where the World Trade Center buildings once st...

The Terps will wear these against Indiana on Oct. 28.
The coach of the Eagles isn't here for no science talk

These are the teams that are getting too much -- or too little -- love before the season

The Crimson Tide start atop the AP Top 25 poll for the second straight season