Charlie Strong getting comfortable at Texas, with movie-star help
Texas coach Charlie Strong is two months removed from the Louisville job and already has a voice message from Matthew McConaughey.
• 5 min read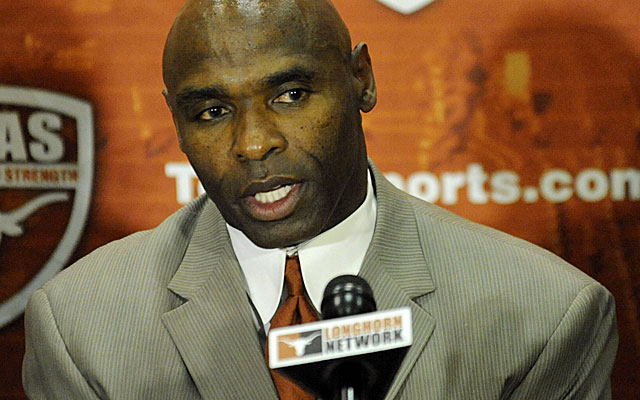 AUSTIN, Texas -- Charlie Strong got a phone message from Oscar winner Matthew McConaughey the other day. Hasn't returned it yet but plans to soon. He did have a nice talk with McConaughey's former fraternity den mother the other day, though.
He spotted Johnny Depp in Austin last night but didn't stop and say hi. Strong had to rest for one of his 5-mile runs at 4:30 a.m. -- which, depending on the day, precedes a three-stop flight to high school coaches around the state or Junior Day on campus for recruits.
This is Texas' new coach finding balance, trying to be normal in a job known to bend the frames of normalcy.
Until proven otherwise, winning isn't enough at Texas. Longhorn Network schedules must be fulfilled and millionaires must be glad-handed.
So Strong, whose coaching prowess is palpable after a 23-3 record and bowl wins over traditional Florida power programs his last two years at Louisville, blends the job's political demands with his own personality, a marriage fueled by intrigue from now until August.
Will he juggle these duties or jog past them?
Strong says he'll handle them, in his own way.
"I can only be myself," Strong said in an interview Friday, wearing a dark-gray turtleneck with the burnt-orange UT emblem on the chest. "I can't be Coach [Mack] Brown and he wouldn't want me to be. We have a chance to build our own."
Being himself, Strong says, includes embracing the ambassador role that Brown mastered. Many media members openly wondered about Strong's ability in this area upon his January hiring because of the perception he was inaccessible or even introverted while at Louisville.
Brown, of course, seemed to revel in the face-of-the-program role but couldn't win enough games to continue sitting underneath press conference lights.
Strong makes clear he has no problems engaging with media, fans and boosters. In fact, he often enjoys it.
"I take time out. I don't want anyone to ever feel like I'm bigger than anyone or that this job is bigger than this university," Strong said. "It's all about the program."
Strong believes he got the closed-off rep while at Louisville because of his decision to cancel spring-practice access after no media showed up for a practice that coincided with a Louisville basketball run in the NCAA tournament.
"We go out to practice and no media came to practice," said Strong with a laugh. "So I said 'OK, ya'll don't want to come, ya'll don't have to come, the media's shut out of practice.' I think that's why everybody got upset. I just said you could have sent a beat writer or someone there."
After running this story by a few local reporters, aparently media staffs were largely out of town while Kentucky and Louisville played in the Final Four in New Orleans.
The outreach will come -- Strong's already contacted Dell Children's Medical Center about making frequent visits -- but Strong also must address a pressing goal: get to know his team. He has spent minimal time with players since taking the job, which makes him eager to start spring practice the week after next.
He's finally in the office, not traveling for the first time in two months. Time to coach some drills. Time to see who's coachable, who makes a play in two-minute drill.
Texas will open camp with quarterbacks David Ash, who missed most of last season with multiple concussions, and Tyrone Swoopes. USC transfer Max Wittek is expected to visit a practice with his mother, according to a source, possibly a final step before commitment.
Strong inherits a roster that lost zero defections to the NFL draft and eschewed academic issues or resentment over the coaching change, Strong said.
This is Strong's hat tip to Brown, whom Strong spoke with shortly after his hiring but hasn't spoken since. Brown is giving Strong his space.
"I walked into a situation that's almost like someone gave you the keys to the car," Strong said. "You can do a little work on it but I don't have to do a lot of work where you're going to waste all of your money fixing this car up. I know I have big shoes to follow, but I have a chance to follow someone that left a program in great shape."
Now his offensive coaches must maximize the talent. Assistant head coach for offense/QB coach Shawn Watson, who was with Strong at Louisville and developed Teddy Bridgewater, is "gonna be in charge" of playcalling, Strong said. Offensive coordinator/offensive line coach Joe Wickline also will be heavily involved. In fact, spokesman John Bianco said Friday the expectation is Wickline will call plays on game days, which echoes reports out of Austin on Jan. 15.
It's all a bit convoluted, but Watson will run game-planning/offensive organization while collaboration will be paramount.
"If you need one voice, he'll be the voice," said Strong about Watson. "Those guys are gonna work together." 
Strong says he doesn't see "an issue at all" with those two collaborating in an offense that can go no-huddle, a staple of the Big 12. Louisville was 69th nationally in plays per game last season.
"We'll be very multiple on offense, we'll be very aggressive on defense," Strong said.
Strong's decisions on playcalling and, well, everything will be dissected every weekend in the fall, as is customary for a $5-million-a-year coach.
Strong wasn't ready for that pressure-cooker a year ago, in part because he didn't want to leave Louisville after three seasons. He was embedded, he said. He had told Tennessee no in 2012. He didn't want to leave players he just recruited. Once the UT job arose after year four, even a few trusted Louisville players told him, 'Coach, you have to do that. You have to take that job.' "
Two months later, he "can't wait to get out there" on the field, under the lights for thousands to see.
Strong knows he can't quietly walk the streets or conduct secret santa claus visits (which he did at Louisville) during the holidays without someone finding out.
Get the team ready first, then maybe he can find quiet time on occasion.
"The last few years they've been knocked down," Strong said. "We need to get them built back up."
Robbie Robinson has not been enrolled at ASU for more than a year

Rutgers' offensive line challenged a local curling club to a match

These five teams have the best chance of being the Group of Five darling this coming year
Drevno had been running the Michigan offense for three seasons

Aaron was reportedly shot while trying to protect his girlfriend when a fight broke out at...

An assistant-by-assistant look at changes Saban made to the Tide's staff ahead of 2018