Charlie Strong: 'I'd love' Louisville to play Meyer, Ohio State
Louisville coach Charlie Strong has asked for a shot at his old boss, Urban Meyer, he told Louisville media.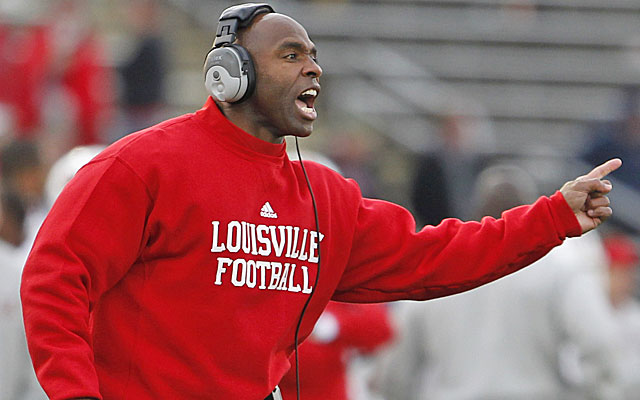 Urban Meyer and Charlie Strong had what Bugs Bunny would call a bee-yoooooo-tiful friendship in Gainesville, with Meyer's explosive offenses and Strong's disciplined defenses leading Florida to a pair of national championships.
Now, Strong is calling on that old friendship to help improve his Cardinals' strength-of-schedule. Strong told WRDB reporter Rick Bozich that he's spoken to Meyer about the possibility of Louisville facing Ohio State in a high-profile nonconference showdown. 
"We talk a lot," Strong said of his old Gators boss.  "I have asked him to play me. I don't know if he will. I don't know if he wants to. But I'd love to."
Strong admitted the idea was born out of his team's need to toughen its schedule in the then-Big-East-now-American Athletic Conference. 
"Before we got in the ACC, I was like, 'We need to play a big-time opponent … Urban, why don't you play us?'" Strong said. "He said, 'Let's think about that.'"
Where the Cardinals are concerned, the schedule-strength horse may have already left the barn. Strong's team is considered by many a good bet to finish 12-0 in the AAC's inaugural season, but with Louisville the conference's only team ranked in the preseason top 25 (or even close to it), and the stiffest test in the Cards' nonconference slate coming against Ohio or Kentucky, even 12-0 may not get Louisville into the BCS Championship game.
Come 2014, when the Cards enter the ACC, Strong's program won't need the boost to the schedule quite as much -- and that might give Meyer a convenient excuse to politely decline his friend's request. Though the Cards haven't been raiding the Buckeye State with quite as much gusto as their rivals at Kentucky, there's still seven recruits from Ohio in Strong's current 2014 class. And while Meyer's Buckeyes rarely lose a major in-state prospect (and even more rarely do so to a non-Big Ten competitor like Louisville), Meyer's own strength-of-schedule concerns and the Big Ten's perceived downturn mean he might prefer those recruits to stay in his own conference.
In short: helping Strong and Louisville recruit Ohio likely isn't on Meyer's agenda, and a game against the state's resident 500-pound gorilla, whether in the 'Shoe or (as Bozich proposes) Cincinnati, would make for quite the sales pitch. Oh, and the Big Ten's move to a nine-game schedule means there's precious little room to shoehorn a new nonconference game into the Buckeyes' future slates anyway.
It's a fun thought, Charlie, really, it is. But we hope you're not holding your breath. 
Guice is dealing with a 'minor injury' that has not been specified by coach Ed Orgeron

Professional college football bettors are loving Jim Harbaugh and Michigan against Purdue

Temple knocked off USF last year to claim the division title
These are the best bets to make in Week 4 including Florida-Kentucky and Oklahoma State-TC...

Two players died as a result of playing college football on Saturday

Gary Danielson previews this week's SEC on CBS Game of the Week from Nashville