Charlie Strong in favor of Texas resuming rivalry with Texas A&M
New Texas coach Charlie Strong wants the Longhorns to play Texas A&M, even if the two schools play at a neutral site.
• 1 min read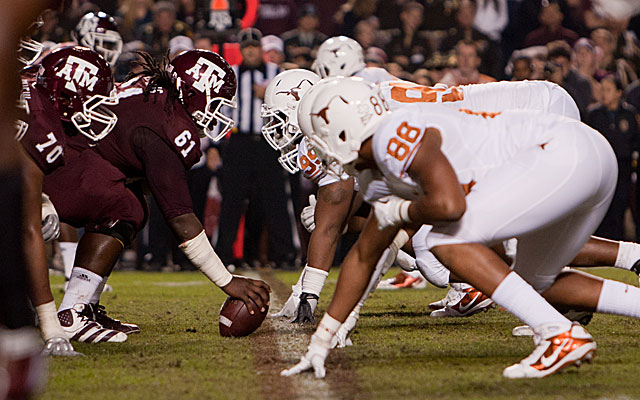 AUSTIN, Texas -- It's sort of a rite of passage for a Texas coach to address the now-defunct Texas A&M rivalry.
Charlie Strong is all for playing the Aggies again.
"It's all about the two ADs getting together and getting that figured out," Strong said. "When you look at it, it's been such a huge rivalry game. ... I think at some point it will get worked out.
"When there's been so much tradition there, you'd like to see it continue on. That's my feeling on it. I'd love to play it."
If one team doesn't want to play on the other's campus, Strong has a solution for that, too.
"You'd like to play it in a neutral site somewhere, where every year it's in that spot, whether it's Houston or Dallas," Strong said.
The Texas-Texas A&M rivalry began in the 1890s but was last played in 2011, a divorce punctuated by the Aggies' move from the Big 12 to the SEC.
Former Texas AD DeLoss Dodds seemed hopeful in early 2013 that the game could be played again, perhaps after 2018.
Texas A&M associate AD Jason Cook told the San Antonio Express-News in November that the Aggies hoped to one day play Texas in the College Football Playoff.
The 21-year-old quarterback was expected to start for the Cougars in 2018

The Fighting Irish will be without some playmakers in 2018

It may have been impossible for Sumlin to meet the expectations set for him in College Sta...
Some players are more easily replaced than others

The 2017 season is in the books, and several big-name stars are jumping early to the NFL

Love was second in the nation in rushing with 2,118 yards in 2017