Charlie Strong introduced at Texas
Charlie Strong met the Texas media for the first time on Monday when he was introduced as Texas' new coach.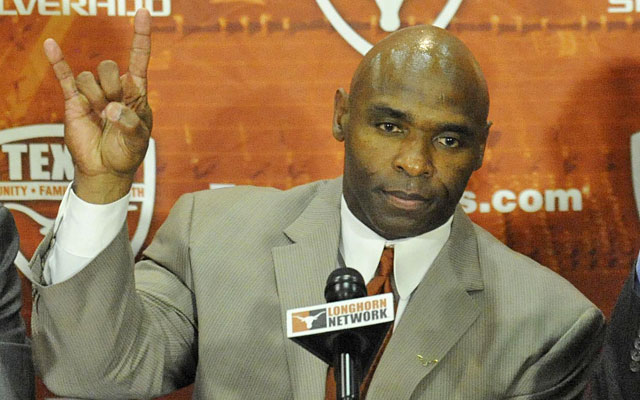 Charlie Strong got his first taste of the media throng that surrounds the Texas job Monday when he was officially introduced as coach. While most of the answers Strong gave to questions were your standard coach-speak, he did make it clear what his intentions are at Texas, and how he plans to get there.
"The bricks are there," Strong said of the foundation in place in Austin. "I just need to put another brick on top of it.
"It's time to put this program back on the national stage."
How Strong plans to do this is a rather simple formula: recruiting and toughness. Strong made it clear on Monday that while recruiting rankings are nice, Texas shouldn't "get caught up in stars. Let's get football players." Strong also made it clear that he would recruit with "fire" and "passion." He also said that while the state of Texas will be the foundation of the school's recruiting ground, he'll still go to places like Florida, where he has been very successful recruiting in the past.
Strong also plans on instilling a toughness in his team, starting with work in the weight room by putting together an offseason program.
"That's where you build toughness," he said. "We will be a hard-nosed football team. We will be fun to watch. Our fans will like what they see."
Of course, more than style, what fans really like to see are wins. It doesn't matter how Charlie Strong plans on getting those victories, if he wants to stick around in Austin, he just needs to get them.
Many NFL-eligible juniors ignore advice provided by the league and risk going undrafted each...

Snyder died in Manhattan, Kansas, on Wednesday

Locksley joined Alabama's staff in 2016
Saban reportedly wants to hire Freeze, but there may be things keeping that from happening

Florida State-Miami will be on Oct. 6, and the Seminoles will play Clemson on Oct. 27

Weis Jr. was an offensive assistant for the Atlanta Falcons in 2017