Charlie Weis shakes up offensive coaching duties for Jayhawks
After making sweeping changes to the Kansas depth chart, Charlie Weis announced that he was also overhauling the functions of the offensive coaching staff.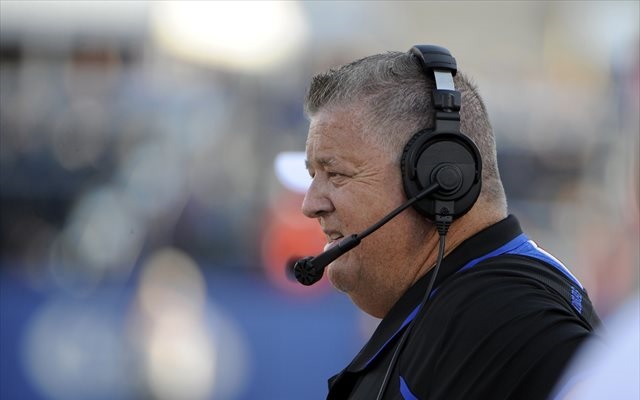 Charlie Weis remains an offense-first coach, which has to make his Jayhawks' struggles on that side of the ball all the more frustrating for both Weis and Kansas fans alike. A year after finishing 112th in the FBS in yards-per-play, through five games the Jayhawks currently rank 119th in the same statistic and have yet to score more than 17 points in four tries against FBS competition.
So it's no surprise that Weis announced Tuesday that he's making changes to his offensive coaching process. Jayhawks quarterbacks coach Ron Powlus will now be in charge of the passing game, tight ends coach Jeff Blasko will be in charge of the running game, and Weis -- who has served as his own offensive coordinator -- will open up elements of the game-planning to each of those coaches.
"I felt that I had to back off a little bit or else we're never going to get any better," Weis said of relinquishing some of his game-planning responsibility, per the Associated Press. "What happens a lot of time when you have a veteran coach that's been running offenses for a long time, sometimes [assistants] hold in ideas because the head coach or offensive coordinator already has a bunch of them on his own." 
Weis also said he would be taking on a much greater role in the position-coaching of the Jayhawks' offensive skill players.
"I'm going to be much more involved with the coaching of the skill positions which I think has been lacking," Weis said, per a transcript at Rock Chalk Jayhawk. "I've been a position coach at all these positions, quarterback, running back, tight end, wide receiver on the NFL level for multiple years. I think that some of the areas that we're deficient at I think I can lend an improvement. I'm not pushing any coaches aside, just getting more involved at all the skilled positions and letting Ron and Jeff worry about the nuts and bolts."
The moves aren't the first ones Weis has tried to jolt the Jayhawks out of their doldrums. The AP reports Weis has made 13 non-injury-related changes to his offensive starting lineup in the past month alone. Gavin Howard started in the Jayhawks' 27-17 loss to TCU last Saturday, the third different center to start for Weis this season.
"It's a bigger concern if you aren't willing to do things to try to fix them," Weis said when asked about potential problems with the shakeups. "I think we have an obligation as coaches, especially me, to give every effort we have to explore alternatives we can to try to make things better."
With the Jayhawks sitting at 2-3 and facing Oklahoma, Baylor, Texas and Oklahoma State in the next four weeks, those changes had better actually make Kansas better in a hurry, or Weis's second season at the helm will look as lost as the first one no matter how much changes behind the scenes. 
The former Oregon coach is one of the hottest commodities on the coaching market

The CFP Selection Committee got Miami right, but there are some decisions that make you go...

The newest college football rankings are out, but did your favorite team make it in?
Sumlin is 51-25 overall and 25-22 in the SEC over six seasons in College Station

This is precisely what you'd think would happen between Kiffin and Saban

Anybody can rank the best 25 teams, only the Bottom 25 ranks the worst