Chip Kelly hands the keys to Oregon's offense to redshirt freshman Marcus Mariota
If today is the first time you're hearing the name "Marcus Mariota," get used to it.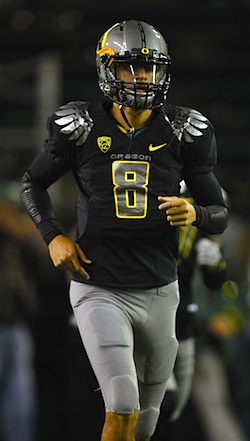 If today is the first time you're hearing the name "Marcus Mariota," well, get used to it: The 6-foot-4, 210-pound redshirt freshman was just confirmed as the new starting quarterback at Oregon, guaranteeing him plenty of face-time this season at the center of the most  consistently explosive offense in college football. If his numbers are anywhere in the vicinity of his predecessors', Mariota is looking at at least three years as one of the most visible, productive players in the country.
Not a bad situation for a relatively lightly recruited guy who has yet to take a snap in a college game. In fact, at the end of last year, Mariota still ranked as an obscurity even among Oregon fans after spending his first season as a third-string afterthought, toiling behind starter Darron Thomas and the top backup, Bryan Bennett. It was Bennett who came off the bench to lead midseason wins over Arizona State and Colorado while Thomas nursed an injured knee, and when Thomas announced his bewildering decision to forego his senior season for the NFL Draft, it was Bennett who assumed the title of heir apparent.
By the end of spring practice, though, it was Mariota earning rave reviews for his turn in the spring game, which seemed to put him on equal footing with Bennett heading into the summer. After three weeks of preseason camp, coach Chip Kelly decided during a team scrimmage on Thursday morning that he'd seen enough to confidently hand the keys to the freshman.
This being Oregon, rest assured that the pedal is already on the floor. In five seasons in Eugene – two as offensive coordinator, the last three as head coach – Kelly's relentless, up-tempo philosophy has produced the No. 1 rushing, total and scoring offense in the conference all five seasons. With Thomas at the controls in 2010 and 2011, the Ducks averaged better than 46 points on more than 500 yards per game in both seasons, extending their reign as Pac-10/12 champions to three years and counting. Their last time out, they gashed a top-ten defense from Wisconsin for 621 yards in a wild, 45-38 win in the Rose Bowl, racking up nineplays that covered at least 20 yards.
Three of those plays came courtesy of a) A 54-yard touchdown reception by Kenjon Barner and b) Scoring runs of 91 and 64 yards by true freshman De'Anthony Thomas, whose combined presence in the backfield may negate the absence of All-American LaMichael James. (Barner and Thomas combined for 1,534 yards and 18 touchdowns last year on the ground alone, not including their contributions as receivers and return men, essentially as backups to a guy who averaged just shy of 21 carries per game.) For all the offense is missing from 2011 – its leading rusher, two of its top three receivers, two senior linemen with 59 career starts between them – there is no shortage of weapons. If Mariota can offer the same continuity at quarterback, the Ducks will be back in the thick of the conference and national championship races and Kelly's reputation as an indomitable offensive guru will be reinforced once again.
Schiano would have made $4.4 million in Year 1 with annual raises as part of a six-year de...

Dykes spent this season as an offensive analyst at TCU

The "Wyoming Wild Man" notched six tackles for loss as a junior in 2017
Zaycoven Henderson was charged with aggravated assault with a deadly weapon

Patterson is a former No. 1 recruit in the country

Baker Mayfield and two Sooner teammates made the first team