Chip Kelly has Oregon program soaring as he faces his NFL future
Oregon's Chip Kelly is a hot NFL commodity but made sure to remind college football what he can do for the Ducks in a 35-17 win over Kansas State in the Fiesta Bowl. Kelly and the Ducks have been to four straight BCS bowls.
• 5 min read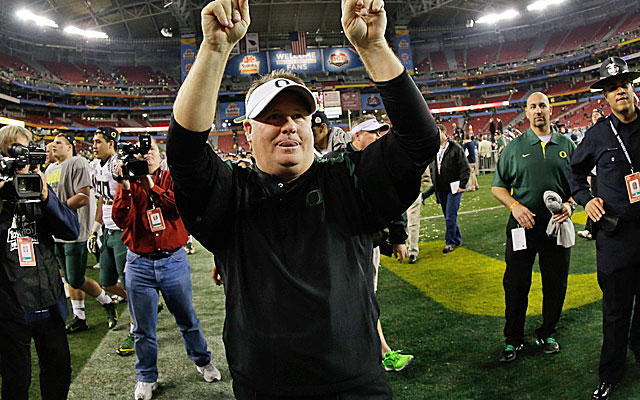 After the game Chip Kelly finally it made clear: He'll hash out NFL possibilities with his agent on Friday. (Getty Images)
GLENDALE, Ariz. -- The equipment manager. The Ducks are at their mightiest, Chip Kelly is the toast of both college football and NFL general managers, a sea of yellow chants "Four More Years" after he accepts the Fiesta Bowl trophy.
And he's looking for the equipment manager.
 "Kenny! KENNY!," yelled the Oregon coach after scanning the crowd below him for a good 20 seconds, off to the side after doing his TV interview.
His voice got softer once he got the manager's attention.
"We're 1-0 with Zoe."
Zoe Farr, daughter of Oregon football equipment administrator Kenny Farr, was born 7 pounds, 4 ounces last Friday. Farr has traveled back and forth from Eugene to Phoenix three times since then, and every trip included texts of encouragement from Kelly.
Farr is proud of those texts, because he knows Kelly isn't just a calculated football assassin looking for the next NFL offer sheet.
Everybody in the Ducks locker room can safely assume that as long as Kelly's not a profuse sweater in interview settings, he can be an NFL coach in 2013. And all indications are that he wants it (see: Bucs flirtation, 2012). This time, there are at least three NFL teams backing their money trucks into Glendale.
But after this run, with Oregon's three straight 12-win seasons and four straight BCS appearances and a machine-gun offense, coupled with Kelly's care for his family, Farr wants to bottle this Ducks magic forever.
Even if Chip and Zoe's winning streak ends at one.
"He cares about all of us and takes a personal interest," Farr said. "Maybe it's how he comes across (publicly) that he's misunderstood a little, but we all know what he means to this program."
Thursday night's 35-17 win over Kansas State felt like a rite of passage for Kelly, whose Ducks were one missed field goal away from playing for the national title next week.
With Alabama and Notre Dame garnering the on-field championship hype, the headlines followed Kelly's virtual job fair in Arizona all week.
The game had its signature Oregon offensive flare (a five-play, 46-second touchdown drive to end the first half). It had super booster Phil Knight in attendance. It had Kelly's wide-billed white visor. It had some timely defensive stops when Kansas State tried to take momentum late in the second quarter but squandered a fourth-and-1 with an offsides penalty.
After the game, after deflecting questions for days, Kelly finally made clear: He'll get with agent David Dunn on Friday and hash out the NFL possibilities.
He'll listen. Then he'll think. He plans to be decisive.
"I want to get it wrapped up quickly and figure out where I'm going to be," Kelly said.
It's almost as if the team's at peace with that reality. Oregon is behind Kelly "whatever he decides to do," quarterback Marcus Mariota said.
Running back Kenjon Barner was thoughtful when addressing Kelly's impact on the program long term.
"What Coach Kelly has brought to this program has taken it to another level," Barner said. "It's set the tone for teams to come and for the future. We've been on an amazing road and couldn't have ended it on a better note."
Maybe Oregon's at peace because outside of looming NCAA trouble, Kelly's leaving it in a relatively good place.
Oregon has an elite quarterback in Mariota, who's a redshirt freshman. De'Anthony Thomas, the one who caught eight speeding tickets on his way to two touchdowns Thursday, will be back.
Impromptu coach-in-waiting Mark Helfrich can keep continuity -- "I think he's special and I love the guy," Kelly said. The Ducks are expected to elevate Helfrich, Kelly's offensive coordinator, if or when Kelly bolts. The school has a healthy booster base.
The NCAA is a problem, and one that Kelly created, but the sanctions shouldn't cripple the program beyond repair.
The Ducks have an identity. Kelly the NFL coach doesn't, at least not yet. He'll either be a revelation or the next Steve Spurrier.
Which is why Kelly needs to find out whether the jump is really worth it.
"That's part of what this whole thing is, it's more of a fact-finding mission, finding out if it fits or if it doesn't," Kelly said. "I don't really have that answer."
Kelly is a former Columbia defensive backs coach who in two decades created this monster covered in Duck sauce, a program that could sleepwalk its way into 10-2 every year if Kelly stayed in Eugene. Athletics director Rob Mullens says he plans to do everything he can to retain Kelly.
After his words to Farr, Kelly hopped off the podium and jogged into the tunnel. Fans from three levels up were screaming for him, and he waved while he walked.
He might be waving goodbye to one heckuva fun four-year ride that transcended the on-field results.
"Wins and losses, they come and go," Kelly said. "People forget your record…It's always about the players and it always will be about the players."
Here are the early lines for big Week 5 games from Vegas

Georgia jumped four spots to No. 8, while Florida State dropped 14 spots to No. 25

Louisville and TCU get big-time bumps after conference rivals fell on Saturday
The Bulldogs jumped up to No. 7 after an emphatic win over Mississippi State

The Penn State running back made a case that he's a legit Heisman Trophy contender

The Nittany Lions came up huge when they needed to against Iowa