Chip Kelly may be watching film in a hot tub, and more on Oregon's future football palace
Opulence: The Ducks has it.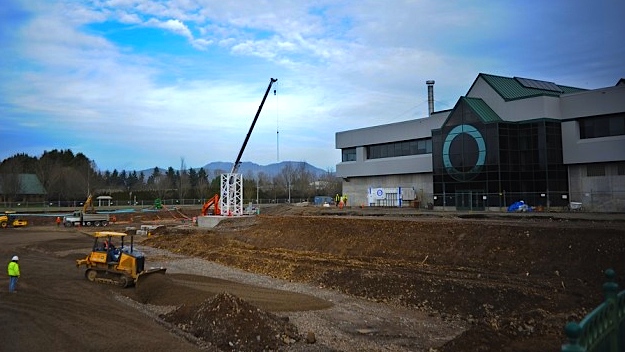 When rivals and other haters scoff at Oregon's reputation as "Nike U," their main point of reference is usually the endless, ever-evolving ensemble of flamboyant uniforms had made the Ducks walking billboards for the company every time they took the field. Consider this your annual reminder that the space-age threads only amount to a few flecks off an iceberg made of cold, hard cash.
First, a brief accounting: On the football side alone – not even mentioning his largesse in support of basketball, track and the rest of the university at large – Nike founder Phil Knight has helped his alma mater bankroll an indoor practice field, a state-of-the-art athletic medical center, an expansion to Autzen Stadium, the most luxurious locker room in college football and a new academic building, opened in January 2010 at a personal cost of $41.7 million, billed as "the Taj Mahal of academic services." Most recently, the university unveiled plans in November 2010 for an "L-shaped, stand-alone, six-story structure" to house the football program beginning in 2013 – all 130,000 square feet of it on Knight's tab. The project is being funded entirely through Phit LLC, a private company controlled by Knight and his wife, which plans to complete construction on a university lease and donate the finished product back to the school.
Because it's technically a private enterprise, details of the ongoing football project have been sketchy at best. In February, the student-run Daily Emerald pegged the cost at $63.3 million, or $484 per square foot across two metal-and-glass buildings linked by a skybridge, according to permit applications filed with the city of Eugene. On Tuesday, the Register-Guard upped the estimate to $68 million and filled in a few more blanks, including one, uh… interestingperk for coach Chip Kelly:
Blueprints submitted by the builders to the city of Eugene show that the new complex will continue the trend of jaw-dropping, donor-funded opulence set by previous Duck athletics construction projects. The new center will, for example, feature nine dedicated classrooms, each for a single key position on the football team, from quarterback to inside linebacker.

Football coach Chip Kelly will have a private hot tub next to his office with a waterproofed video center, so he can watch games while taking a soak.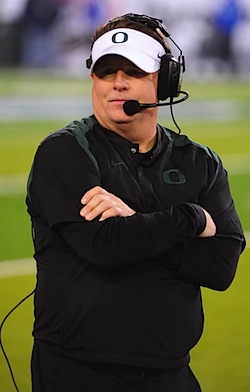 For the record, Oregon officials called the article "erroneous" on that point, claiming there will be no hot tub next to Kelly's office; R-G beat writer Rob Moseley responded by sticking to his guns, insisting that the hot tub was in the original plans submitted to the city. Unfortunately for Rob, even if he's right, he probably just forfeited whatever chance he had to take the jets for a spin himself. [Update, 7:42 p.m. ET. The hot tub in question will be off of the coaches' locker room, as well as a steam room, both of which will include a waterproof video enclosure. You may return to your imagination of a shirtless Chip Kelly.]
Again, though, the presence (or lack thereof) of a mere jacuzzi is a footnote compared to the rest of the amenities, which are not in dispute:
• Two movie theaters;
• An advanced video editing and distribution center;
• An Oregon Duck football museum;
• Separate conference rooms for offense and defense;
• A 2,285-square-foot players lounge and deck;
• One hundred twenty-four climate-controlled lockers, equipped with iPod dock and charging station;
• Industrial-sized kitchen, 150-seat dining hall and 50-seat private dining room;
• A White House-style "war room," with a long conference table, 17 "executive seats" and (of course) a buffet for late-night sessions.
That's right, keep arguing about the hot tub while Chip Kelly conducts serious business in his war room. No wonder he turned down the NFL. Just one word to the wise: If the buffet includes barbecue, be careful about the sauce, huh?
- - -
Construction photo via the Daily Emerald.
The Hurricanes have been living on the edge all season

Barrett Sallee is 12-6 on his best bets at SportsLine and says Oklahoma will prevail this...

Florida had been after Kelly since firing Jim McElwain
It's your last full Saturday of the season, enjoy it

Clemson needs a win to preserve its College Football Playoff profile

The Seminoles look to keep their bowl streak alive with a win at Florida