Cincinnati recruits: Tuberville pulled our scholarships, and didn't tell us
A player finds the situation "disappointing." A local coach thinks it's "ugly." A parent just calls it "bad." Among his core constituencies on the recruiting trail, Tuberville is off to an 0-for-3 start.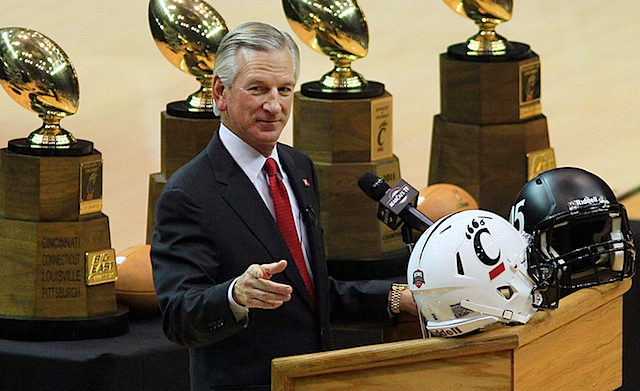 Tommy Tuberville was introduced as Cincinnati's head coach on Dec. 8. (AP)
If Tommy Tuberville's abrupt, overnight exit from Texas Tech last month left some Red Raider recruits feeling a little chilly, his first few weeks on the job at Cincinnati have left Bearcat targets feeling like they've been abandoned in an approaching blizzard. With less than a month to go before national signing day on Feb. 6, multiple prospects who verbally committed to Tuberville's predecessor at Cincy, Butch Jones, have accused Tuberville of quietly crossing their names off the list without contacting them, leaving the players to scramble for last-minute offers.
First up: Demetrius Monday, a three-star cornerback from Fairburn, Ga., who committed to Cincinnati last summer, and told the Atlanta Journal-Constitution Thursday that he's back on the market after failing to hear from Tuberville – who accepted the Cincinnati on Dec. 8, less than 48 hours after Jones left for the top job at Tennessee – for a solid month. When Monday's family finally contacted the university this week, according to his father, they were told to "look other places":
"I think it's messed up," his father, Bryant Monday, told the AJC. "You wait until a few weeks before signing day to say something? They could have told us a month ago.

"Now we're left with less than a month until signing day to figure something out. [Demetrius] had other scholarship offers but he hasn't talked to those coaches in six months … since he committed to Cincinnati on July 25. It's really disappointing."
[…]
"They told us to 'look other places,'" Monday said. "I'm in Los Angeles on vacation, and I just got the bad news. The thing is, we've talked to some other kids committed to Cincinnati. They say the same thing, that they haven't heard from the staff. Basically [Tuberville] isn't calling anybody, he's trying to get the kids to de-commit on their own.

"It's a bad situation."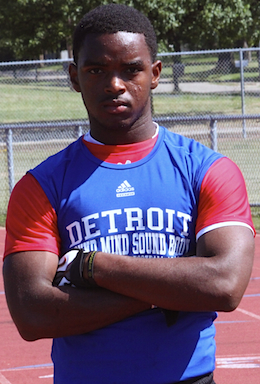 Demetrius Monday is a three-star cornerback prospect from Fairburn, Ga. (247Sports)
Next up: Jaleel Canty, a three-star "athlete" from Lansing, Mich., who also committed to Cincinnati last July, and also told the AJC he had to find out he'd been dumped the hard way. After a month with no news, he called the football offices on Thursday.
"They said they were bringing in their own guys, so all the guys that are committed are out luck," Canty said. "It's messed up. I've been committed to Cincinnati since July, and I kind of cut off communication with other schools. I don't understand why [Tuberville] couldn't tell us a month ago. We're less than a month away from signing day now. And I don't understand why we had to call them. Why couldn't they call us and tell us a month ago? It's really disappointing."
Last week, the head coach of nearby Massillon-Washington High, Jason Hall, who told a local paper last week that Tuberville would be effectively banned from recruiting Massillon players after he reportedly pulled a scholarship offer from quarterback Kyle Kempt. In Ohio, that's no trifling matter: Since Hall arrived in 2008, Washington has produced six FBS signees, including current Ohio State starter Devin Smith, and is expected to add three moreto that list this year, including Kempt.
"It was an ugly situation," said Hall, who also serves as the school's athletic director. "I think they thought [Kempt] was going to go to Tennessee with Butch Jones and they offered another quarterback. But that wasn't the case. Cincinnati will not be allowed back in Massillon on our campus as long as Jason Hall is in Massillon."
A source on Tuberville's staff told CBSSports.com's Bruce Feldman that every committed recruit was contacted by a Cincinnati staffer after the coaching change to find out where each recruit stood in the process. According to the source, the new staff plans to honor commitments from those who said they were still committed to Cincinnati, but several recruits said they were still looking at other schools.
Even without Tuberville's side of the story – NCAA rules prohibit coaches from publicly acknowledging individual recruits before they've signed letters of intent – the language in those accounts is damning enough. A player finds the situation "disappointing." A local coach thinks it's "ugly." A parent just calls it "bad." Among his core constituencies on the recruiting trail, Tuberville is off to an 0-for-3 start.
Now, we get to see how he finishes. According 247Sports, Cincinnati currently boasts just 12 verbal commitments for the 2013 class, not including a pair of early enrollees from Copiah-Lincoln (Miss.) Community College who are already on campus. (Schools may sign up to 25 scholarship players in a given year, although they're also restricted by an 85-man cap for the roster as a whole.) For the moment, that group still includes Jaleel Canty, which reflects the uncertainty and flux of the class in the home stretch. Barring a few surprises between now and signing day, Tuberville may find himself facing a few questions he doesn't necessarily want to answer.
Locksley joined Alabama's staff in 2016

Saban reportedly wants to hire Freeze, but there may be things keeping that from happening

Florida State-Miami will be on Oct. 6, and the Seminoles will play Clemson on Oct. 27
Weis Jr. was an offensive assistant for the Atlanta Falcons in 2017

Lott is joined by three current athletic directors and will serve a three-year term

These are the top guys every school is still chasing