Cincinnati to play 2014 home games at Paul Brown Stadium
Renovations at Nippert Stadium will continue throughout the 2014 season, forcing the Bearcats into the Bengals' stadium.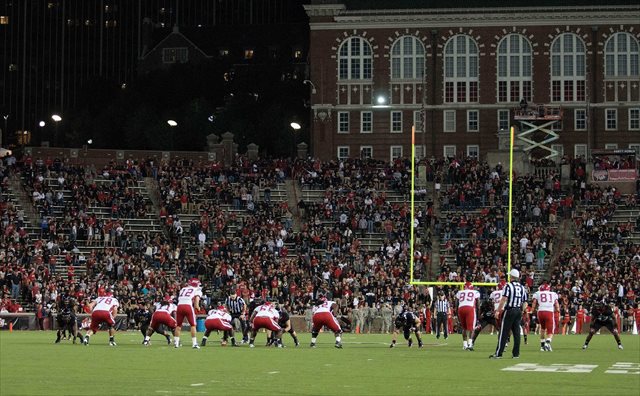 The good news for Cincinnati fans and players is that venerable Nippert Stadium will be undergoing a facelift shortly. The bad news is that those renovations are going to force the Bearcats out of their home for a season.
Athletic director Whit Babcock announced Monday that the Bearcats will play their 2014 home games at Paul Brown Stadium, home of the NFL's Bengals, while the schools' 15-month renovation of Nippert is completed. The project will kick off in December at the conclusion of the Bearcats' 2013 season.
"We're very thankful to the Bengals and the County for being great neighbors and working with us," Babcock said. "I was impressed with the game day atmosphere we were able to create at [Paul Brown Stadium] in 2011 and the stadium is a first-class facility.
"While we will have some logistical issues to deal with in moving an entire season of games to Paul Brown, I know our staff has a great working relationship with the Bengals and I am confident the environment will be the next best thing to Nippert Stadium."
Playing home dates away from the friendly confines of Nippert isn't that uncommon for the Bearcats. They've played four games in Paul Brown Stadium previously, going 1-3, with their two highest-ever attendance totals coming in games there vs. Ohio State and Oklahoma. (The current renovation project will push Nippert's capacity to "approximately 40,000," while Paul Brown seats more than 65,000.) The Bearcats also spent a season in Cincinnati's old Riverfront Stadium during a previous Nippert renovation in the early 1990s.
Despite the difficulties of moving across town for game day, Tommy Tuberville welcomed the change.
"It's a great stadium," Tuberville said. "We had the opportunity to practice inside PBS this past spring and I was very impressed with the amenities, playing surface and the reception we received from Mike Brown, Marvin Lewis and the Bengals staff. I look forward to that relationship continuing and growing as we move forward."
The smallest stadium in the old Big East, Nippert will be enhanced with an increased number of suites and "scholarship club seats" as well as a new press box and other amenities. The price tag for the renovation is set at $80-85 million. 
The Nittany Lions came up huge when they needed to against Iowa

It just might have been the best game of the season so far

Projecting the new AP Top 25 poll college football rankings after Week 4
Stay with us all day Saturday for updates and highlights from Week 4 of the 2017 season

Georgia dismantles Mississippi State between the hedges Saturday night

The Horned Frogs looked a lot like their old selves on Saturday afternoon in Stillwater