Clemson proves it's for real with a program-defining win over Georgia
The BCS has a new contender, and the SEC better watch out. Tony Barnhart says high-powered No. 8 Clemson makes a big statement with a thrilling win over No.5 Georgia.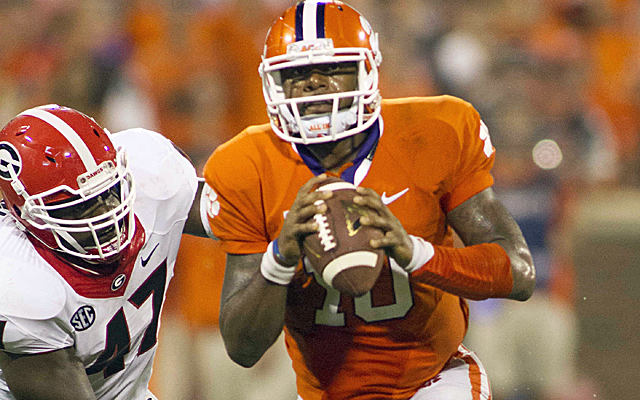 CLEMSON, S.C. -- When it was over, and the field was covered in an exhilarating season of orange, Clemson quarterback Tajh Boyd took a private moment to look up into the stands at Memorial Stadium. There was a sign that was simple, but emphatic, in its meaning:
"It's Time."
"That," Boyd said, "is why I came back. I came back to experience a night like this."
The last time Clemson felt this giddy about a victory and what it could mean, Danny Ford was its coach and the Tigers had just beaten Georgia, the defending national champions 13-3.
On that day in 1981, Clemson forced Georgia into nine turnovers and kept the great Herschel Walker out of the end zone. Clemson used the victory against the Bulldogs as a springboard to a 12-0 season and its only national championship.
Fast-forward 32 years and on a night when Ford was inducted into the school's ring of honor, No. 8 Clemson won its biggest game of the Dabo Swinney era, knocking off No. 5 Georgia 38-35.
"It's a great night. A truly great night," Swinney said well after the clock struck midnight. "Our guys were just ready to play in a game like this. We knew this was going to be a slug-fest for four quarters. Georgia is a great team. They are going to win a lot of games. But we stood them up in the trenches when we needed to."
Yes, Clemson won an ACC championship under Swinney in 2011. And last year's 25-24 victory against No. 10 LSU in the Chick-fil-A Bowl was a huge momentum builder going into this season.
But the win over Georgia before 83,830 on a muggy Saturday night in Pickens County made history. Clemson became the first non-SEC team to beat two top-10 teams from the SEC in consecutive games. Given the fact that the SEC has won seven straight BCS national championships and is favored to win an eighth, this was a big deal to Clemson and to the ACC.
"It's just a start but it was a great start," said Boyd, who was brilliant all evening with 270 yards passing and another 42 rushing while accounting for five touchdowns. "Now we have to build on it. Now we have to get better."
Time after time Boyd would keep plays alive with his feet. And by the final period Georgia's rebuilt defense was gassed. Boyd led Clemson on an 87-yard drive on 12 plays that culminated with his 9-yard touchdown pass to Stanton Seckinger. Seckinger was originally ruled out on the 1-yard line but replay confirmed that he got into the end zone to give the Tigers a 38-28 lead with 7:40 remaining.
Georgia drove 64 yards for a touchdown with 1:19 left but then Clemson recovered the onsides kick to preserve the victory.
Boyd has certainly had better statistical games but, given the stakes, it was among his very best since he came to Clemson, said offensive coordinator Chad Morris.
"I just can't say enough about Tajh Boyd," Morris said. "He never wavered. He never backed up. He's stronger and he's quicker. He played like a veteran quarterback should play."
Saturday night was also a big deal because it puts Clemson right in the middle of the national championship discussion, something the ACC has not enjoyed since Florida State played Oklahoma for the 2000 national championship. Clemson's regular season schedule begins with Georgia, ends with South Carolina, and has Florida State right in the middle on Oct. 19.
You can talk about Ohio State and Stanford and Oregon and Louisville and Alabama as national contenders all you want, said Swinney. But if his Tigers go 13-0 against this schedule, he fully expects to be playing in Pasadena on Jan. 6.
"Some teams have to worry about getting in the big game, even if they win them all,"  Swinney said. "We don't have that problem."
And after the game Swinney took the time to shoot down the narrative that Clemson is somehow crashing the party when it comes to college football's elite programs. He pointed out that Clemson is one of only six teams (along with Alabama, LSU, Oregon, Stanford, and South Carolina) that have been ranked in 30 consecutive polls.
"I think our guys have been incredibly consistent," Swinney said. "They have earned this recognition and deserve to be in this position."
The game was everything it was billed to be. Two great offenses. Two great quarterbacks in Aaron Murray and Boyd, who are both in the Heisman Trophy discussion. Over 1,000 yards of total offense. The 73 total points scored by the two teams broke the record of 59 in the series that dates back to 1897.
But the game also belonged to the Clemson's defensive front. Time after time they pressured Murray, forcing him into two critical mistakes in the first half. Murray fumbled at his own 16-yard line and Clemson turned it into a touchdown. Georgia had a golden scoring opportunity at the Clemson 30-yard line after a muffed punt but Murray gave it right back with an interception. Georgia also had a high snap on a chip-shot field goal and never got the kick off.
"I am so proud of our guys because we were able to get pressure all night," said Brent Venables, in his second season as Clemson's defensive coordinator. "We knew it would be a game that would be won in the trenches and our guys held their own against a really good team."
Now Georgia, picked in the preseason to win the SEC East, must shake off a loss in which the Bulldogs' offense gained 545 yards. South Carolina comes to Athens next week. Georgia can still get back into the national championship race, but not if it loses to the Gamecocks and Steve Spurrier, who have won three straight over the Bulldogs. Georgia also has to play LSU before the month of September is over.
"We've got some good players and we will be at home and playing some conference teams and we will be OK," said Georgia coach Mark Richt, whose team started 0-2 in 2011 and reached the SEC Championship Game. "I don't think there is anybody in that locker room who is ready to jump off a bridge."
The former Rebels coach was suing the school for harming his reputation

Florida and Georgia's rivalry game is the SEC on CBS Game of the Week

Everything you need to know from the week in college football to stave off your case of the...
Our full set of 130-team FBS college football rankings start with Alabama back at No. 1

The Hurricanes have showed out in a major way over the first half of the 2017 season

An early look at the gambling odds for Week 8 of the college football season