Clemson reeled in the biggest fish in the 2013 class, but can it keep him?
How likely is the nation's No. 1 recruit to eventually sign with Clemson? Probably better than its rivals would like to believe.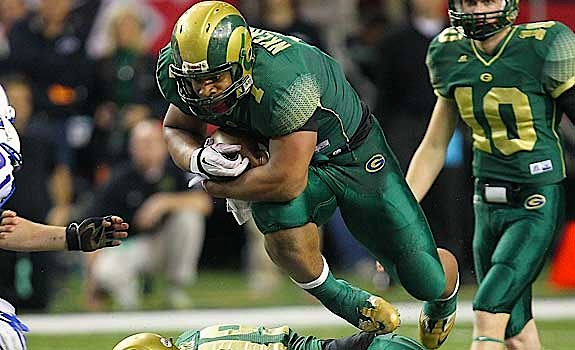 Recruiting is the lifeblood of every college football program, so much so that recruitniks often seem to view their obsession as an end unto itself. But the fact is, all recruiting victories are like lottery tickets: Ephemeral and prospective by definition. (We are talking about prospects, after all.) That basic uncertainty holds for entire classes that commit their name to paper every February. For individual, non-binding verbal commitments in June, some seven months before the union of player and school can become official? That's like buying a lottery ticket for another lottery ticket.
Which is not to say Clemson shouldn't be elated about Thursday's surprise pledge from the most coveted player in the 2013 recruiting class, Loganville, Ga., defensive end Robert Nkemdiche, who appears to be as sure a bet as they come. It just presents the Tigers with a different, equally daunting challenge: Now that he's in the fold, how do they keep him there?
To be clear, this has nothing to do with Clemson, specifically, and everything to do with the relentless nature of the beast. To the extent that there is some sort of "gentlemen's agreement" in recruiting, it certainly does not apply to 6-foot-5, 260-pound specimens who have just given the not-so-gentlemanly competition a bright orange target to aim for. To seasoned hunters like Nick Saban, Mark Richt, Mack Brown, Les Miles, Urban Meyer, Jimbo Fisher, Gene Chizik, Will Muschamp, et al., a verbal commitment to a rival school in June is like catching a faint whiff of blood. It's open season, and it's only beginning.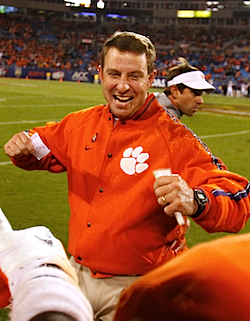 In Clemson's favor, recent history tells us that the old chestnut about the bird in hand is as applicable as ever, even at the highest levels of Division I recruiting. Last year, Sports Illustrated's Andy Staples recorded every decommitment during the recruiting process by players ranked among Rivals.com's top 100 prospects over a five-year span, from 2007-2011. Of the 500 players in that sample – all of them pursued by powerhouse programs and millionaire head coaches from every corner of the country – only 73 backed out of a verbal commitment at some point in the process, and only 62 eventually signed with a different school than the one they originally committed to.
Anecdotally, the list of defections included a few blockbuster names – see Patrick Peterson, Blaine Gabbert, Bryce Brown, Vontaze Burfict, Alshon Jeffery, Keenan Allen, Cyrus Kouandijo and De'Anthony Thomas, among many, many others. (The 2012 class, which was not part of Staples' project, featured flip-flops from the touted likes of Notre Dame-bound quarterback Gunner Kiel, Alabama-bound tailback T.J. Yeldon and Florida-bound defensive lineman Dante Fowler Jr., for starters.) But taken as a whole, even among the caliber of recruits coaches work hardest to flip, initial verbal commitments have an overall "success rate" in the neighborhood of 88 percent.
Two factors may make Nkemdiche more vulnerable than some of the other names on that list: a) His status as the consensus No. 1 recruit on every existing list guarantees no one is going to let him get away without a fight; and b) His unusually early decision for Clemson gives the competition plenty of time to get him on their campuses, get into his living room and methodically incept themselves into the deepest recesses of his brain. There is also the matter of Clemson's performance this fall, which (as Tiger fans know better than anyone) is always a highly uncontrollable variable.
On the other hand, there are also a handful of factors working in Clemson's favor, too, namely its location – Clemson isn't as close to Nkemdiche's hometown as the University of Georgia, which is practically next door, but it is slightly less than a two-hour drive – and the recent verbal commitments of two of Nkemdiche's high school teammates, tailback Wayne Gallman and cornerback David Kamara. Presumably a little peer pressure will make for a more effective bond than a bunch of random zealots stalking Nkemdiche's every move on Facebook and Twitter. (Hint hint, dudes. Not cool.)
Even if it made no apparent sense whatsoever, though, the best indicator of Nkemdiche's eventual presence in a Clemson uniform is still the fact that he's given his word. Yes, it's non-binding. Yes, he's a teenager who can change his mind like he changes his shirts, at any moment, based on anything or nothing at all. Yes, there remains an eternity until signing day. Yes, Nick Saban is a nefarious Sith lord adept at wresting full control of talented teenagers' minds. No, there is no such thing as a sure thing, especially in June. But the sooner that he begins thinking of himself as a Tiger, the better the odds it will eventually become a reality.
Memphis outscored Houston 42-21 in a wild second half win on the road

Scott leads the Spartans with 408 rushing yards

One of the finest restaurants in Columbia has a unique partnership with University of South...
While Mother Nature has wreaked havoc, some teams have been just plain bad so far this sea...

Bryce Love's video game season and early-season turnarounds lead our group

Trust the Process as Tom Fornelli leads you toward his best bets for Week 8 of the season