Clemson WR Martavis Bryant to face discipline for throat-slash
Dabo Swinney said receiver Martavis Bryant made an 'unacceptable gesture' vs. N.C. State and will see reduced playing time vs. Wake Forest.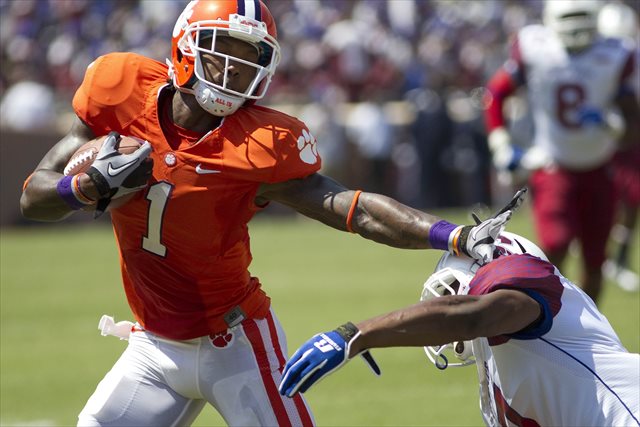 Clemson will be without one of their star playmakers for at least some of their home game Saturday vs. Wake Forest.
Dabo Swinney announced Tuesday that junior wideout Martavis Bryant will be disciplined for making a throat-slash gesture after the second of his two touchdown receptions in last Thurday's 26-14 win over N.C. State. Neither the Clemson head coach nor the officials saw the throat-slash at the time, but Swinney said it was clear on television replays.
"Martavis will play this weekend, but it will affect his playing time," Swinney said, per orangeandwhite.com. "He made an unacceptable gesture after scoring a touchdown, and nobody even knew about it until after the game. It's one of those things that's not representative of what we want, so there will be some team discipline involved."
Bryant enjoyed by far the best game of his career against the Wolfpack, finishing with 6 receptions for 73 yards and the two scores. For the season, Bryant's 10 receptions and 160 receiving yards are second only to Sammy Watkins among Tiger receivers.
Though Clemson should be able to handle Wake Forest even with Bryant riding occasional pine -- the Tigers are 28.5-point home favorites over the Demon Deacons -- Swinney won't be happy about having to bench two separate players for Saturday's game. Tiger offensive lineman Isaiah Battle has also been suspended for throwing a punch late in the game against N.C. State. 
Bryant is the second high-profile college football player in as many weeks to sit for a throat-slash gesture, after Alabama tailback T.J. Yeldon missed the first quarter of the Tide's win over Colorado State for his own throat-slash vs. Texas A&M.
Rhoads led Iowa State to three bowl games in seven years as head coach

The Georgia middle linebacker is one of the most valuable players in college football

Explaining my 2017 Heisman Trophy ballot and Jackson's tremendous season
Mayfield is the sixth Oklahoma player to win the Heisman since its inception

The Heisman Trophy will be presented to the best college football player this season

Army topped Navy for the second straight year in an absolute thriller in Philadelphia