Clemson's Dabo Swinney jabs Edsall for Big Ten remark
After Maryland's Randy Edsall said he's joining a football conference in the Big Ten, Swinney used his Orange Bowl win over Ohio State to prove a point.
• 1 min read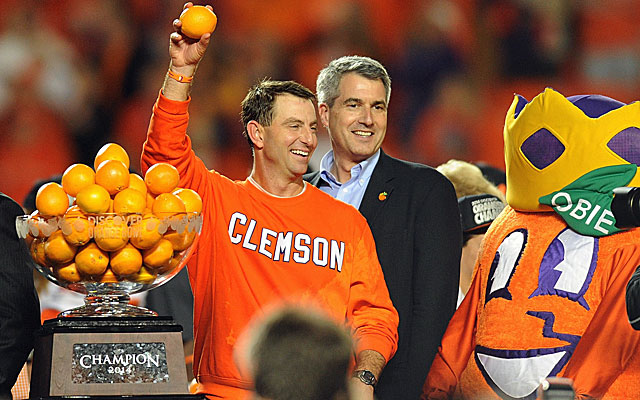 More college football: Dennis Dodd | Jeremy Fowler | Jon Solomon | Latest news
GREENSBORO, N.C. -- If Dabo Swinney ever starts beating South Carolina, he could reach Spurrier-gold levels of nuanced shade-throwing.
He's produced two good jabs out of Clemson 's 40-35 Orange Bowl win over Ohio State. After the game, he pointed out his Tigers were the first team from South Carolina to win a BCS game. Swinney, whose Tigers have lost five straight to the Gamecocks, finally got on the board after endless ribs from the king of the artform.
Swinney came through again at Monday's ACC Kickoff when responding to Maryland coach Randy Edsall's claim that he's leaving a basketball conference to join the Big Ten. The Terps, once the ACC's oldest member, officially joined the Big Ten on July 1.
"I wish him well," Swinney said. "I think we just played Ohio State. Aren't they from that conference?"
July is the time of year for coaches' conference complexes, as the back-and-forth between FSU's Jimbo Fisher and Baylor's Art Briles showed today. The ACC finally has a stable argument, armed with a national title, four wins over the SEC (compared to seven losses) and 42 NFL draftees in April.
"What I said needed to happen years ago, happened," said Swinney about the ACC.
Clemson has played an pivotal role in that process but will have a hard time leaping into the College Football Playoff without beating South Carolina for the first time since 2008.
For Swinney, beating South Carolina about more than a potential playoff spot.
"That's the only goal we haven't achieved on our board in five years. That's it," Swinney said. "It's a huge priority for us. But we're not going to beat South Carolina in August."
The former Oregon coach is one of the hottest commodities on the coaching market

The CFP Selection Committee got Miami right, but there are some decisions that make you go...

The newest college football rankings are out, but did your favorite team make it in?
Sumlin is 51-25 overall and 25-22 in the SEC over six seasons in College Station

This is precisely what you'd think would happen between Kiffin and Saban

Anybody can rank the best 25 teams, only the Bottom 25 ranks the worst