Clinton-Dix tale shows problems in player-agent relationship
Conference commissioners and NCAA compliance people are edging toward common-sense reform on the issue of player-agent relations.
• 7 min read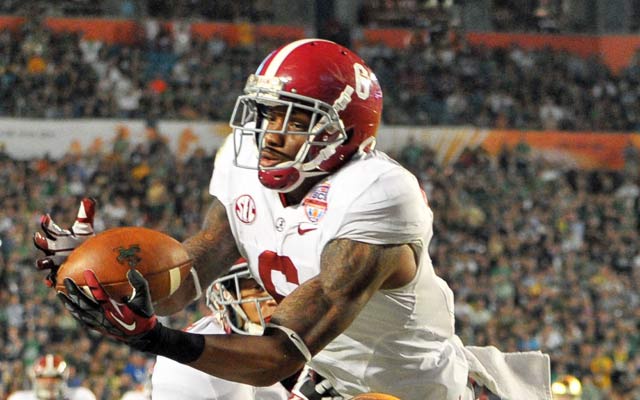 Alabama safety Ha Ha Clinton-Dix recently took a few hundred bucks from a trainer that he paid back, which is why he's suspended indefinitely. That trainer -- Tide assistant strength coach Corey Harris -- had "a relationship to a representative of a sports agent," according to the Tuscaloosa News, though the school reportedly found no relation between Clinton-Dix and an agent.
How exactly the money got to Clinton Dix, and whether an agent played a distant role in filtering that money, is still uncertain. It is clear, however, that the possibilities seem endless when it comes to agents forming relationships with players, and how those players respond when they're courted.
It's a complex dynamic that can turn problematic, enough so that the NCAA needs to or will address the subject soon, according to two conference commissioners and several other college football officials. What exactly they want addressed is hard to identify. Many speak in generalities when it comes to tangible solutions, though perhaps future talks with the NCAA will provide clarity.
Simple math tells the story.
There are more than 700 agents registered with the NFLPA. Many of those agents are considered reputable. But some of those agents could have their own runner who has a connection to a strength coach who has a connection to a potential first-round pick such as Clinton-Dix.
You see where this is going.
Those agents, some of whom don't actually have clients, are essentially fighting to represent roughly 96 players -- those from the first three rounds of the NFL draft who get $500,000 or more in a rookie signing bonus and thus deemed worthy of the cliché 'care packages' often lavished on such figures. Late-round picks and undrafted free agents can make big money down the road, but only 100 or so are making sizable money straight out of college.
SEC commissioner Mike Slive can look at those numbers, check his league's recent NFL draft stats (12 first-rounders and 32 players in the first three rounds in 2013) and figure dozens of agents are vying for his players. For the most part, the professional marketability of those student-athletes can be considered a good thing.
Until something like this happens: A Yahoo! report last month alleging players at Alabama, Tennessee and Mississippi State accepted improper benefits from a runner named Luther Davis, who played at Alabama. Per NCAA rules, players can talk with agents but can't accept impermissible gifts or commit to representation before eligibility expires.
Answering whether the athlete-agent relationship can -- or should -- be policed is not easy. More than 40 states support the Uniform Athlete Agent Act, designed to shield athletes from sports agents offering gifts to entice them, but it's still hard to monitor every time an agent tries to buy a player lunch, or more than that.
Some college football power brokers hope for a solution, which is why Slive told CBSSports.com last week the issue has been "placed at the hands of the NCAA leadership council to reinstate the dialogue." The council addressed this topic a few years ago but discussions fizzled. When asked for specific examples for how to curb the problem, Slive mentions players getting "the best information from good people on a timely basis" instead of from the agent "back alleys" but won't go any farther than that.
"We're very interested in having this be one of the primary issues," Slive said of the player-agent relationship. "This is an area that's fairly unique to high-profile conferences. One of the things we'd like to do is develop rules that apply to us that are fair to the student-athletes and the coaches and the institutions."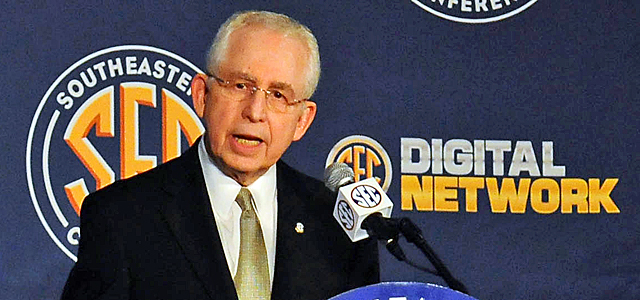 Even the top football programs don't have to worry about the presence of agents for most of their players. On a team with 85 scholarship players, maybe five to seven will garner major agent attention each year.
But for those high-profile players, how can they get what Slive calls "the best information from good people on a timely basis" instead of from runners approaching players after a practice?
The conferences with the most draft prospects should have at least some level of influence over finding that answer, Big 12 commissioner Bob Bowlsby said.
The SEC, ACC, Big 12, Big Ten and Pac-12 produced 70 of the 97 players drafted in the first three rounds in April.
"I do think it's going to be a topic," Bowlsby said. "It's among the things the conferences would like to have perogative over. We think these are our issues. It's an incomplete process until we know what the governance will be."
The NCAA convention in January will help outline that new governance structure.
An NCAA specialist directing agent efforts -- a role once held by Rachel Newman Baker, now Kentucky's senior associate athletic director for compliance -- was not available for comment upon request. Newman Baker declined comment through a UK spokesperson.
NCAA spokesperson Stacey Osburn said the association does not have any agent-related proposals currently in the works. Schools police themselves, as Alabama did by suspending Clinton-Dix and self-reporting the money exchange. The NCAA intervenes after the school self-reports or after it gets a tip about improper behavior.
UNC athletic director Bubba Cunningham said the topic of agents likely isn't a top priority in NCAA restructuring. Player stipends will be high on that list of issues, along with defining a process where the biggest conferences have more flexibility to pass legislature that's important to them.
Before Cunningham was hired in Oct. 2011, sports agent Terry Watson provided $2,200 monthly cash allowances and other benefits to former Tar Heels receiver Greg Little, Little (now with the Cleveland Browns) reportedly told state investigators. The Uniform Athlete Agents Act requires agents to register with the North Carolina Secretary of State's office. UNC also dealt with the NCAA/Gary Wichard mess a few years ago. All this prompted the Tar Heels to develop an in-house agent program and seek input from Priority Sports and Entertainment, a sports agency out of Chicago.
"All we're trying to do is set up a structure, trying to get people who don't want to play by the law or the NCAA rules to get them out of the business," Cunningham said. "I don't know how to go about doing that. Just trying to shed some light on the positive."
Cunningham said highlighting all available money to players might help those who are tempted by agents to say no. UNC, for example, has an ACC-approved $570,000 allowance per year for emergencies such as transportation needs or a death in the family, Cunningham said. The university can spend all of that money on its student-athletes, and pell grants go up to $5,700 a year, Cunningham said.
It's not exactly Nike endorsement money, but Cunningham's point is players have an alternative to asking an assistant strength coach for money under the current rules.
Andrew Brandt, a former player agent and Packers executive turned media personality on NFL business, says though schools bolster compliance departments to vet the agent process, there are still two truths to overcome: Certain players will sign with whomever they want, and the only way for agents to sign a player is to have a relationship with that player.
"Football is always seen as easier access (than other sports)," Brandt said. "There are more ways to get to a guy."
Brandt hears from agents all the time that the business is "getting dirtier," though it's not drying up the proliferation and constant presence of agents around the game.
Schools with NFL prospects need state backing to successfully navigate the agent world, Mississippi State compliance director Bracky Brett said. Mississippi Secretary of State Delbert Hosemann constantly works to modernize the state's athlete agent act, Brett said.
Alabama Rep. Jack Williams recently proposed a plan where athletes and schools get protection from NCAA punishment if they help expose shady agent dealings. 
"We provide education when the reality of it is, when things happen, it's kind of hard for us sometimes to get anything done," Brett said. "We don't have any control over those agents like NFLPA or a legal office the state has."
As for new ideas, Memphis compliance director Jason Gray wouldn't mind a little flexibility for players and good agents to integrate without compromising the system.
"I'd like to see if it would be permissible for an agent to take a kid to dinner while they are having a business meeting," Gray said. "I think that would be OK. Putting them on a plane across country to a draft party, I wouldn't be too excited about that.
"We've got to ... get to a point where it's not necessary for agents to come in with runners spending a lot of money to woo kids."
Locksley has been the offensive coordinator at Illinois and Maryland during his coaching c...

Bidding for Salaam's trophy, which the auction house says was obtained legally, ends Satur...

Many NFL-eligible juniors ignore advice provided by the league and risk going undrafted each...
Snyder died in Manhattan, Kansas, on Wednesday

Locksley joined Alabama's staff in 2016

Saban reportedly wants to hire Freeze, but there may be things keeping that from happening