Cloud lifting, Sarkisian set to bring good times back to Southern Cal
Southern California is almost out of the woods. The expiring Reggie Bush sanctions didn't come close to crippling the Trojans, and now they're poised to return to top form under Steve Sarkisian.
LOS ANGELES -- From his new office, Steve Sarkisian can see Southern California's practice field -- and beyond.
Forget the ocean, palm trees and weather. There is, finally, a horizon out there for USC football to consider. Sarkisian's first National Signing Day as Trojans head coach proved it. Wednesday marked the last of the crippling three-year recruiting restrictions (30 total scholarships). Four months from Monday, the probation in the Reggie Bush case will end.
"When we come out of this thing, it's truly going to show the power of USC," Sarkisian said on a recent 80-degree day from that new office at the John McKay Center. "Not many schools could have withstood that in the manner and fashion as USC. This is a very powerful place."
That USC has gotten this far after the penalties, survived this well, should be some sort of case study for coaches, recruits, ADs and NCAA investigators everywhere. Mark Emmert's famous risk-has-to-outweigh-reward stance on wrongdoing is being put to some sort of test. USC and Penn State have a combined .658 winning percentage (50-26) since their historic penalties were handed out.
Not only is USC about to emerge from the other end, the argument can be made that it is thriving. During the probation the Trojans won 10 games twice, were a preaseason No. 1 (2012) and just landed a top-15 recruiting class.
With his first game more than six months away, Sarkisian crushed it with a late push on Wednesday. USC landed a Juju (Smith, five-star athlete), an Adoree' (Jackson, five-star cornerback) and a baby [Trojan] Mama; guard Damien Mama passed on BYU and Alabama to come to USC.
Sark didn't just consider the 19 players he signed on Wednesday. With a full class in 2015, theoretically that's 44 new Trojans by next signing day.
"The exciting piece for us is we get to sign 25 guys next year," he said. "You can take multiple guys at a position group. You can start to develop that depth on your roster. You can project a guy and say in two years, 'This is what he's going to look like.'
"Right now it's, 'Can he play next season when we go up to Stanford in Week 2?'"
Depth remains an issue but with full recruiting classes that will soon become less of an excuse.
"Now we have an opportunity to show how powerful SC is," Sarkisian said before signing day.
Well, Sark, just how powerful?
"I think we're competing for the Pac-12 South championship," he said.
This eternal disclaimer still applies: Signing day hype is not necessarily an indicator of future success. But out there, somewhere, is the USC we all know and love. Or, if you're UCLA, loathe. The point is, the Trojans didn't fade much during these unfortunate dark ages.
"We'll probably feel the effects of those sanctions for potentially two more seasons quite honestly," Sarkisian said.
Don't tell anyone here about that right now. USC's former offensive coordinator inherits a roster rich in talent. Sark stayed loyal to Pete Carroll's old recruiting blueprint: Dominate California, then go out of state only for a player projected to become a first-round draft choice.
"Our brand," Sark said, "is a national brand [but] we will never fly over a kid just to say we're in Florida or in New Jersey."
It has taken a village to nurture the program through the down times. While some USC fans whined about Carroll skipping town and AD Pat Haden not fighting back enough against the NCAA, the actual football machinations kept grinding.
As much as Lane Kiffin is (sometimes) derided, he oversaw that 10-2 season in 2011. During that time Matt Barkley became one of the most beloved Trojans in history. The son of the Southland from Orange County didn't transfer in the wake of the penalties, becoming one of the program's all-time greats -- while playing in only one bowl, the Kraft Fight Hunger Bowl.
Barkley's reasoning became evident: Even with the probation, USC and its coaches still get players to the NFL. Since 2011 a respectable 16 Trojans have been drafted (in the three seasons before that, there were 28).
Since the beginning of the scholarships restrictions in 2012, six players have achieved some level of All-America and/or All-Pac 12 status.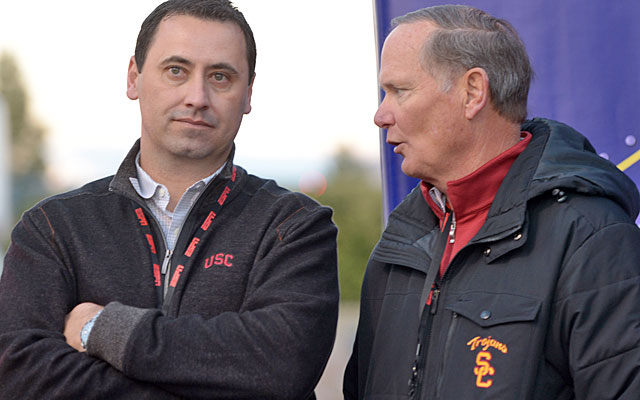 Meanwhile, the loss of Ed Orgeron could be a wound that takes some time to heal. When it became clear Coach O wasn't going to be elevated from interim coach, he walked away in December. Haden tried hard to retain him, but you can sense Orgeron's thinking. It would have been hard to take a demotion to defensive coordinator after leading the Trojans to within shouting distance of the division title as head coach.
"He taught me to be a man," quarterback Cody Kessler said. "Coach O can convince you that your first name was something different."
Sarkisian's hire was not widely praised, not with a career record five games above .500. Not with then-Boise State's Chris Petersen reportedly in the mix. Perhaps the best thing Sark did was address the Orgeron situation head-on. On the same day Sark said goodbye to his Washington players, he flew to LA to address his new Trojans for the first time.
"That was probably one of the hardest, longest days of my life ...," Sarkisian said. "I wanted to get in front of them as soon as I could. I knew I wasn't going to go in there and wow them. They're weren't going to stand up and applaud and give me a hug."
Sark treaded lightly, meeting the team, then asking school officials to leave the room. In front of the players he transitioned from a suit and tie to a USC hoodie. "I wanted them to know was one of them. I wasn't going to be sitting up in my office."
Think about the emotions roiling at that point: Within an eight-hour period, in the same room, Orgeron said goodbye and Sarkisian said hello. The new guy definitely needed to make a positive first impression to these Trojans despite spending seven years as an assistant under Carroll during the glory years (2001-03, '05-09).
"Guys were in tears, guys were leaving," Kessler said, describing Orgeron's goodbye. "Coach Sark came in and did probably as good a job as he could've. He handled it perfect."
Most importantly, for now, Sarkisian inherits a quarterback. That's always a good place to start at USC. Kessler ended in a flourish, throwing for 342 yards and four touchdowns against Fresno State in the Las Vegas Bowl.
The day after the bowl, Sarkisian became their fourth coach in three months. Some stability would be nice because everything about Sark's Trojans will be faster. Kessler will find himself in the shotgun more, probably running up tempo more than anyone around here has seen.
"He knows," Kessler said of his new coach, "how to get guys to the [NFL]."
Not much, then, has changed in the USC profile. The rise of Oregon and Stanford has enhanced an urgency that was already there. Sarkisian projects a roster of about 70 scholarship players. The NCAA max is 85. With injuries and attrition, he admits the number could shrink to the low 60s by the season opener.
But USC has done this before. The Trojans won at Oregon with 53 scholarship players in 2011. They beat Fresno State in December with only 49 such players.
The probation that caused it all is almost over, but the latest coach to inherit will never forget. There are new glory days to chase.
"You can take away Heisman, you can take away victories," Sarkisian said, remembering the sanctions, "the end result was, in my mind, we were the best team in college football over a seven-year span and arguably -- probably -- the best run in college football history."
Add these to the list of things Mayfield will have to apologize for this year

Miami got punched in the face but reacted like any undefeated team would

Another week, another win for Wisconsin
NCAA football scoreboard, highlights and updates from the biggest Week 12 games

The Bulldogs look to regain their footing when they host the Wildcats in the SEC on CBS

Because sushi is easier to eat than gold, right?