Coaches make millions, but second chances in short supply
At Pac-12 and Big 12 meetings in Phoenix, Arizona's Rich Rodriguez and Kansas' Charlie Weis examples of coaches once in top jobs that had to work their way back.
• 4 min read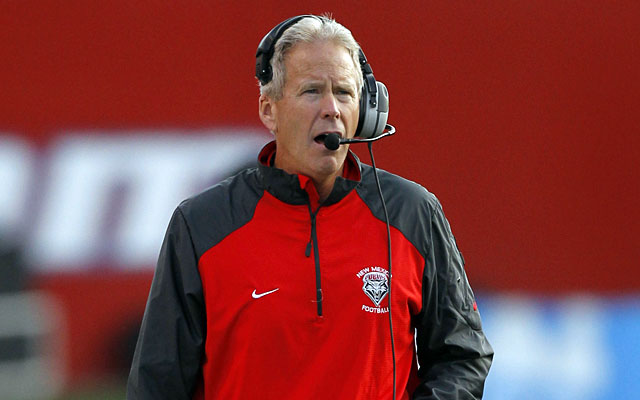 PHOENIX – With four conferences and nearly 50 FBS head coaches taking over the Arizona Biltmore in Phoenix this week for spring meetings, both sides of the risk-reward coaching dynamic are on full display.
Seven coaches -- either from the Big 12 or Pac-12 – make more than $3 million per year, highlighting a ballooning salary pool at a time when the cry for player rights couldn't be louder.
But then there's this: Those salaries come with a price that only six of the 47 coaches in attendance truly understand -- because they've lost a FBS-level head coaching job.
Back to the Top?
Once a coach is fired from a high-profile job, getting back to the mountaintop is uncommon. Here are a few examples of coaches who once held high-profile jobs, got fired and rebuilt elsewhere.
Coach
Fired
Current
Rich Rodriguez
Michigan
Arizona
Charlie Weis
Notre Dame
Kansas
Mike Leach
Texas Tech
Washington State
Bobby Petrino
Arkansas
Louisville
Bob Davie
Notre Dame
New Mexico
David Cutcliffe
Ole Miss
Duke
Tommy Tuberville
Auburn
Cincinnati
Terry Bowden
Auburn
Akron
Second chances don't always come easily. Mike Leach, Rich Rodriguez and Charlie Weis know.
And just ask Bob Davie, who hit the pinnacle at Notre Dame, was fired in 2001 and is now rebuilding New Mexico, which is coming off its sixth straight losing season.
"It's difficult to get a second opportunity, there's no question about that," Davie said. "There are so many young, talented guys and they have ties to programs to get those jobs. If you just go out in the marketplace and try to get those jobs and you're not in that system or not on that staff or haven't won enough, it's a different process."
Money buys coaches a few years to win, and if the wins don't come, they are taking a lesser job on a new kind of rebuilding job.
Most of the coaches from the Pac-12, Big 12, Mountain West and MAC -- the four conferences meeting in Phoenix -- are on their first head-coaching job.
Of the second-timers, only Rocky Long made what's considered a lateral move or better, taking over at San Diego State three years after leaving New Mexico.
Leach acquitted himself well at Washington State but his old job, Texas Tech, was probably a better one.
Weis, Notre Dame's former coach, wound up at Kansas, and former Auburn coach Terry Bowden was out of the game for 11 years before taking over North Alabama and now Akron.
Rodriguez was scarred from the failed Michigan stint but landed comfortably at Arizona. Maybe his stock will again rise to the levels of 2007, but Rodriguez knows how fragile it all is.
"I had to pick the right place or I wouldn't get another chance," Rodriguez said. "You don't get unlimited chances at this."
Leach and Rodriguez landed in the Pac-12 in part because of their offensive cachet. Without that, coaches can get muscled out (see: Fulmer, Phil; or Nutt, Houston).
Weis believes his NFL pedigree helped him relaunch his career at Kansas despite going 16-21 in his last three years with the Irish.
"Having an offensive background really helps," Weis said.
Leach never doubted he'd get back in the game at a high level. He was "in the prime of my career" when Washington State hired him, he said. He was a national coach of the year in 2008. The investigation of Leach's treatment of former Tech player Adam James, which resulted in Leach's firing, "was a sham and revealed itself to be," he said.
Leach felt his resume helped bolstered him back into a power conference, but he understands he's one of a few.
"There's a lot of pressure. Part of what you get paid for is to deal with the headaches and so they can fire you if somebody decides to," Leach said. "You're scrutinized publicly and the rest. But the other thing is coaching wise, if you have success, it will generate a lot of interest as you have success."
These reclamation projects won't win sympathy in the court of public opinion – not when Nick Saban's new deal will pay $7-plus-million, more than most NFL coaches. Last year, Baylor's Art Briles and FSU's Jimbo Fisher got contract extensions worth more than $4 million annually.
The new money mushrooms an already-obscene coaching market bolstered by agents, power plays, leverage and annual contract extensions.
And if you can count to 7, then you can count to 8, and 9…
In other words, don't expect a market crash unless schools have to start spending their money elsewhere – like on players, for example.
Some of that's coming with player cost of attendance coverage, unlimited meals and more.
Davie said he understands why players are uneasy right now, feeling "an undercurrent that players should get more." He doesn't want the perception that big-money coaches alienate from students or fans because of the money they make.
Maybe he's sympathetic because he's been to the top and knocked down.
"I know coaches would take jobs for a lot less in exchange for tenure," Davie said. "There needs to be some stabilization in this whole thing. It's escalating to the point of probably a little panic in some instances."
The junior will take the snaps for the defending national champions in 2017

MetLife Stadium is about 10 miles away from where the World Trade Center buildings once st...

The Terps will wear these against Indiana on Oct. 28.
The coach of the Eagles isn't here for no science talk

These are the teams that are getting too much -- or too little -- love before the season

The Crimson Tide start atop the AP Top 25 poll for the second straight season