Coaching carousel preview: Eight W's enough for Muschamp, Hoke?
Florida's Will Muschamp, Michigan's Brady Hoke need at least eight wins (rivalry wins, too) to keep jobs. WVU's Dana Holgorsen needs seven.
• 6 min read
Conference previews: ACC | Big Ten | Big 12 | SEC | Group of Five/Independents
Last year's carousel spun at the pace of a family sedan. A few major head coaching jobs opened but overall 19 is a pretty weak total.
Well, the market is ripe, buyouts have lowered and athletic directors have one hand in their pocket, ready to pull it out for the next Urban Meyer or Charlie Strong.
Many power-conference jobs can open in December. But first those coaches have three-plus months to change that narrative.
Here's a look at 10 head coaches who might be coordinators in 2015 -- and how many wins they need to remain head coach -- along with 10 coordinators who might be head coaches in 2015.
This is an appetizer for colleague Dennis Dodd's yearly Hot Seat Rankings, which will include the prospects for all 128 FBS head coaches and will be unveiled as part of next week's national preview.
10 head coaches who might be coordinators in 2015
Will Muschamp, Florida
Avoids firing if ... Gators win at least eight games.
Buzz: The great thing about keeping your job after a four-win season is even a subpar year by Gators standards looks like a major upgrade next to the drivel you just produced -- look, double the win total! Eight wins also got Ron Zook fired, basically. But it's all about progress and timing. Muschamp must show urgency, though eight might not be enough if he drops another Georgia game.
Brady Hoke, Michigan
Avoids firing if ... Wolverines win at least eight games (Ohio State must be one), or nine wins without Ohio State win.
Buzz: Considering how 7-5 rankled the fanbase in 2013, something close to that would fuel the restlessness. Eight wins might do it but nine gives Hoke a two-win cushion from the previous year, signaling an upward trajectory. He probably needs at least two wins out of these four -- at Notre Dame, at Michigan State, at Ohio State and a home game against Penn State. Avoiding three straight L's to Ohio State would help.
Kyle Flood, Rutgers
Avoids firing if ... Rutgers wins at least six games.
Buzz: Flood's a fine coach but he's in a tough spot. Rutgers needs a jolt after the Mike Rice troubles, a clumsy handoff to AD Julie Hermann and Big Ten play approaching. A conference callup can be daunting (See: TCU, West Virginia, Utah, etc.) and Greg Schiano is jobless. But the offense could be good enough to elevate the Scarlet Knights to bowl eligibility, which should save Flood.
Mike London, Virginia
Avoids firing if ... Cavaliers win at least six games.
Buzz: After London's three-win average the past two years, anything less than bowl eligibility will be a tough sell in Charlottesville. The defense has a chance to be one of the ACC's best. But can the Cavs muster enough points?
Tim Beckman, Illinois
Avoids firing if ... Illinois wins at least six games.
Buzz: Will Beckman get the same treatment as Indiana's Kevin Wilson, who kept his Big Ten job after a 5-7 record in his third year? Possibly, but Beckman's threshold deserves another win because Illinois has loftier expectations than Indiana. Will need more than a Purdue victory in conference play.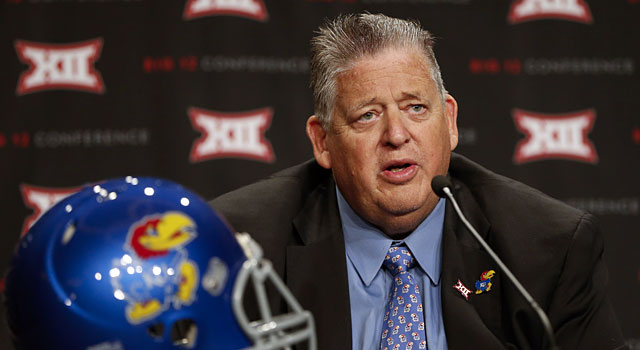 Charlie Weis, Kansas
Avoids firing if ... Kansas wins at least five games.
Buzz: Kansas has won nine games in four years. Nine! A five-win season might get Weis a 20-year extension. But, really, anything lower than four means the positive momentum is simply not there. The nonconference schedule is manageable and there should be at least one or two Big 12 wins somewhere.
Dana Holgorsen, West Virginia
Avoids firing if ... Mountaineers win at least seven games.
Buzz: Check out this statement from AD Oliver Luck. In no way does this statement say, "Let's creep one step closer to bowl eligibility!" What it really says is: "Can we not limp into respectability and at least go 7-5? Can you give me two nonconference wins, Kansas, Iowa State and a few surprises? That's a reasonable request, right?" Luckily for Holgorsen, the Mountaineers should be better at several positions. Will quarterback be one?
Paul Rhoads, Iowa State
Avoids firing if ... Cyclones win at least five games.
Buzz: This is a tough call because bowl eligibility at Iowa State is to be applauded in most cases. Rhoads made three bowls in his first four season. But then, a drop to 3-9 in Year 5, that will require a strong response. My guess is Rhoads needs at least two more wins than last year to hold on.
Kyle Whittingham, Utah
Avoids firing if ... Utes win at least six games.
Buzz: It's hard to believe Whittingham, who had Utah rolling from 2008-10, is on this list. He is a well-respected coach. But if Utah goes sub-.500 for the third straight year, wouldn't that at least raise questions about the Utes' stability under Whittingham's watch? The Pac-12 has been an adjustment for the program but it's Year 4 now.
Bo Pelini, Nebraska
Avoids firing if ... Cornhuskers win at least nine games.
Buzz: Pelini has set a steady-but-unspectacular trend in six seasons -- at least nine wins every year but no fewer than four losses -- and Nebraska fans were barely happy with that. Imagine what would happen if he dips below that threshold. Luckily for Nebraska, the Cornhuskers have a real chance to win the Big Ten West this year.
10 coordinators who might be head coaches in 2015
Pat Narduzzi, Michigan State DC
Got sniffs from several schools last year. Spartans' D tops in the Big Ten three straight years. A fourth could finally trigger the right job.
Mike Norvell, Arizona State OC
He has already added titles, from offensive coordinator to deputy head coach. Why not add something else in December? Norvell is a highly skilled playcaller.
Tom Herman, Ohio State OC
He has positioned himself well in two years at Ohio State, and if he can turn Braxton Miller into a reliable pocket passer too, more options will arise.
Eddie Gran, Cincinnati OC
He has interviewed for a gazillion jobs. He hasn't gotten those jobs -- that doesn't mean he's not equipped. Charlie Strong went through the same process. Now he's Texas' coach. Gran is a good recruiter and communicator.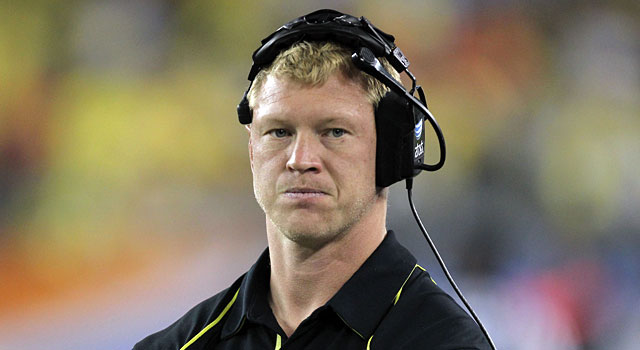 Scott Frost, Oregon OC
With a starting receiver and left tackle out with ACL tears, the Ducks' offense will look to Frost -- and Marcus Mariota -- for stability. If something happens with Pelini at Nebraska, gotta believe Frost, a former Cornhuskers quarterback, will be on the short list.
Chad Morris, Clemson OC
How this guy isn't a head coach still confuses me a bit. Maybe because he makes a million-plus at Clemson, so waiting isn't that bad. Not saying Morris is Gus Malzahn-good, but his offensive mind reminds a bit of Gus.
Brent Venables, Clemson DC
Charismatic coach who would do well with donor bases and recruits. Clemson's front seven has a chance to be dominant. There might not be a better time for him to go than in 2014.
Glenn Spencer, Oklahoma State DC
Very philosophical approach to coaching (just check his twitter feed), and it works for him. Oklahoma State was markedly better on defense in Spencer's first year as coordinator. Probably wasn't ready for a top job then but will be now.
Rhett Lashlee, Auburn OC
Checks a lot of the boxes a young AD would want: Young, savvy offensive mind, engaging personality. When Malzahn lets you call some plays, you're a good OC. Will probably be selective (see: Morris, Chad).
Philip Montgomery, Baylor OC

When a head coach carries the "mastermind" label, it can hurt the perception of the offensive coordinator. Montgomery, however, is thoroughly trusted by Art Briles and the two have teamed to form arguably the country's best offense. Schools looking for a head coach are noticing.
The former Oregon coach is one of the hottest commodities on the coaching market

The CFP Selection Committee got Miami right, but there are some decisions that make you go...

The newest college football rankings are out, but did your favorite team make it in?
Sumlin is 51-25 overall and 25-22 in the SEC over six seasons in College Station

This is precisely what you'd think would happen between Kiffin and Saban

Anybody can rank the best 25 teams, only the Bottom 25 ranks the worst